breakfast tacos
March 18 2013, 11:21 pm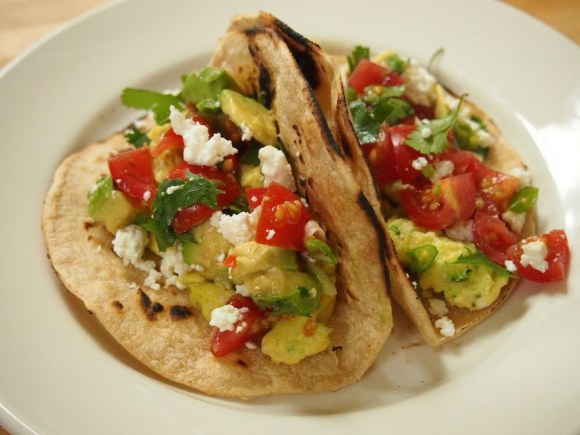 tacos de desayuno con huevos, calabacín, salsa de aguacate y queso fresco.
with queso fresco on hand, the possibilities are endless. it's enjoyable all day, just like tacos. these tacos are filled with zucchini scrambled eggs, and topped with avocado salsa and a crumble of queso. what a great way to start the day. making the salsa first, gives it a little time to mingle while the eggs are cooking.
the flavor of the zucchini is very mild when shredded into the eggs, and adds the perfect amount of moisture to the scramble. it isn't necessary for a great breakfast taco, but sneaking extra veg into every meal is a good thing, no?
the faster you move the eggs in the pan, the smaller the curds will be. conventional scrambled eggs have pretty small curds, but i like them a big and fluffy- the trick is to scrape them slowly into the middle every so often, instead of constantly moving them in the pan. be mindful that the eggs don't get brown bottoms.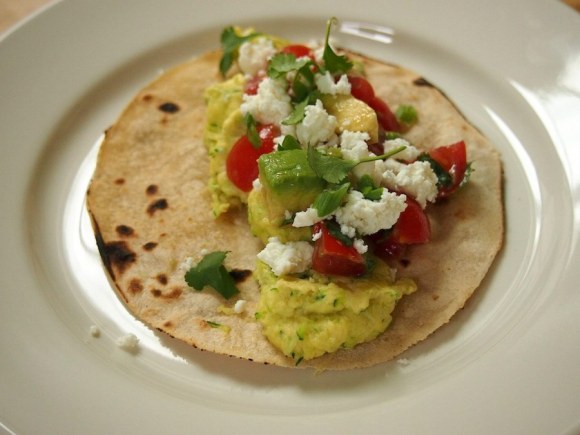 breakfast tacos
avocado salsa:
10-12 cherry tomatoes, quartered
1 scallion, thinly sliced
1 chili, deseeded, and finely diced (to taste)
1/2 avocado, peeled, seeded, and chopped roughly the same size as the tomatoes
juice of 1/2 a lime
few sprigs of cilantro, leaves removed from the stems and torn up
pinch of salt
preparation
combine all ingredients gently in a bowl. try not to smash up the avocado, or you'll have chunky guacamole. taste it to adjust the amount of lime and salt, then set it aside while making the tacos.
zucchini scrambled eggs:
3 eggs, scrambled
1/2 med zucchini, shredded
salt and pepper
olive oil
preparation
heat a small non-stick pan over medium/low heat. add the zucchini to the eggs and mix to thoroughly combine. season with salt and pepper.
add a small splash of oil to the pan, and pour in the eggs. let them cook for a moment, then with a wooden spoon, scrape around the edge of the pan, pushing the cooked part into the middle of the pan. let them sit another moment and scrape again, always moving them into the middle, and making certain that they don't brown on the bottom. continue slowly cooking and scraping until the eggs are cooked to your desired likeness (soft, but not runny is my goal).
assemble the tacos:
4 corn tortillas
zucchini scrambled eggs
avocado salsa
queso fresco
cilantro
preparation
heat up the tortillas (either in a 350 degree oven, or over an open flame on the stove). top each warm tortilla with eggs, salsa, queso, and cilantro. comer inmediatamente!
makes 4 tacos.
blog comments powered by

Disqus