broccoli cheese soufflés
January 7 2014, 10:07 pm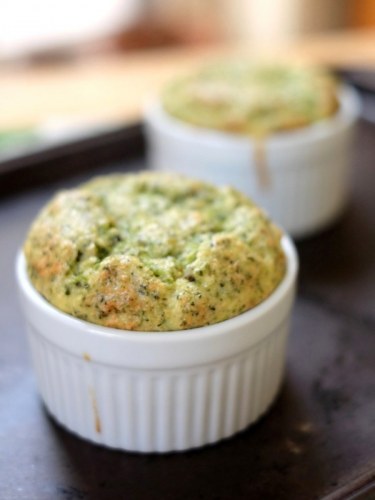 there's nothing to be scared of.
soufflés have a bad reputation for being difficult and high maintenance. that's the truth if you're whisking egg whites by hand, but a small mixer with whisk attachments works like a charm for those of us with wimpy forearms. these soufflés are packed with broccoli and two kinds of cheese: cheddar and pecorino (just about any combination of cheese would be delicious though).
whisking egg whites goes fast with a hand mixer, so be sure to check them during the process. strive for soft peaks (although i usually end up with stiff, and it always works out fine).
when incorporating the whites into the yolk portion, it's best to combine them with as few strokes as possible. this is sometimes easier said than done, and practice goes a long way.
once they're in the oven, lower the heat, set the timer and walk away. opening the door, or banging things on the stovetop could deflate these beauties. if left to their own devices, they puff up in the most magical way. like most magic, it does fade quickly. serve them right away while at the peak of their impressiveness.
broccoli cheese quiches:
1sm head of broccoli, cut into florets
1 shallot, peeled and cut in half
olive oil
salt and pepper
3 eggs, separated
1/2 cup shredded cheddar cheese
1/4 cup shredded pecorino
preparation:
preheat the oven to 375. arrange the broccoli and shallot on a baking sheet and lightly drizzle with oil. season with salt and pepper, toss to coat. roast veg in the oven for about 15min, until tender and golden on the bottom. when cool to the touch, add the broccoli and shallots to a food processor and pulse a few times to break it down.
in a large bowl, combine broccoli mixture, egg yolks, cheeses, and season with salt and pepper. in a separate bowl, whisk the egg whites with a hand mixer until soft- stiff peaks form.
with a rubber spatula, add about a third of the egg whites to the broccoli mixture and fold in to combine. add the remaining whites, and fold in gently while trying to keep as much air as possible in the mixture.
lightly oil or butter 2 8oz. ramekins. divide the batter among the ramekins. place the ramekins in the oven and turn the heat down to 350. bake for 20minutes, until the top is golden and puffed. serve immediately.
serves 2
blog comments powered by

Disqus