death becomes her: at the Met
November 3 2014, 11:02 pm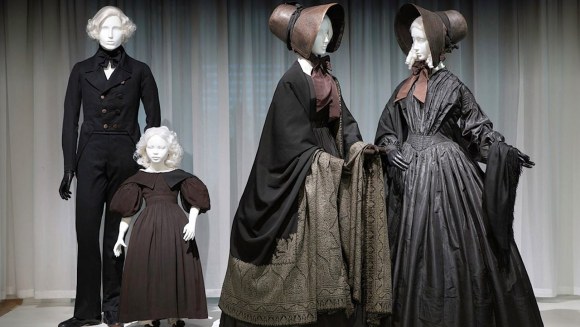 this past friday night, on halloween, the Met opened its newest costume exhibit: death becomes her. although much more somber than the amazing Gothic exhibit at FIT a few years back, it's still a very moody, very elegant look at the development and demise of victorian mourning costumes.
after the death of prince albert, queen victoria stayed in mourning attire for the rest of her life. for the next 100 years, widows were expected to mourn in black for one year, followed by 6 months in half-mourning, and then another 6 months of light-mourning. men, by comparison, mourned for about a month. in their defense- mourning attire wasn't a huge departure from everyday style.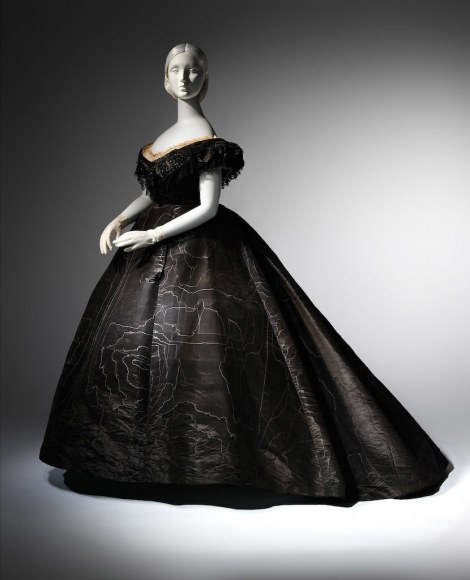 it might seem like a drag for the ladies, but they were pretty into it. it was very fashionable, and entailed getting a new wardrobe- or dying their current one black. the color was seen as "becoming" on a widow, indicating they were vulnerable as well as available. eventually.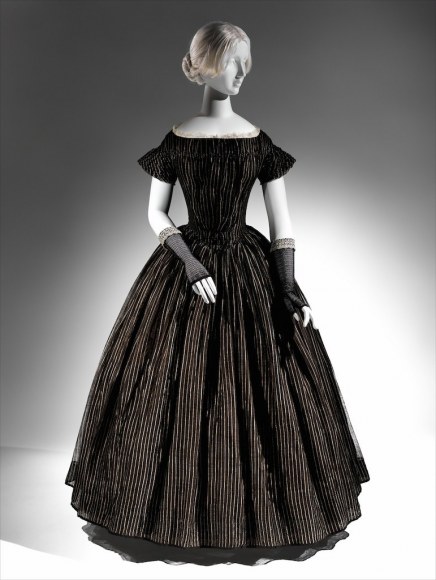 below, on the far right, is a mourning wedding dress. a reminder that your wedding isn't as important as your late husband's death. queen victoria started the tradition of wearing a white wedding dress, and it's still an industry standard. but lengthy mourning attire was eventually seen as "showy" and attention seeking. the dramatic loss of life during WWI, effectively put an end to the rules of mourning, but by then the color black had already established itself as stylish in its own right. worthy of daily wear outside the boundaries of mourning.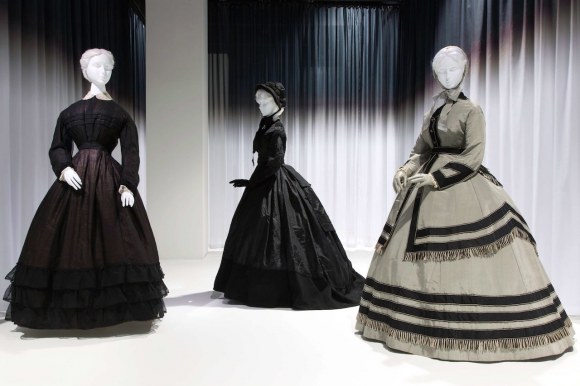 light and half-mourning ball gowns. still grieving, but ready to party.
a corner room of the exhibit holds a smattering of memorial accessories, including parasols, hats, and veils. there are a few showstoppers in the jewelry cases, but the tightly curated selection barely scratches the surface of the genre. you can't have an educated conversation about victorian mourning costume without a comprehensive look at memorial jewelry. it's every bit as important as the apparel, if not more so because it adds a name, a face, a date, or often a human's remains, to the narrative of the piece. it's fascinating and emotional and intimate and engaging. there's no shortage of examples available for an exhibit that focuses on the subject. take for instance, the tiffany watch below- in the Met's collection, but not included in the show.
mourning clothing tends to be a reflection of the wearer, while memorial jewelry is more often a representation of the deceased. in this way, death becomes her is an interesting glimpse at a victorian trend, focused on the "fashion" of mourning. but it doesn't delve too deeply into the captivating ways that victorians displayed their grief through body adornment.
blog comments powered by

Disqus