fresh fruit popsicles
July 25 2012, 12:00 pm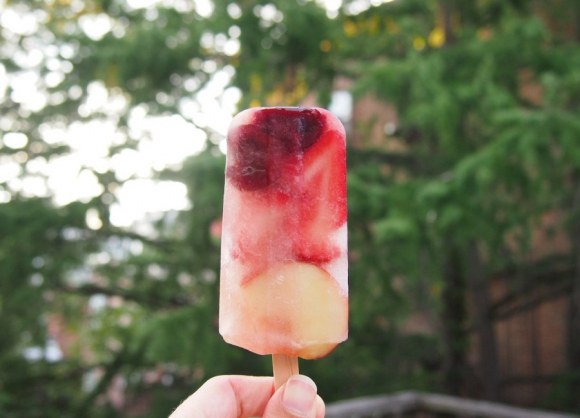 like tie dye you can eat.
clearly i have a problem. i can't stop making popsicles. they're just so easy. and so tasty. although float popsicles are delicious, they aren't exactly easy on the eyes. i wanted to make a pretty popsicle. sliced fresh fruit is the key, and the smaller the better. i used ginger ale to hold the fruit together, but any clearish liquid would work if you're looking for less sugar (the ginger ale was super tasty though). they took about 20 minutes to pull together- a cherry pitter made all the difference.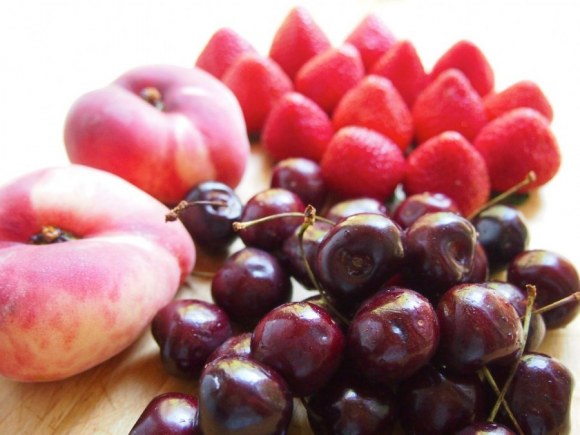 fresh fruit popsicles
10-15 cherries, pitted and cut in half
6-10 strawberries, hulled and sliced thin
2 donut peaches, pitted and sliced thin
3 teaspoons honey
1 bottle good ginger ale
preparation:
place each of the fruits in their own bowls and drizzle with 1 teaspoon honey. let sit to macerate for a few minutes.
drop the fruit into the popsicle mold. i layered mine, but it all shifted around in the freezing process, so i can't say it was worth it- next time i'll freestyle and drop it in no particular order.
fill each mold to the brim with ginger ale.
add lid and sticks. freeze at least 8hrs until firm.
blog comments powered by

Disqus