gaultier at the de young
June 25 2012, 10:39 pm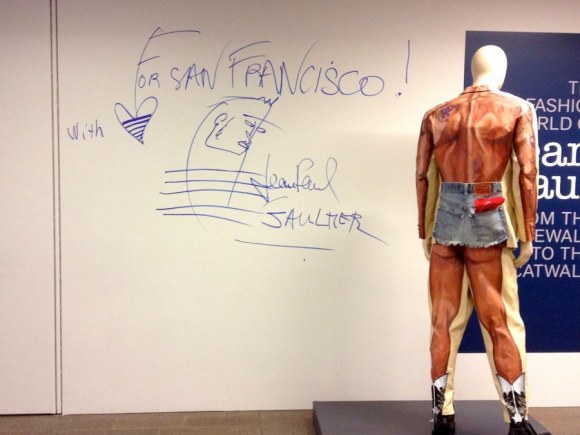 what happens when you combine phenomenal couture, a visionary with a wicked sense of humor, and technologically advanced manequins that will scar you for life?
that would be the gaultier exhibit at the de young.
and it was awesome. or it will be, as soon as the terrors subside. need some convincing? check out this sweet piece on the left staring me down while jean paul is chatting about his love of mariniere.
30 of the manequins at this exhibit were animated to interact with the viewers. and they were freaky. super freaky. and you know what? they didn't detract from the clothes at all.
gaultier is most commonly known for outfitting madonna in her cone bras and corsets. there were plenty to see. my favorite ensembles were the bone, vein, and muscle bodysuits.
and the best part was that you could see them from every angle. almost every display allowed you a 360 view of the garments (take notes, Met Museum).
magic. and hilarious to boot- not just straight up funny (like a woman wearing her coat on the front side only), but also clever (like her fantastic eiffel tower back seamed hose).
genius all over the place. the clothes, the man, the exhibit. this is how it's done.
blog comments powered by

Disqus