glorious mini muffins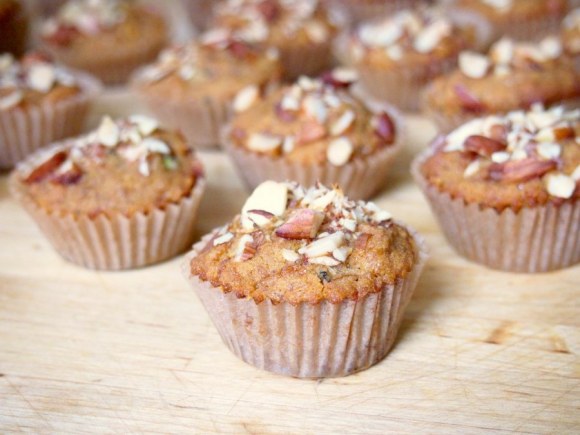 gloriously free of eggs, dairy, and wheat.
there's a little cafe on 25th and 6th called bluedog that has amazing breakfast pastries. one of their specialities is called "glorious morning loaf". when i asked the owner what was in it, she said "carrots, zucchini, apple, coconut, and other things". that was enough for me- right away i wanted to make my own, and after a few trials, they were nearly identical to the original. my gluten free sister is coming to town today, so i took them a step further by using gluten free flour (i regularly use spelt). and it worked!
ground flax seeds are a common vegan alternative for eggs in baked goods. when soaked in water for a few minutes, they become thick and goopy.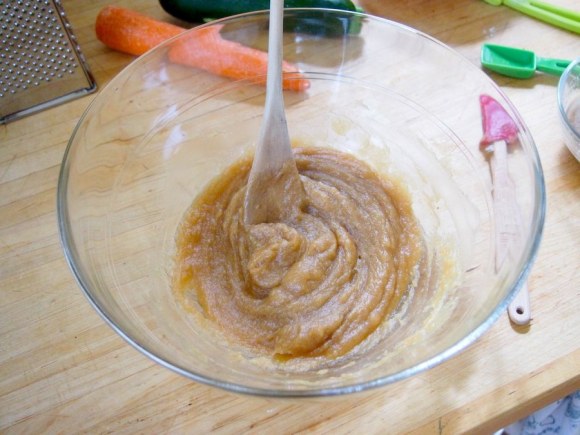 hot tip: it's important that the coconut oil be the same consistency as softened butter. if it's too liquidy, it won't blend with the agave nectar.
glorious mini muffins
1 Tablespoon flax meal (ground flax seeds)
4 Tablespoons water
1 1/2 cups coconut oil, the consistency of softened butter
1/2 cups agave nectar
1 cup gluten-free flour
1/2 teaspoon salt
1/2 teaspoon baking soda
1/2 teaspoon baking powder
1 1/2 teaspoons cinnamon
1/3 cup grated carrot
1/3 cup grated zucchini
1/3 cup grated apple
1 1/2 teaspoons vanilla
2/3 cup chopped nuts, toasted
preparation:
preheat oven to 350 degrees. add liners to mini muffin pan
mix together the flax meal and water. let sit for 5 minutes. whip together the coconut oil and agave. add the flax/water mixture.
sift together the flour, salt, baking powder, baking soda, and cinnamon. add to the wet ingredients and combine.
mix the grated carrot, zucchini, apple, and vanilla extract into the batter. spoon into the prepared muffin pans and top with nuts.
bake for 30-35 minutes, until the tops are golden and the middle is firm.
makes 24 mini muffins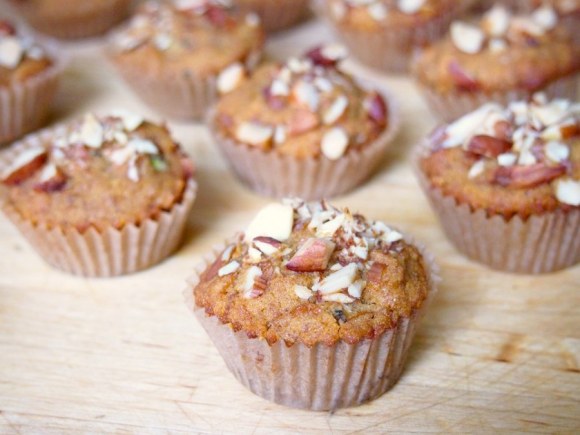 blog comments powered by

Disqus