gluten free dairy free chex mix
January 17 2013, 9:00 am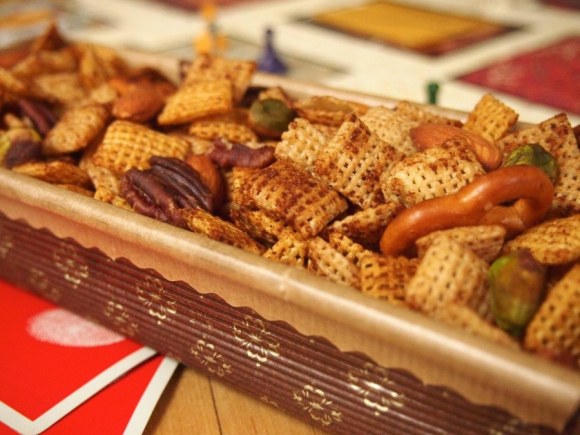 with homemade worcestershire!
ah, chex mix. you delicious devil. why must you only come around at christmas? you're perfect for snacking on game night. but i had a game boarder that was gluten sensitive. and another that was dairy sensitive. and traditional chex mix screws them both. but why should that be?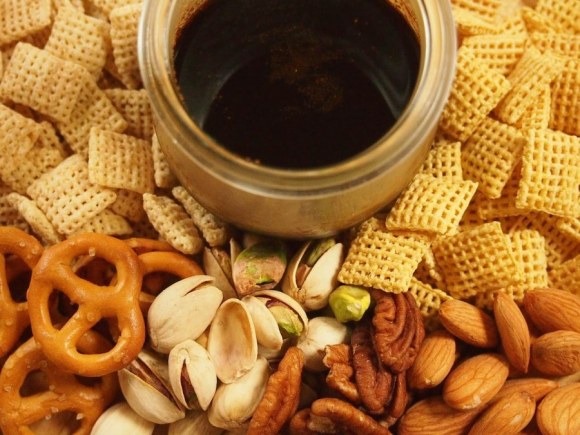 the deliciousness of chex mix hinges on the taste sensation of worcestershire sauce, which contains gluten and anchovies. there are gluten free sauces, but i couldn't find it in time. fortunately, this fabulous recipe recreates it without gluten or anchovies. it stinks like vinegar to high heaven, but the following day, it is near perfection.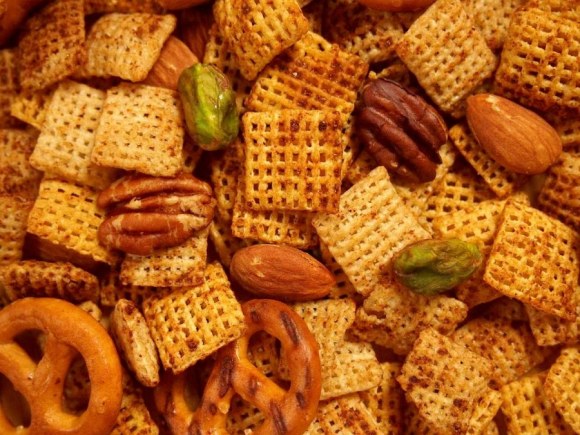 the other problem ingredient was butter. i'm not a fan of margarine, so it was olive oil all the way. and it turned out great- not as greasy on your fingers, but still caramelized everything and added great crunch. most chex mix recipes give you enough to fill a bucket, but since i have no self control, i made half the batch. still ended up with a ton. and still have no self control around it.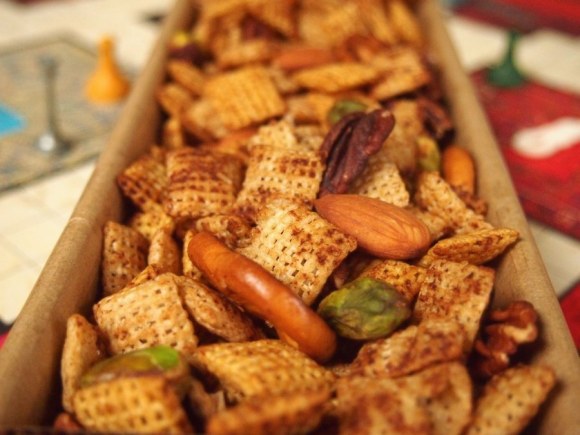 worcestershire sauce: gluten-free, vegetarian:
(from epicurious)
1/2 cup apple cider vinegar
2 Tablespoons tamari
2 Tablespoons water
1 heaping Tablespoon molasses
1/4 teaspoon ground ginger
1/4 teaspoon dry mustard
1/4 teaspoon onion powder
1/4 teaspoon garlic powder
1/8 teaspoon cinnamon
1/8 teaspoon fresh black pepper
preparation:
whisk all ingredients in a small saucepan. bring to a boil, continuing to whisk. simmer for 1 minute. remove from heat and let cool. store covered in the fridge.
gluten free dairy free chex mix
2 cups gluten free corn chex
2 cups gluten free rice chex
1/3 cup almonds
1/3 cup pecans
1/3 shelled pistachios
1/2 cup gluten free pretzels
3 Tablespoons olive oil
1 Tablespoons gluten free worcestershire sauce
1 teaspoon salt
1/2 teaspoon garlic powder
1/4 teaspoon onion powder
sprinkle of paprika
preparation:
preheat oven to 250 degrees.
in a glass roasting pan, whisk together the oil, worcestershire, salt, garlic powder, onion powder, and paprika. dump in all the rest of the ingredients and stir it up well, to coat everything with the sauce. spread it out evenly in the pan.
bake 1 hour, stirring every 15minutes. pull out of the oven and let cool completely before eating (fat chance)
store in an airtight container. no way to prove how long it lasts, cause i eat it all within a few days. i'd imagine about a week.
makes about 6 cups
blog comments powered by

Disqus