goldfish bracelet
September 4 2013, 3:11 pm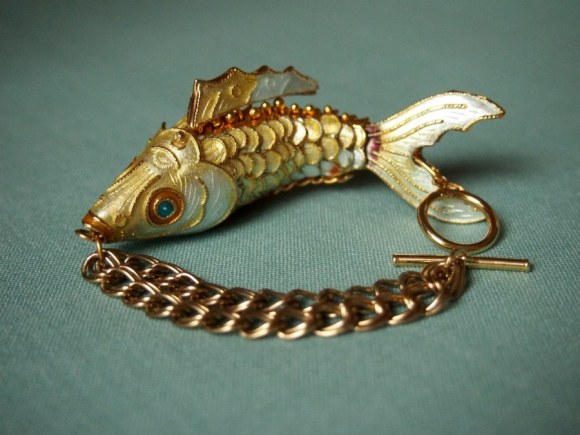 it might not technically be a goldfish. maybe it's just a generic wristfish.
the star of this bracelet is an articulated enameled fish. this guy was purchased in hong kong 10yrs ago for $2. there were hundreds of them, in every color of the rainbow (but i only picked up two). in addition to the fish, you will need:
2 pairs of jewelry pliers
2 circular jump rings
1 triangle jump ring
chain (length determined by the size of the fish and your wrist). you can use one larger width chain, or two thinner width chains can be doubled. the fish is pretty chunky, so keep in mind that the chain needs to be supportive.
let's chat about this fish for a second. a google search for articulated enamel fish, will pull up quite a few options- some good, some not so good. this guy is 3.5" long and it's important to note that he has a loop at his mouth and another in his tail. some fishes are made just to be pendants, and don't have these features (specifically the loop in the tail). once you've gone fishing, wrap him around your wrist and show off what you caught!
using the pliers, twist open the triangular jump ring. carefully, hook the loop in the tail and the circle side of the clasp. twist the ring closed, securely. rotate the ring, so the clasp is at the closed point.
with the pliers, twist open a jump ring. add both chains and the straight end of the toggle clasp. twist closed. keeping the chains flat and untwisted, add them to the last jump ring along with the fish's mouth loop. twist close.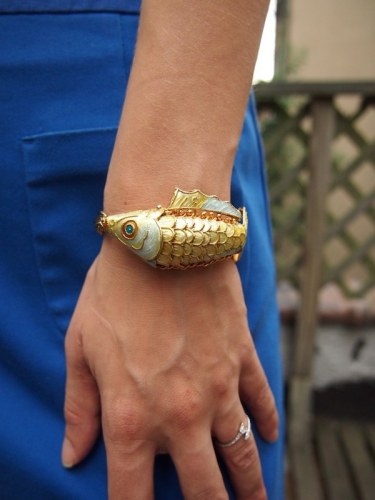 blog comments powered by

Disqus