grilled corn and asparagus salad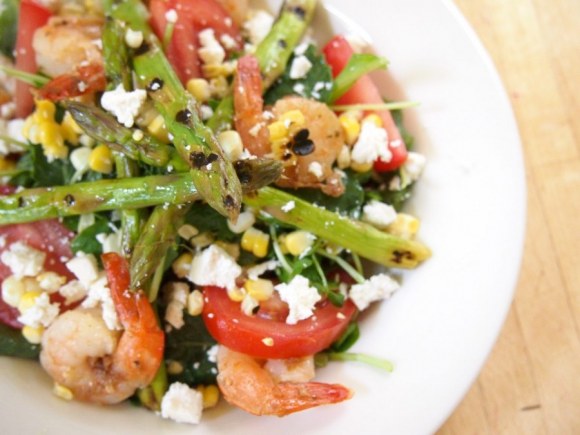 some people aren't lucky enough to own a grill. they have to improvise with a cast iron grill press
and a screaming hot pan.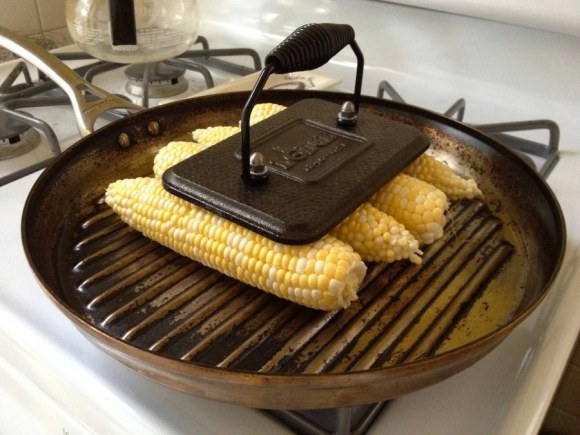 this salad works well without meat too, subbing avocado for the grilled shrimp. it's great for a dinner party, because everything can be served at room temp. when serving this family style, i like to dress all the components and plate them up separately so everyone can serve themselves. the only element that should be dressed at the last moment is the leaves. everything else can be finished a few hours before.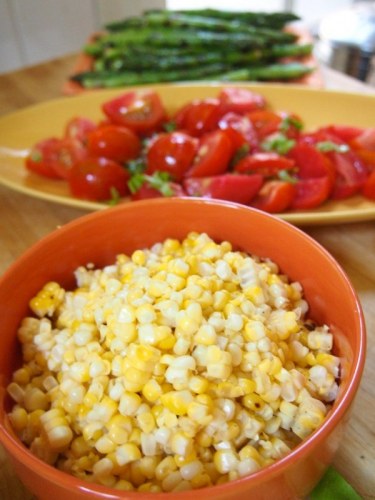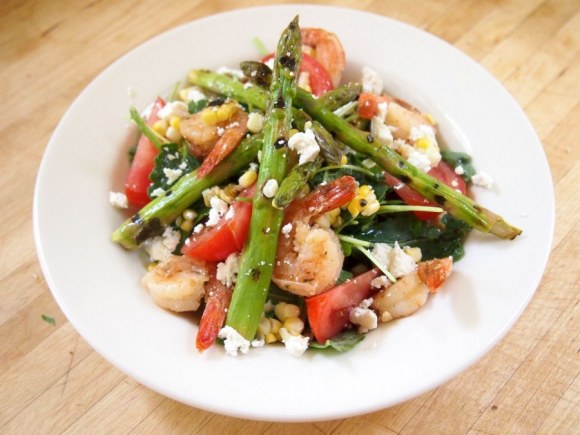 grilled corn and asparagus salad
4 ears of corn, shucked and lightly oiled with canola oil
2 bunches of md-lg asparagus spears, tough ends trimmed
36 med/large shrimp, shells removed and cleaned
3 cups small tomatoes (cherry, grape, heirloom), cut in half, or to bite size chunks
5 cups leaves, washed and dried (the salad photographed has baby kale, arugula, and pea shoots)
couple sprigs of basil, sliced
1 scallion, white and light green only, sliced.
lime and lemon juice, extra virgin olive oil, salt and pepper
1 block ricotta salata
grill:
preheat the grill pan, and let it get crazy hot. add the corn to the pan and top with a grill press. grill until you see dark grill marks, rotating the cobs. when all sides are marked, remove from pan and let cool. cut the kernels into a bowl with a squeeze of lime, a drizzle of olive oil, salt and pepper. mix well.
add the dry asparagus to the pan and grill until nicely marked on both sides. remove from pan and add a squeeze of lemon juice, olive oil, salt and pepper.
dress the shrimp with add a tiny drizzle of canola oil, lime juice, salt and pepper. grill until marked on the first side, and flip for just a minute on the reverse side. remove to platter
dress the veg:
mix the tomatoes with half the basil, lemon juice, a drizzle of olive oil, salt and pepper.
in a large bowl, add juice of half a lemon, half a lime, scallion, salt and pepper. whisk in twice as much olive oil. add the leaves and the rest of the basil to the bowl. mix to coat.
serve all dressed components with cheese on the side for crumbling.
serves 6
blog comments powered by

Disqus