How To: Fake Pregnant Belly
October 18 2012, 11:00 pm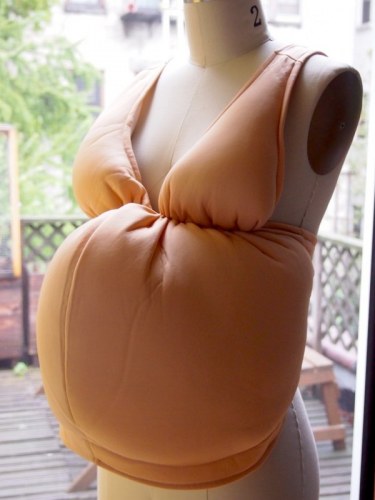 Finding a decent fake preggo belly was more difficult than anticipated. Most looked like pillows with ties on the back, or were expensive and badly constructed. this one from forum novelties
seemed like the best place to start. And for $15, if it didn't work, it wasn't a huge loss. Out of the packaging, the situation looked rather unpromising.
2 big problems:
1. It's HUGE
2. The halter strap doesn't work with the neckline of the costume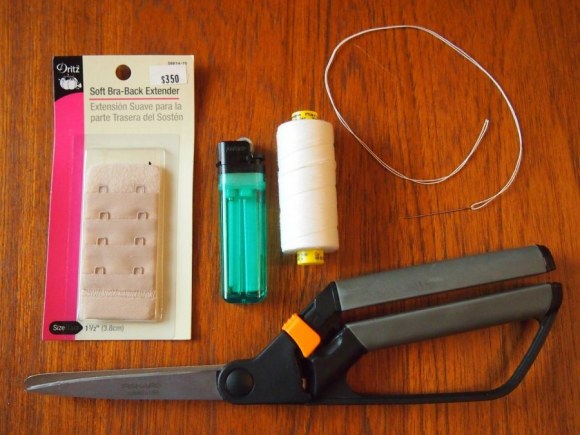 All it took to set this in motion was some scissors, a 1 1/2" bra strap extender (or bra hook/eye set), a needle, and heavy quilting thread (A lighter helped). To prep the piece, cut the neck strap in half, and remove the elastic from the back. Save the elastic.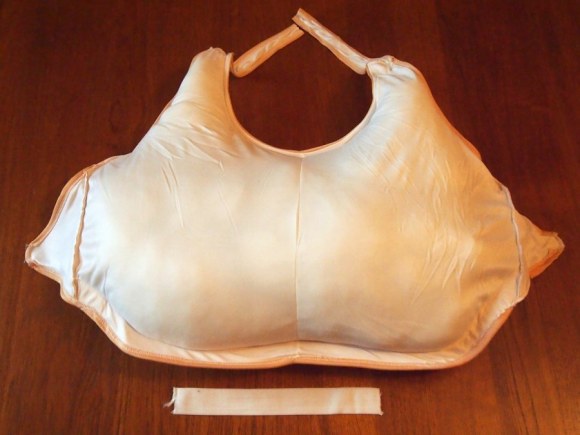 Adjustable Back:
The bra strap extender has hooks on one side, and rows of loops on the other. Cut off the hooks and one set of loops.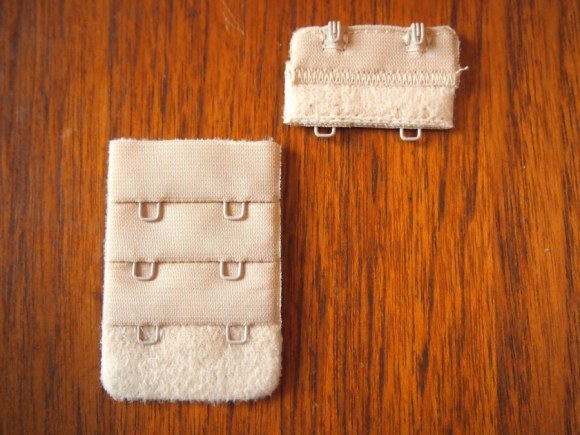 Once it's been beheaded, sew the hook side, facing up, on the inside right back panel. Hooks pointing towards front. Then sew the loops to the outside left panel, pointing away from the front. Make certain that these are sewed tightly and securely.
Shaping: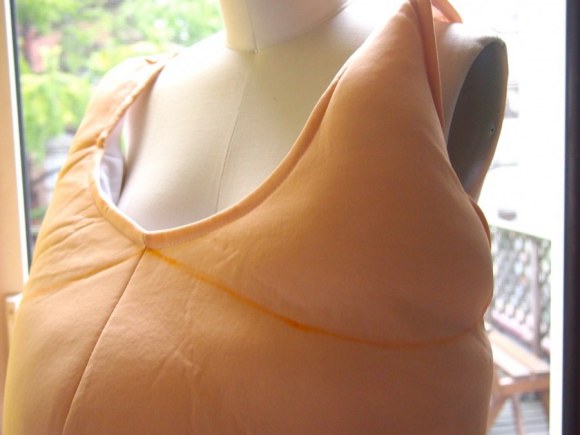 Try on the piece. Starting at the center, mark a line towards the armpit area, dipping it slightly to make a tear shape.
Triple knot the thread, and starting at the center, sew 1/2" stitches through all layers of the piece, following the line. At the armpit side, tightly gather the stitches, creating fullness above and below the stitch line. Tie off the thread, at least 3 overhand knots, to ensure that it doesn't slide through while your wearing it.
Straps:
Cut the elastic in 1/2. Singe the edges of the elastic with the lighter to prevent unravelling. Stitch each piece to the ends of the neck strap, with a 1/4" seam allowance. Make sure they are securely stitched together.
Fold the strap back over the elastic, and stitch them again, catching the seam allowance.
Try it on again, marking where the straps should be connected to the back panels. Stitch the straps in place, making certain that everything is tight and completely secure.
Is it realistic? That's laughable. This is for a halloween costume, not to genuinely fool people. It's nice and warm, and quite cozy, which is great when the rest of the costume is skimpy.
blog comments powered by

Disqus