Knitted Baby Hat with Ombre Pom Pom
January 23 2014, 10:01 pm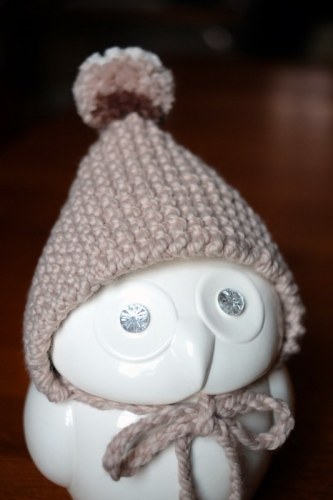 The weather in New York is brutally cold, so it's the perfect time to try the cute hat diy on a beautiful mess. Because it's just a rectangle of basic stitches, this project is easy and fast (even for a super novice knitter). The ombre pom pom adds a bit of pizzaz- and let's be honest, that's what everyone really needs this time of year.
ombre pompom: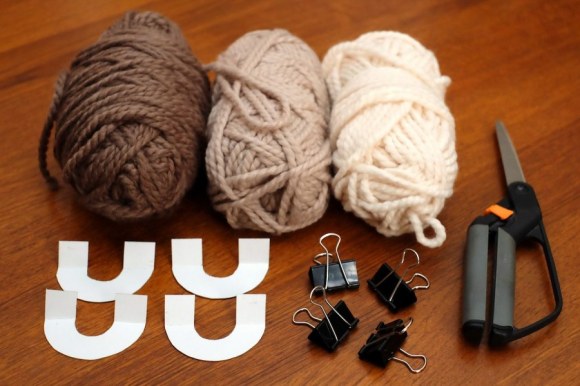 There are lots of ways to make pom poms- this version uses the same technique as the cute pom poms from mr. printables. To make a striped one, you need 3 colors of yarn, 4 U shaped pieces of cardboard, 4 bull dog clips, and scissors.

Draw two circles, centered, on a piece of sturdy cardboard (i traced a juice glass, and the lid from a small bottle). The larger circle should be slightly smaller than the final pom pom size you wish to achieve. You only need the top half of the circles.
Extend both circles about 3.4" to create a tab on each side. Cut out this U shape.
Fold the tabs at the center line. make 3 more.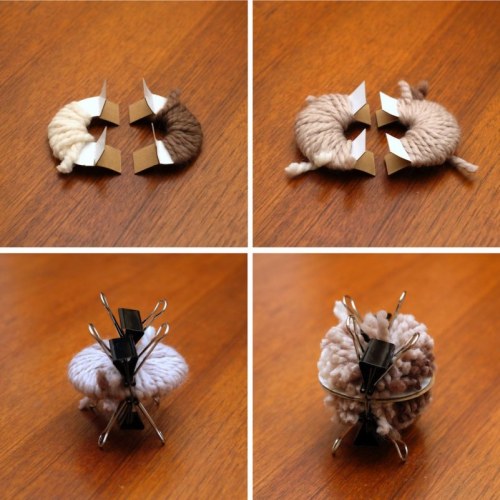 - Place 2 U pieces together, with the tabs folding in opposite directions. Wrap one of the end colors around the U in the center. Don't go all the way to the fold lines, but fill it up pretty good. Repeat on the other side with the second end color.
- Wrap both sides with the middle color, just enough to cover the end colors completely. This yarn goes all the way to the fold lines.
- Line up the tabs on each side, top and bottom. Clip them together.
- Slip the scissors between the upper and lower cardboard pieces and cut around the outer folds of the yarn, through all thicknesses.
Slide a long piece of yarn, the same color as the hat, between the upper and lower cardboard pieces. Wrap it around center of the pom, and tie a double knot to secure it.
Remove the clips and cardboard. Trim the yarn evenly around.
hat: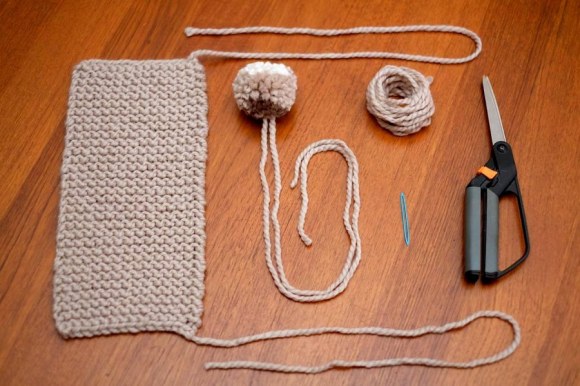 Knit or crocheted rectangle, with a long tail at the beginning and end. Length and width are determined by the size of the wearer's head: length= from jaw to jaw over the head, width= from in front of the ears to the center back of the head.
Ombre pom pom with long tails
2 strands of yarn, twice as long as the tails on the knitted rectangle.
Big eye yarn needle
Scissors
Fold the rectangle in half, lengthwise. The tails should line up.
Use the long pom pom tails to stitch up the back seam. Hide the yarn ends in the knit rectangle.
Just above each of the tails on the rectangle, loop through a long strand of yarn.
Braid the three strands on each side. Tie an overhand knot at the bottom of each braid, and trim the ends.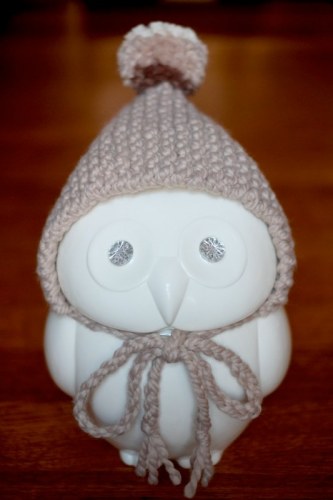 blog comments powered by

Disqus