lemon thyme cheesecake with berries
May 15 2013, 8:26 am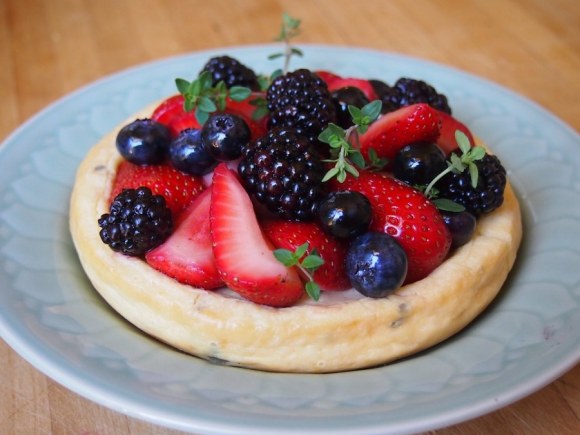 a lil' cheesecake made in a rice cooker!
two things were made abundantly clear on our new rice cooker
: it has fuzzy logic (?) and also cake setting. a cake setting?! who makes cake in a rice cooker? turns out many urban people in japan don't have ovens. and while we have an oven, i'm not about to let a perfectly good cake setting go to waste.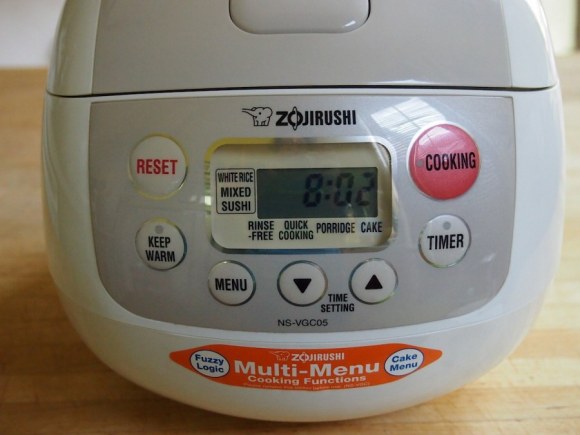 the rice cooker instructions came with a recipe, and while it was somewhat like cheesecake, it really wasn't cheesecake. the online landscape wasn't much better, and after a few failures i started to get a hankering for a real delicious cheesecake.
despite being steamed in a rice cooker, this is a real cheesecake. it wasn't difficult to pull together, but there are a few tips to making it look adorable.
tip 1: all the ingredients need to be room temperature- especially the cream cheese. it will never be smooth if the cream cheese is cold.
tip 2: once the batter is poured into the pan, smack the bottom of it to release any air bubbles. i was pretty rough with it.
tip 3: rice cookers don't have a high temperature, so it does take a looooooong time to make a cake in it- about 2hrs. this rice cooker only goes up to 80 minutes- the photo above left is what it looked like at that time. it took 40 additional minutes for this rice cooker, but they're all different. i suggest you try the 80 minutes first, and then check it every 20 minutes until you figure out what the optimum time for your rice cooker is.
tip 4: let it cool completely in the pan. i know this is difficult after waiting for 2hrs, but it is very delicate when it's still warm. my impatience resulted in a crack at the last moment getting it out of the pan.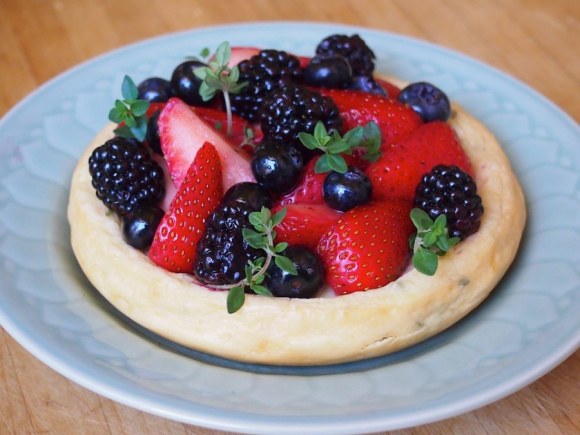 tip 5: the rice cooker cheesecake is a totally weird/cute shape. rounded on the bottom, sunken on top. the sunken part is perfect to fill up, so keep it in mind when thinking about topping options.
lemon thyme cheesecake with berries:
8oz. cream cheese, softened
3 Tablespoons sugar
2 Tablespoons sour cream
1 egg
1 teaspoon flour (i used pastry flour, but i don't think it matters)
1 teaspoon vanilla extract
zest of 1 lemon
1 teaspoon fresh thyme tips, plus more for garnish
butter for the pan
about 1 cup mixed berries (this has quartered strawberries, blueberries, and black raspberries)
drizzle of honey
preparation:
with an electric mixer, beat up the cream cheese until it's smooth. add the sugar, sour cream, egg, flour, and vanilla. beat up again until everything is combined, scraping the sides of the bowl. add the zest and herbs, and give it one last mix.
pour batter into a buttered inner pan. smack the bottom of the pan a few times to release any air bubbles. add the pan to the rice cooker, close the lid and hit the menu button until it reaches the cake setting. set the time for 80 minutes.
wash and dry the berries. taste some to see how ripe they are. add them to a bowl with a drizzle of honey (depending on how sweet the fruit is) and gently stir them up. let sit at room temp until the cake is ready to be served.
check the cake to see how it's coming along. it's done when the sides have completely pulled away from the pan, and when the center is firm to the touch. if at 80 minutes, it hasn't reached this stage, put it back in for 20 minutes and check it again. this rice cooker took 120 minutes to finish the job.
remove the pan from the rice cooker and let it cool completely before removing the cake. to help get the cake out, use a rubber spatula and go around the edges a little at a time. gently slide it out onto a serving plate. add the berries and thyme in a mound on top.
makes 4 small slices.
blog comments powered by

Disqus