lentil salad with roasted beets and queso fresco
March 26 2013, 6:52 pm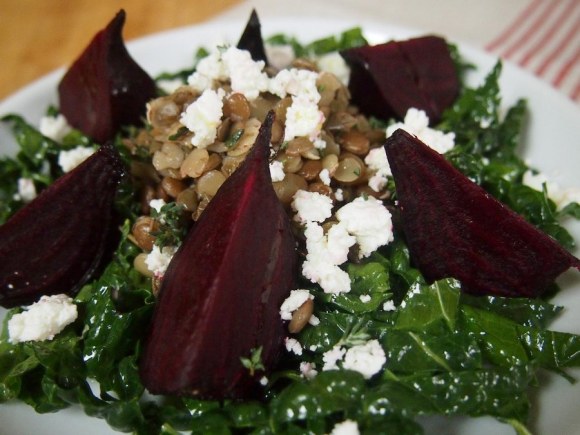 with lacinato kale and mustard vinaigrette.
it's true that "salad" and "comfort food" are not often seen together, but this salad really lives up to the title. it eats like a main dish meal, thanks to a big mound of lentils. speaking of lentils, sprouted is the way to go- so much faster than regular dried lentils. it's good to dress them when they're still hot, so they suck up all the tangy, mustardy deliciousness while cooling down.
fun fact: roasting beets is not my favorite activity. hot pink stained fingertips is never the look i'm going for, but they're so darn tasty, that "murder fingers" seem like a small price to pay.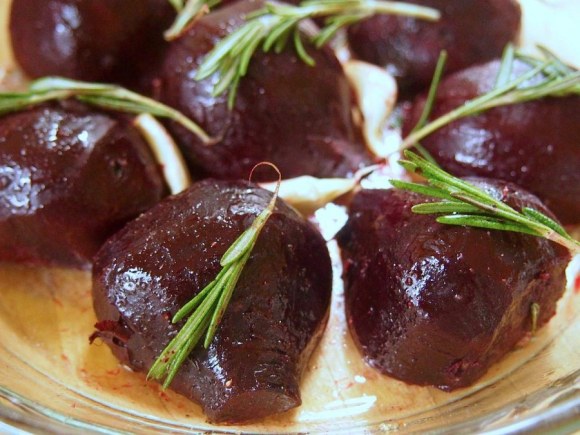 when using full grown kale leaves in a salad, always remove the stems. the more you manhandle it, the softer and greener the leaves will get. this also eliminates the tough, raw taste, so really massage it well with the dressing. it won't need much, just a drizzle.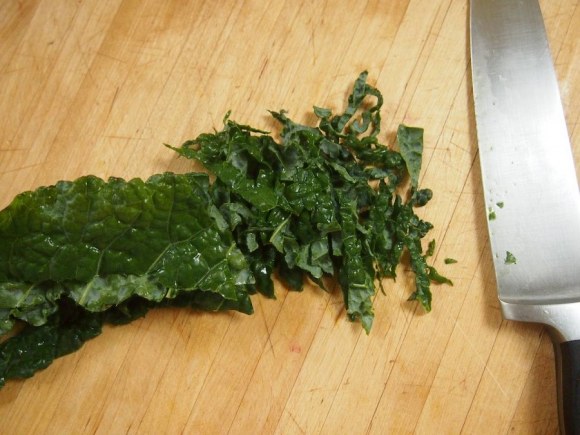 this salad travels well, making it a great work lunch. add the kale to the lentils before leaving the house, and it will be nice and soft by noon- no need to smack it around first.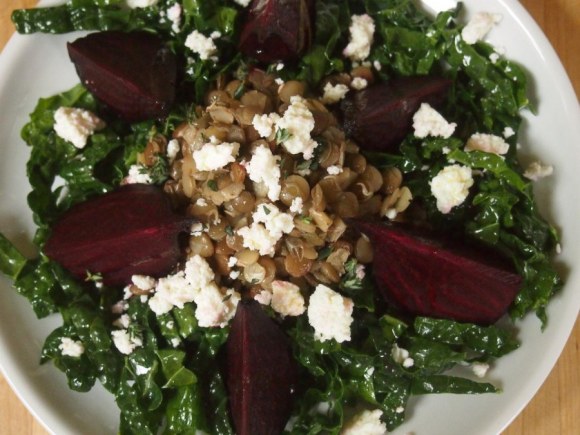 lentil salad with roasted beets and queso fresco
6 small to medium beets, washed, stems removed
3 cloves of garlic, skin on
few rosemary sprigs
olive oil
red wine vinegar
salt, pepper
2 teaspoons dijon mustard
small sprig of thyme, removed from stem and minced
pinch of salt
1/4 cup red wine vinegar
3/4 cup extra virgin olive oil
1 cup sprouted green lentils
3 cups water
salt
approx. 12 lacinato kale leaves, stems removed, thinly sliced
queso fresco (or feta, or goat cheese), crumbled
roast the beets:
preheat oven to 425 degrees.
place beets in a large pot, cover with water, and season with salt. bring to a boil over med/high heat and cook for 15 minutes, or until just tender. drain in a colander, and while still warm, remove the skins.
halve the beets and add to a glass dish cut side down along with the garlic cloves and rosemary. add a drizzle of olive oil, and a splash of vinegar, season with salt and pepper.
roast in the oven for about 30-40minutes, until cooked through. remove from the oven and let cool. cut into quarters or chunks for serving.
shake up the dressing:
with a fork, smash up two roasted garlic cloves with a little salt until it becomes a smooth paste. place it in a jar with the mustard, thyme, salt, 1/4 cup red wine vinegar and 3/4 cup oil. put the lid on tight and shake it up.
cook the lentils:
bring 3 cups water and a pinch of salt to a boil in a small pot. add the lentils and cook 5 minutes, then turn off the heat and cover with lid. let sit for a few minutes, then drain. add lentils to a bowl with enough dressing to coat them evenly. mix together and let cool to room temperature.
assemble the salad:
add the kale to a bowl with just enough dressing to lightly coat the leaves. with tongs, toss the kale and dressing, massaging the leaves until they're dark green and starting to wilt. plate up the leaves, topping with lentils, beets, and queso. add another tiny drizzle of dressing to the top.
makes 4 smaller (first course) salads or 2 big (main course) salads.
blog comments powered by

Disqus