mushroom soup
April 19 2013, 5:43 pm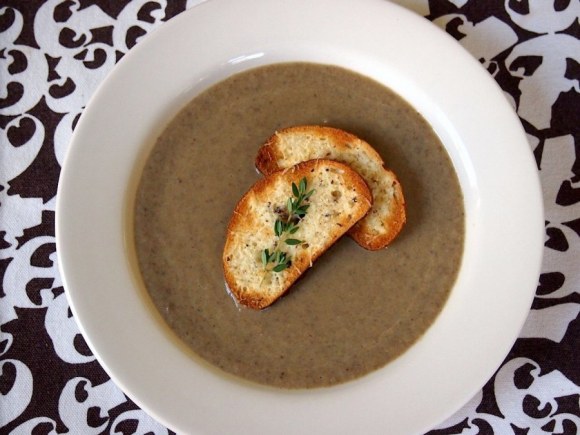 the classic comfort of shrooms.
this time of year in NYC the weather is a complete tease. one day it's in the low 70s, the next it's in the mid 50s. forecast calls for showers almost everyday. there's only one thing to do. cozy up with a nice bowl of soup.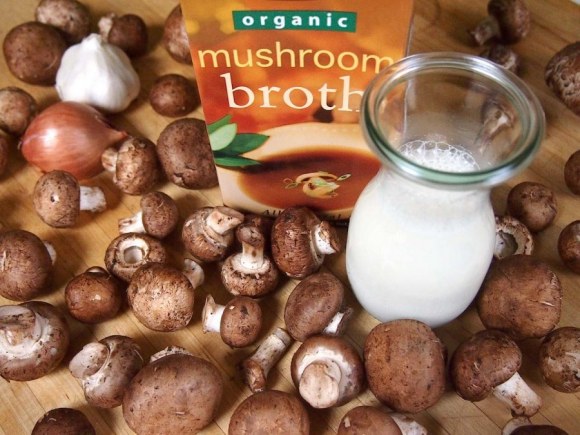 a quick note about the milk- while regular milk is fine, half & half is even more delicious. i opted to keep the soup dairy free by using some home-made nut milk. one of the great things about making nut milk is that you can control the thickness of it- the usual ratio for milk is about 1 cup of nuts to 3 cups of water, but this batch was made with 1 cup of nuts and 1 cup of water. almonds and cashews both work well in this soup- if using cashews, there's no need to strain out the pulp, which saves a messy step.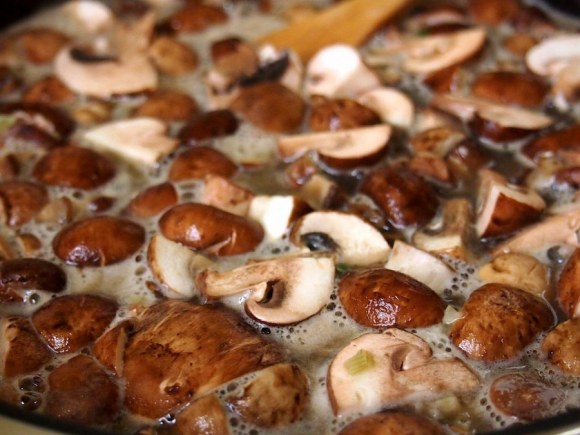 while the soup is dairy free, i have to admit that the best garnish is cheesy toast. it's a crazy tasty combination. of course it's optional if you don't get down with dairy. the soup is good enough to hold it's own, and actually gets better every time it's reheated.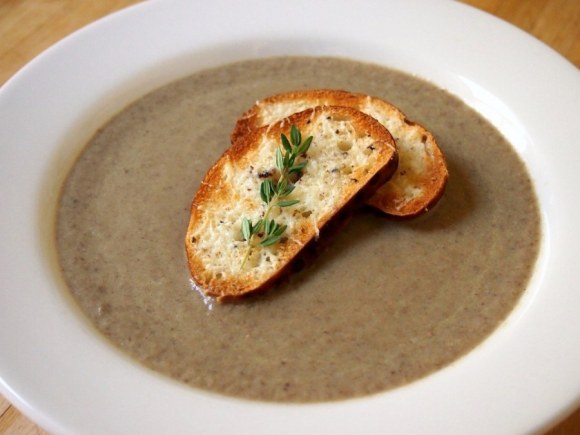 mushroom soup:
olive oil
2 small shallots, skinned and finely chopped
2 cloves garlic, peeled and chopped
1 1/2 Tablespoons flour
4 cups (1 box) of mushroom broth
2 Tablespoons of thyme leaves (eyeball it), plus more for garnish
1 lb cremini mushrooms, quartered (about 7 cups of chopped shrooms)
1/2 cup unflavored thick nut milk, or half & half
8 slices of baguette
shredded parmesan or pecorino cheese (if you run across a truffled moliterno this is the perfect place for it)
preparation:
heat a large soup pot over medium and add enough oil to coat the bottom. add onion and cook for a couple of minutes to soften, then add the garlic. throw in the flour and stir it all together. pour in the broth, and thyme. take a quick taste and adjust the seasoning with salt and pepper. bring to a boil.
add the shrooms to the pot and bring back up to a boil. reduce the heat to low and simmer, partially covered, for a half hour. let cool significantly.
blend the soup to your desired consistency- don't forget to have a little ventilation in the blender lid if your soup is still warm. i like a bit of texture, but the classic "velouté" is smooth and silky (if you're looking to make a fancy statement).
add the blended soup back to the pan along with the milk. bring to a simmer and get it nice and hot while making the toast.
preheat the broiler. toast the bread slices until golden and flip them over. top each with a generous sprinkling of cheese and put back under the flame. let them get gloriously bubbly, then give them a home on top of each serving of soup. a sprig of thyme breaks up the monochromatic-ness and is a reminder that greener days lay ahead.
serves 4
blog comments powered by

Disqus