not-so-spicy cucumber cooler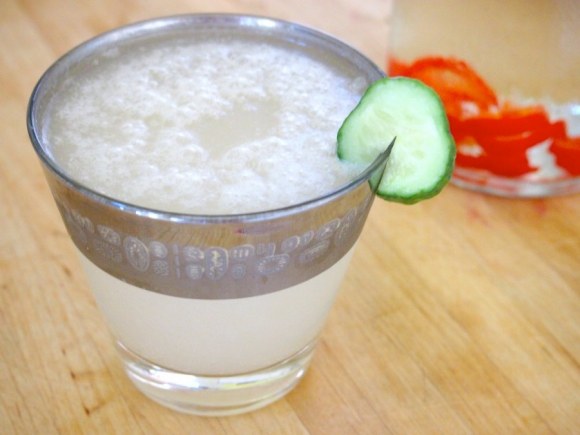 its bark is worse than its bite.
although this cocktail does take some prep work, it's simple to throw together. the chili infused sake didn't get nearly as spicy as i wanted, despite the fact that the pepper burned me real good while getting cut up. it ended up being the slightest presence in the final concoction. there are 4 parts to this drink: cucumber sake, chili sake, sweetened lime juice, and soda.
cucumber sake:
i prefer using unfiltered sake for this one. all it takes to infuse is 1 med/large cucumber per bottle of sake. if the infused sake is going to be seen by guests, peeling stripes in the skin makes the slices look super fancy.
fill a container with the cucumber slices. shake the sake well and pour over the slices. cover and let sit in the refrigerator, for at least 4 hours, but overnight is best. unfiltered sake will separate, so give it a good shake or stir before mixing it in the cocktail.
chili sake:
slice up a chili pepper, and taste a bit to see how spicy it is. i originally used 1 pepper to 2 bottles of draft sake, but the next time around, i'll use 1 pepper to 1 bottle. combine the chili and sake in a container, cover and chill in the refrigerator at least 4 hours, or overnight.
sweetened lime juice: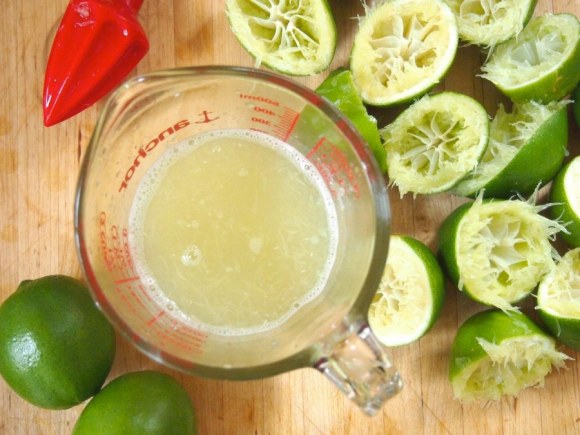 the general rule of thumb is 1cup fresh lime juice and 1/2cup sweetener of choice- either a sugar simple syrup, or agave nectar. i like to use agave- not only because it's easier than making syrup, it's also healthier. note though, that raw agave will turn the mixture brown, so a lighter option is better.
not-so-spicy cucumber cooler:
1 part cucumber infused sake
1 part chili infused sake
1 part sweetened lime juice
soda
preparation:
fill a cocktail shaker with ice, and add the sakes and sweetened lime juice. add lid, and shake 'er up!
pour into a glass and top with soda. garnish with a slice of cucumber on the rim.
drink it down and repeat.
blog comments powered by

Disqus