potato salad with smoked salmon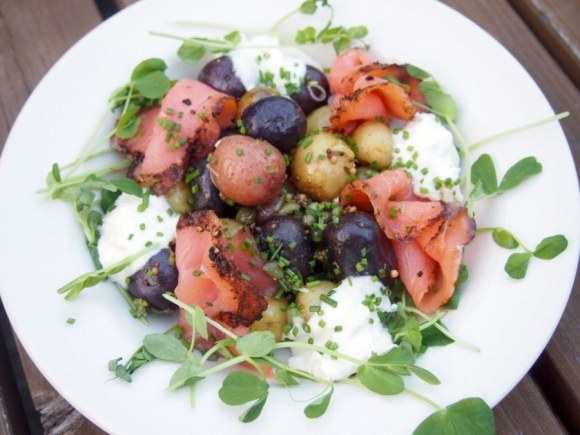 mayo-less potato salad as a main event.
i was powerless to resist buying baby patriotic potatoes: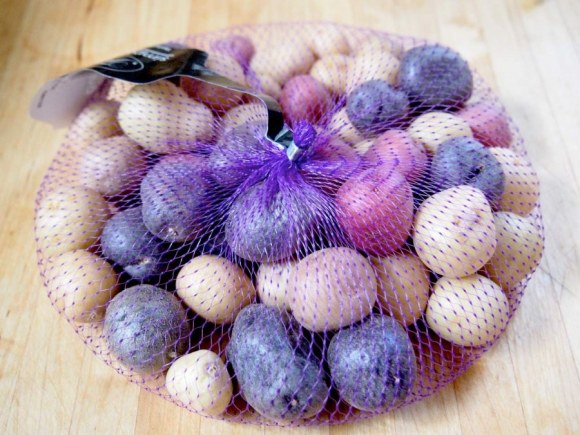 when lil' potatoes are in my possession, there's one recipe i turn to repeatedly: potato salad. let me clarify- i hate mayo. especially in potato salad. thankfully, jamie oliver's potato salad with smoked salmon, opened my eyes to a new kind of potato salad. although it's fantastic, he skipped my favorite potato salad ingredient: the mustard! after tailoring his original recipe, i came up with one that suits my tastes and i haven't looked back. this is always what i want to make after buying pastrami smoked salmon from acme fish.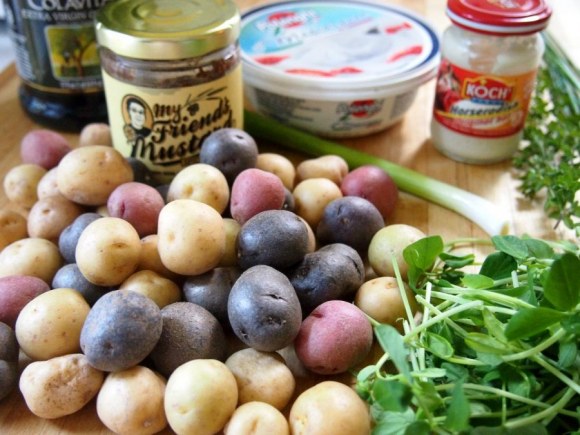 1 1/4lbs new potatoes, washed
1 lemon, juice and zest
1 Tablespoon whole grain mustard
extra virgin olive oil
salt and pepper
1 scallion, white and lt green parts chopped
2 Tablespoons capers
few springs of thyme and chives
1/4 cup mascarpone cheese, softened
2 Tablespoons prepared horseradish
2 cups of pea shoots (arugula works well too)
14oz sliced smoked salmon, patted dry if it's oily
preparation:
in a pot of boiling salted water, cook potatoes for about 15min, until just cooked. drain in a colander, shaking out all the water.
whisk together the lemon juice and mustard in a large bowl. add about twice as much olive oil and season with salt and pepper. taste the dressing- it should have a bit more tang than what you would use on a salad. add the scallion, capers, and thyme. while the potatoes are still hot, toss them with the dressing. let them cool to room temp.
in a smaller bowl, mix the mascarpone with the horseradish and lemon zest. season with salt and pepper.
to plate, i like to put down some pea shoots and fill the center with potatoes. drape the salmon into bunches on the plate and fill in the gaps with a drop of cheese. add a few more pea shoots around the plate and cover the whole thing with chives.
serves 4
blog comments powered by

Disqus