pumpkin dip
October 28 2012, 8:27 pm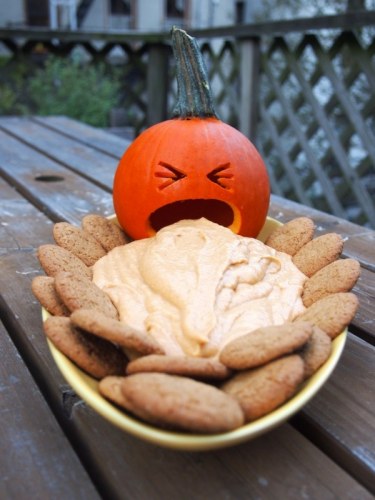 puking pumpkin optional.
this dip is easy and tasty- like a creamy pumpkin cheesecake. since it was going to a halloween party, a pumpkin spilling his guts seemed appropriate. if you like pumpkin pie, this is the dip for you. graham crackers would work as dip carriers, but gingersnaps are the perfect vehicles. which ever you choose, put them in at the last second so they don't get super soggy.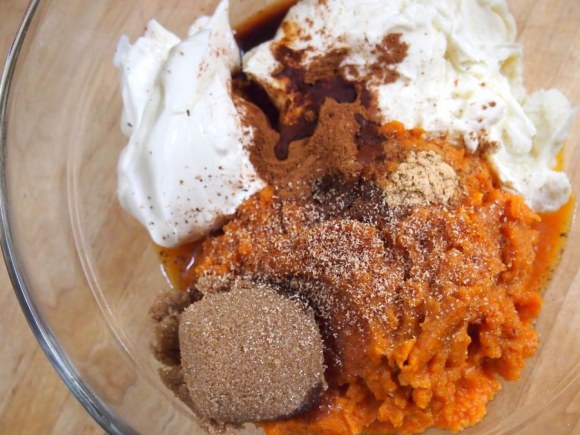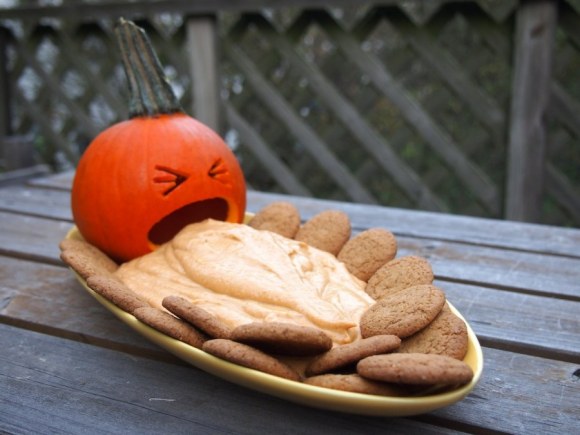 pumpkin dip:
8oz of cream cheese, softened
1/2 cup powdered sugar
15oz can pureed pumpkin
1/2 cup sour cream
1/2 cup brown sugar
1 1/2 teaspoons cinnamon
1 teaspoon vanilla extract
1/2 teaspoon ground ginger
1/4 teaspoon ground cloves
15-20 scratches of fresh nutmeg
small gingersnap cookies
preparation:
in a large bowl, mix the cream cheese and powdered sugar with an electric mixer until well combined. add the rest of the ingredients to the bowl, and blend with mixer until smooth. cover and refrigerate at least a few hours.
to serve with upchucking pumpkin:
clean a small pumpkin with dish soap and dry. carve an opening in the bottom of the pumpkin, not the top. clean out the guts completely. carve a barfy face. if not serving immediately, wrap in plastic wrap and keep in the fridge.
at serving time, put the pumpkin at one end of a platter. add dip, starting at his mouth, and spread it over the platter to look like he's purging. place cookies on either side of dip.
serves 20-25
blog comments powered by

Disqus