savory buckwheat crepes: mushroom and arugula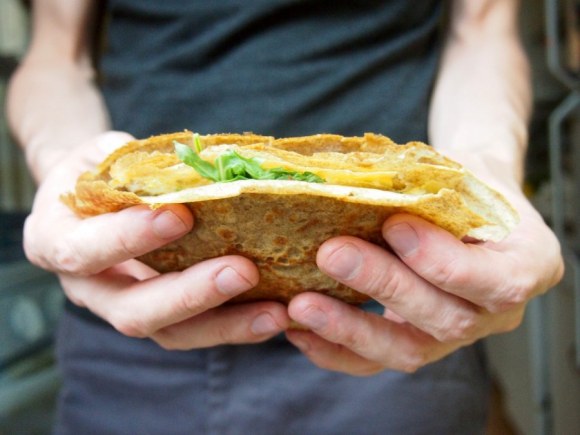 portable pancakes
crepes are amazingly versatile. sweet,savory, breakfast, lunch, dinner, dessert. we make a big batch and keep the leftovers in the fridge. if you change the filling, it's like a whole new meal. my favorite way to eat crepes is a savory one, chased by a sweet one. the best of both worlds. buckwheat flour is my preferred (even for sweet crepes), but any will do.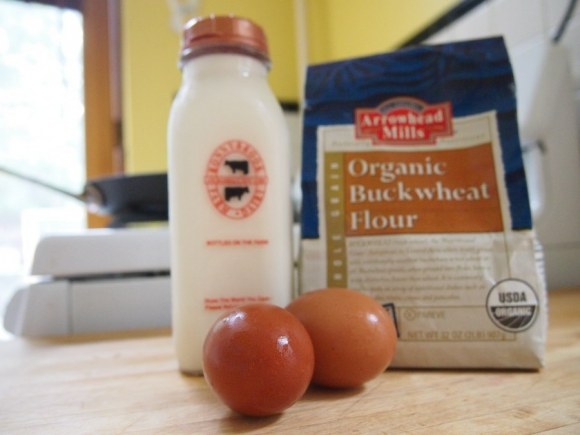 buckwheat crepes:
1 1/3 cups milk
2 eggs
1/2 cup buckwheat flour
pinch of salt
butter or oil for the pan
preparation:
preheat a large nonstick pan on medium heat.
whisk all the ingredients together in a big bowl.
when the pan is hot, add a bit of butter or oil just to coat the surface. using a ladle, pour in about 1/2 cup of batter while swirling the pan so it evenly covers the bottom.
let cook on the first side for about 2 minutes, then flip and cook for another minute.
remove from the pan to a plate and repeat with the rest of the batter.
makes 8 crepes
if the filling is prepared like a thin omelette, it will fold up nicely in the crepe. once the mushrooms are cooked, the eggs come together quickly. my grocer had free tastes of istara ossau iraty, which is a french raw sheep's milk cheese. it's tasty! but manchego, or campo would be good too.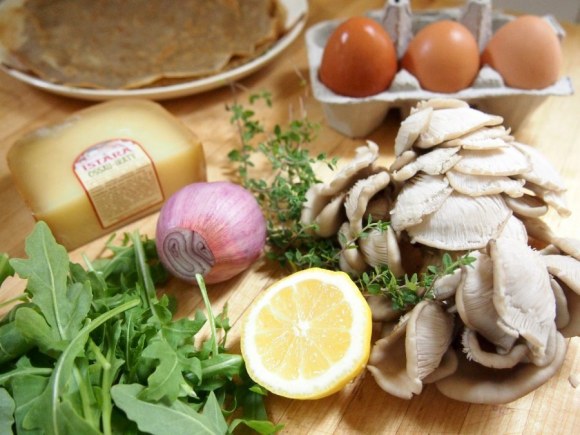 savory crepe filling:
1 small shallot, thinly sliced
3 cups oyster mushrooms, ripped into small chunks
5 or 6 sprigs of thyme
salt and pepper
squeeze of lemon juice
3 extra large (or 4 medium) eggs. scrambled with salt and pepper
4 cups arugula
2 cups shredded cheese (or to taste)
preparation:
preheat a pan on medium and add a splash of olive oil. cook the onions with a tiny pinch of salt until they're softened. add the shrooms, thyme tips, and season with salt and pepper. cook until the shrooms are tender and golden. add a squeeze of lemon juice.
remove 3/4 of the mushrooms from the pan and put aside. spread out the mushrooms left in the pan and add 1/4 of the scrambled eggs. swirl the pan so the eggs cover the bottom in a thin layer. add a handful of arugula, and a pinch of salt. cook until the eggs are set, then slide onto a prepared crepe.
add 1/2 cup of shredded cheese to the filling. fold the crepe in half, then in half again to form a triangle.
repeat making the omelettes until all the ingredients are used up.
makes 4 savory crepes
blog comments powered by

Disqus