sesame brussels sprouts
August 15 2013, 7:26 pm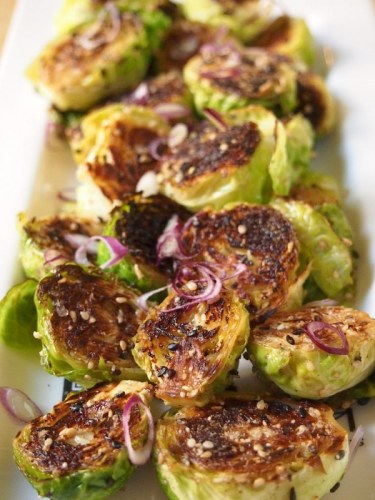 you won't miss the bacon.
brussels sprouts have had quite a resurgence on menus throughout brooklyn. my hypothesis is that they're an off-shoot of the great epicurean bacon boom, as most sprout side dishes are roasted with bacon and covered in candied pecans. with much love for smokey sprouts, and no love for their mingling with swine, it was time to come up with an alternative.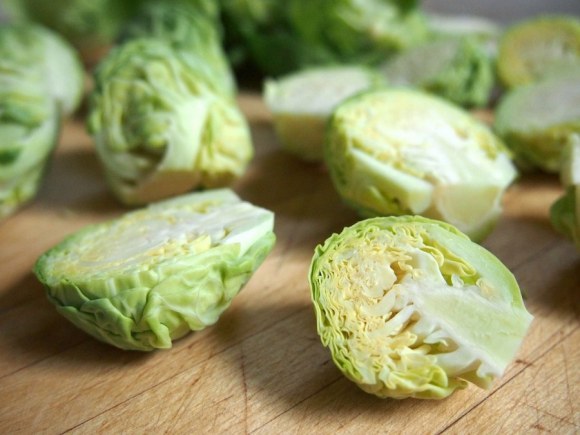 my culinary muse satoko prepares a green bean side dish with smashed up toasted sesame seeds. the smell and flavor are amazing, especially when they hit hot veg. this recipe is similar to her original, but with the addition of smoked sea salt. it's not necessary, but there's a reason so many places cook their sprouts with bacon. they are super when smoky.
a mortar and pestle are perfect for this, but you can also use a clean coffee grinder or even a plastic baggie and rolling pin (satoko's method). no need to smash it into a paste- just break it down enough to release the oils and aroma. this will make more than enough to coat the spouts- my favorite use of the excess is on popcorn, but it's also tasty sprinkled on a kale salad.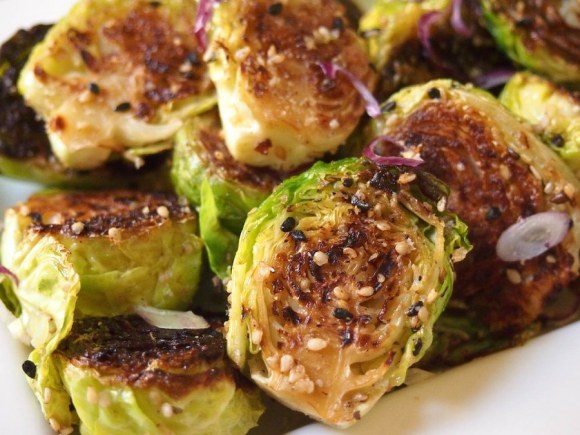 sesame brussels sprouts
10-12 brussels sprouts, stems and outer leaves removed
sesame oil
1 Tablespoon toasted sesame seeds
1 teaspoon black sesame seeds
1/4 teaspoon smoked sea salt
2 scallions, or spring onions thinly sliced
preparation:
put a large non stick pan over medium heat, and cut the sprouts in half lengthwise. when the pan is screaming hot, add enough sesame oil to coat the bottom. then the sprouts, cut side down. don't crowd the pan, you can do these in batches, if need be.
cook the sprouts for 5-7 minutes on the first side, depending on the size of the sprout. when the surface is golden/medium brown, flip them and cook for another 2 minutes on the back side. if they're large, and still seam too crunchy, turn down the heat a bit and add a splash of water to the pan (be careful if there is still hot oil in the pan, the water can splash and sizzle). cook until the water is evaporated and the sprouts are tender.
while the sprouts are cooking, make the sesame coating. smash up the seeds and salt with a mortar and pestle, or a plastic bag and a rolling pin, or a clean coffee grinder.
place the cooked sprouts in a bowl with a generous spoonful of sesame/salt. toss to coat. plate sprouts in a heaping pile and sprinkle with scallions.
makes 2 side servings of brussels sprouts
blog comments powered by

Disqus