shrimp stuffed calamari
December 27 2012, 2:05 pm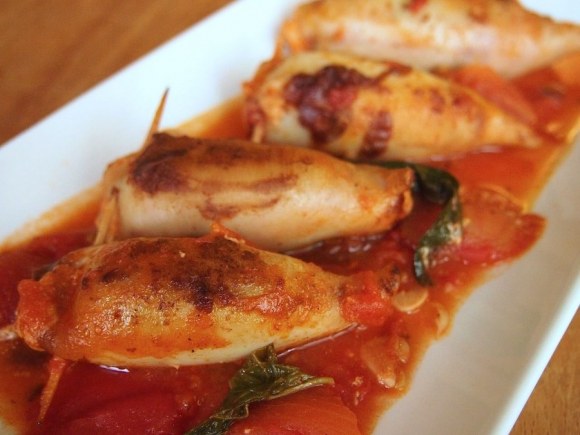 stuffed calamari are a labor of love. they are incredibly time consuming and unpleasant to make. but the pay off is so good, that they really are worth the effort. once a year.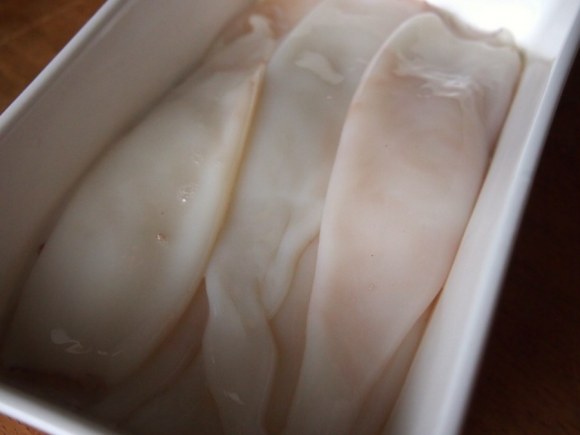 the stuffing is similar in construction to a meatball, with chopped seafood replacing the beef and pork. and yes, it's gross to handle tentacles, which is why i prefer to chop them up with the shrimp in a food processor. this is the only shortcut, and it makes a big difference.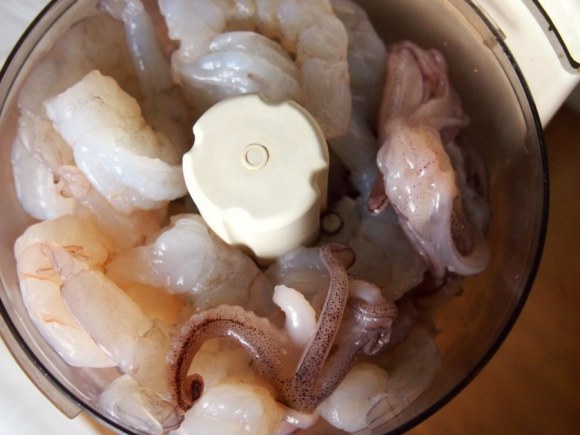 it takes damn near forever to fill these. honestly, it's an all day procedure and a gooey disgusting mess of epic proportions. a very important tip is not to fill them up more than two-thirds full. they will shrink as soon as they hit the pan, and if they're too stuffed, blow outs will be inevitable.
shrimp stuffed calamari
12 calamari, cleaned with tentacles separated
1/2lb shrimp, peeled and deveined
1 large egg
1/4 cup fresh breadcrumbs
1/4 cup grated parmesan cheese
1/4 cup chopped parsley
1/3 cup chopped basil
juice and zest of a lemon
3 cloves of garlic, minced
olive oil
salt and pepper
6 cloves of garlic, sliced thinly
few dashes of red pepper flakes
1/4 cup dry white wine
28oz can of whole tomatoes
3 stalks of basil
preparation:
rinse the bodies, dry, and set aside. in the bowl of a food processor, add the shrimp and tentacles. pulse until roughly chopped. in a large bowl, mix this seafood with the egg, breadcrumbs, cheese, parsley, basil, lemon juice and zest, garlic, a drizzle of olive oil, and salt and pepper.
with much time, and much patience, fill each body with the stuffing. do not over stuff, there should be enough of the body at the opening to easily accomodate a toothpick closure. only two pokes of the toothpick are needed to secure the opening.
heat a few tablespoons of olive oil in a large deep pan over medium high heat. sear the calamari in batches, so not to crowd the pan, 8-10 minutes, until golden brown on both sides. transfer to a plate and start the sauce.
lower the heat in the pan to low, and add a bit more oil. throw in the garlic and pepper flakes and cook for a minute. add the wine, scraping the pan to get any brown bits up. cook until the wine is almost evaporated, and add the tomatoes to the pan. break them up with the back of a spoon, then season with salt and pepper. add the basil stalks, and calamari in a single layer. bring to a simmer, cover and cook for 30 minutes until the calamari are tender. take off the lid and cook another 15 minutes to thicken the sauce.
makes a dozen calamari
blog comments powered by

Disqus