souvenir coin bracelet
October 4 2013, 5:44 pm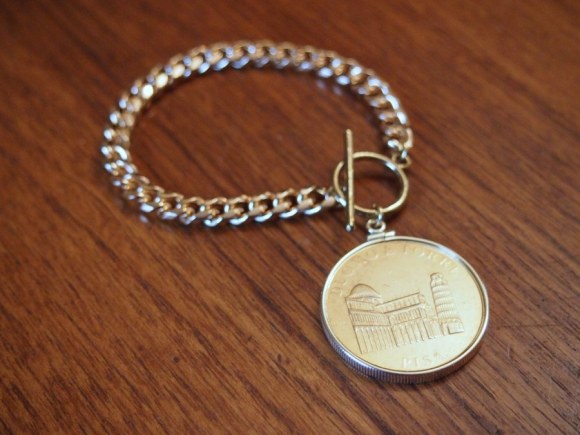 worthless currency worthy of display.
souvenir coins are the bigger, fancier, pricier version of souvenir pressed pennies. they deserve a bit more respect than just drilling a hole at the top. a coin bezel classes up the presentation, but finding one the right size took 90% of the effort to make this bracelet. settings for souvenir coins aren't readily available (most settings are for real currency). this one came from esslinger and is actually made for the US half dollar. it's the closest match for many of the european souvenir coins, like this duomo e torre pisa.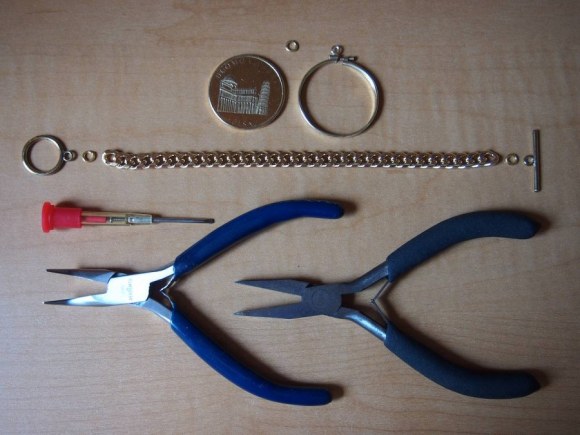 souvenir coin (picked up from the destination of your choice)
3 jumprings
6mm curb chain, to fit your wrist
eyeglass screwdriver
2 pairs of jewelry pliers
with the pliers, twist open a jump ring. attach one side of the toggle clasp to the last link on the chain and twist the jump ring closed. twist open the second jump ring, and use it to attach the other side of the toggle clasp to the other end of the chain.
with the screwdriver, remove the screw from the bezel. only open the bezel wide enough to get the coin in.
once the coin is fitted in the bezel, close the setting and replace the screw. don't over tighten the screw, or it will strip the threads.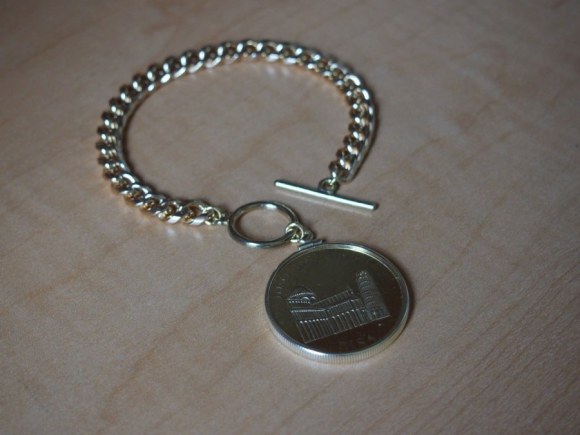 once the coin is set, it's ready to attach with the last jump ring. it can go anywhere on the bracelet, but i chose the loop end of the clasp. there are 7 more coins in my collection, but only 5 of them have bezels near in size. a matching necklace is in the immediate future.
blog comments powered by

Disqus