speculaas gnomes
December 3 2012, 9:00 am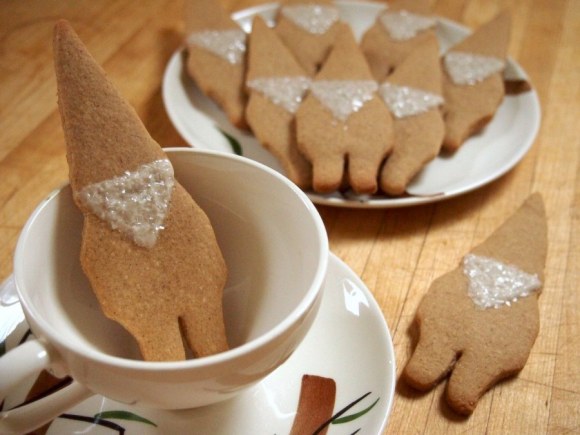 with lemony sparkle beards!
speculaas is like gingerbread's dutch cousin. not quite as spicy, but just as warm and comforting. you can't order a cup of coffee in belgium without getting a free speculoos biscuit. it's all over the place, all year round, but especially just before st. nicholas' day.
traditionally, it's pushed into wooden molds or stamped, but this gnome cookie cutter was begging to be speculoosed. an army of gnomes ambushed the kitchen with military precision.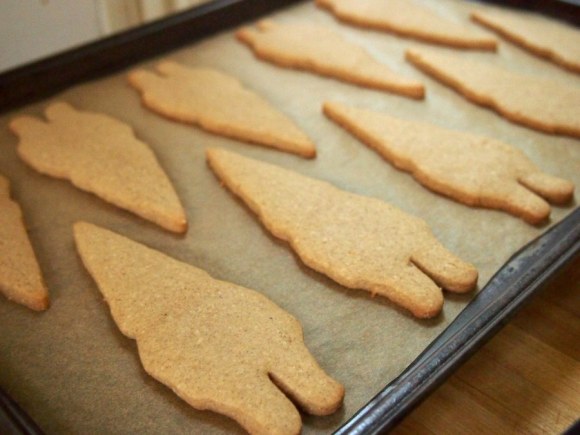 when the cookie itself is this delicious, it doesn't need icing. but what's a gnome without a beard?! sad, that's what. magical glittery facial hair only takes 3 ingredients: powdered sugar, fresh lemon juice and edible glitter. fill a bowl with 2 heaped Tablespoons of powdered sugar, and squeeze in some lemon juice. stir it up good and check the consistency. it's amazing how little liquid you need to make icing- just a squeeze should be enough.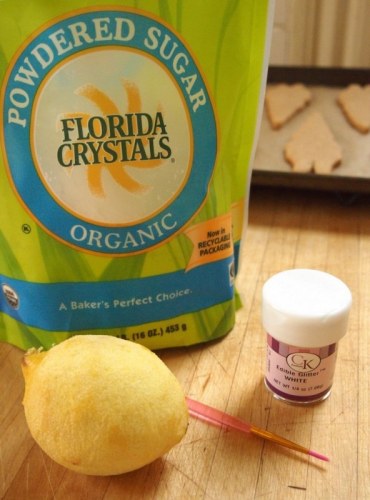 the lemon icing makes these guys spicy and tangy and sweet- just like real gnomes. but if you're a traditionalist, you can use water instead of the lemon juice. all it takes is a triangle slapped on the front and dusted with glitter and these guys are ready for action.
sprinkle glitter over the parchment used to bake this army, so you can add the excess back to the container.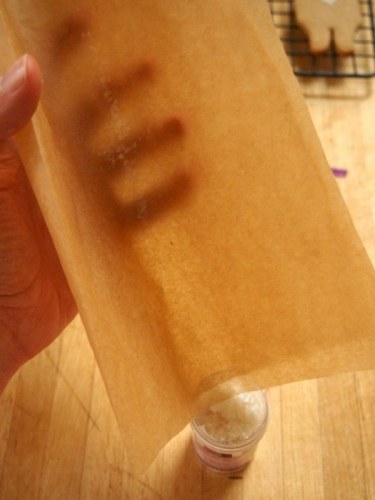 speculaas gnome reporting for duty. on a kamikaze mission to be devoured.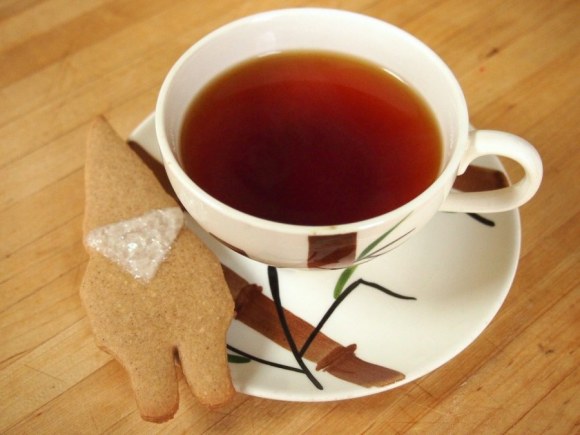 speculaas
(adapted from the joy of baking)
1 1/2 cups all purpose flour, plus more for rolling out
1/2 cup almond meal
1 teaspoon baking powder
1 teaspoon cinnamon
1/4 teaspoon ground ginger
1/4 teaspoon ground cloves
1/4 teaspoon salt
about 15 scratches fresh nutmeg
1/2 cup butter, at room temperature
3/4 cup packed brown sugar
1 large egg
zest of 1 lemon
preparation:
preheat oven to 350 degrees. line a baking sheet with parchment paper.
whisk the flour, almond meal, baking powder, and spices in a large bowl. set aside.
in the bowl of a stand mixer (or with a hand mixer), cream the butter and sugar until light and fluffy. beat in the egg and zest until well combined. add the flour mixture and mix until everything is incorporated. turn out the dough onto a sheet of plastic wrap. cover it up and chill it in the fridge overnight.
preheat oven to 350 degrees. line a baking sheet with parchment paper.
dust the rolling surface and rolling pin with flour. break off half the dough, and shape it into a ball with your hands. roll it out to just over 1/4" thick. cut out gnomes carefully, and transfer them with a spatula to the baking sheet. push all the scraps together and roll out again. if the dough becomes sticky, pop it back in the fridge for a minute to chill.
bake gnomes for 7-10 minutes, until just browned. let cool completely before decorating.
makes 1 platoon of gnomes (about 2 dozen)
blog comments powered by

Disqus