sweet and savory mini stratas
October 8 2012, 7:59 pm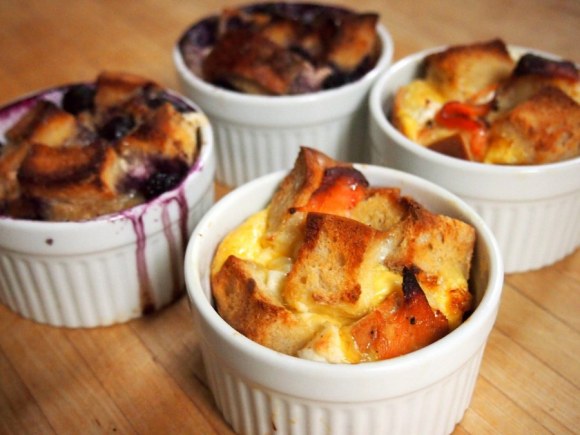 bring day old bagels back from the dead.
stratas have a lot going for them. not only are they versatile, they're also a cinch to make. they're commonly made in a big casserole dish, but if done individually, you don't have to choose between making a sweet one, or a savory one. because that's a tough decision to make. you can put anything in a strata that you would use in an omelet, or french toast. we had some leftovers from the nintendo brunch to use up, and this is where stratas come in so handy.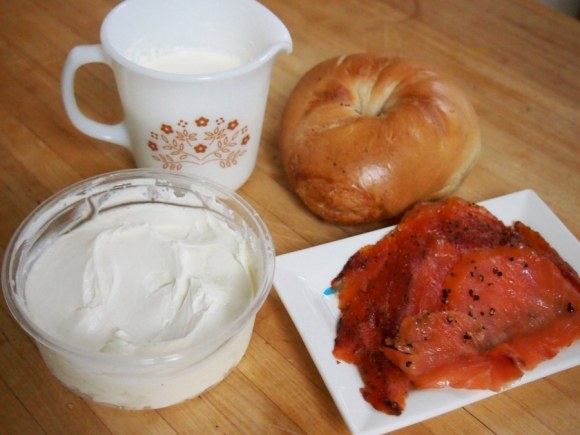 ess-a-bagels are enormous, so it only took 1 to fill up 4 ramekins. also on hand was milk, cream cheese and smoked salmon. stratas are great for brunch, because they can be made the night before and thrown in the oven in the morning. don't let that stop you from eating them at night though- these were so fast to make that i threw them together before i left for work, and they were ready to be baked for dinner when i got home.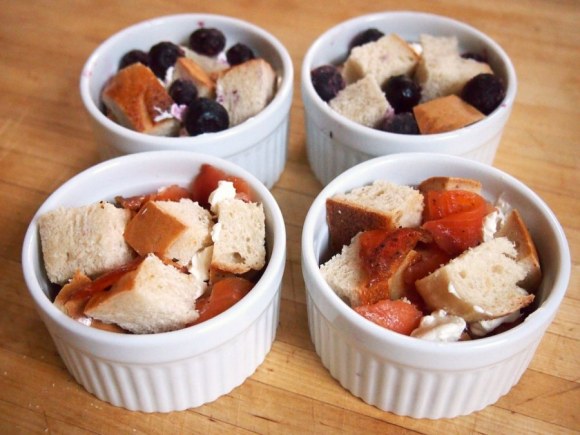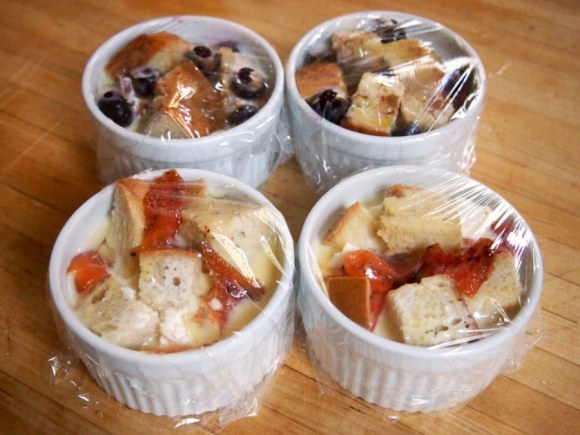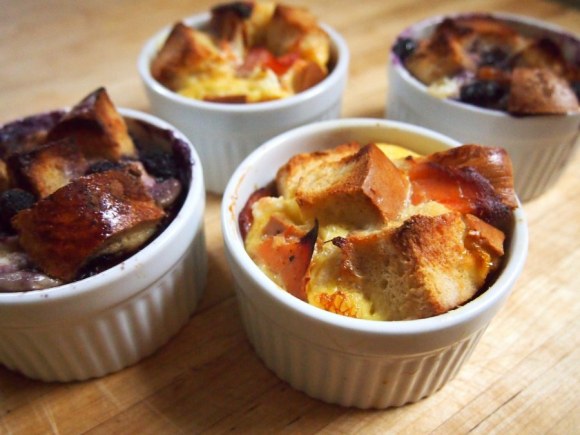 blueberry cheese mini stratas:
2 eggs
1/3 cup milk
1/4 teaspoon of vanilla extract
1/2 large day old bagel or bread, cut into 1" cubes
2 Tablespoons cream cheese
1/4 cup frozen blueberries
drizzle of honey
cinnamon
maple syrup for serving
smoked salmon mini stratas:
2 eggs
1/3 cup milk
3 slices smoked salmon
2 Tablespoons cream cheese
salt and pepper
preparation:
whisk together the eggs and milk. if making sweet stratas, add vanilla. if making savory stratas, season with salt and pepper.
divide bread cubes evenly among 4 (8oz)ramekins. add dollops of cream cheese throughout- about 1 TBL per ramekin- and filling of choice.
pour egg mixture over each ramekin, filling about 1cm from the top. if making sweet stratas, add a bit of honey and a sprinkle of cinnamon to the top. cover each with plastic wrap and put in the fridge for 8hrs, or overnight.
preheat the oven to 350. place the ramekins on a baking sheet (in case they overflow), and bake for 35-40 minutes. remove from the oven and serve immediately.
this recipes makes 4 ramekins- 2 sweet, and 2 savory.
blog comments powered by

Disqus