trimmed chain bracelet
July 12 2012, 12:00 pm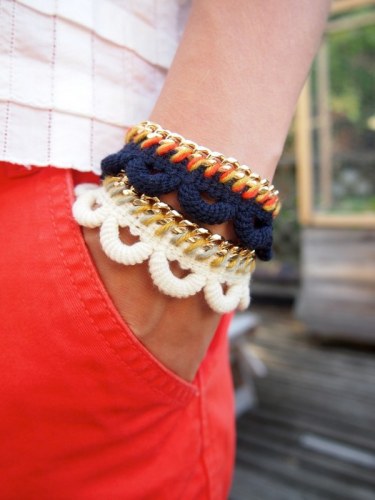 i'm a sucker for trims. i've acquired many, and have held onto them for years without any grand ideas. recently i ran across this friendship bracelet tutorial on honestly wtf, and knew right away that i wanted to use up some of the trims i've been hoarding.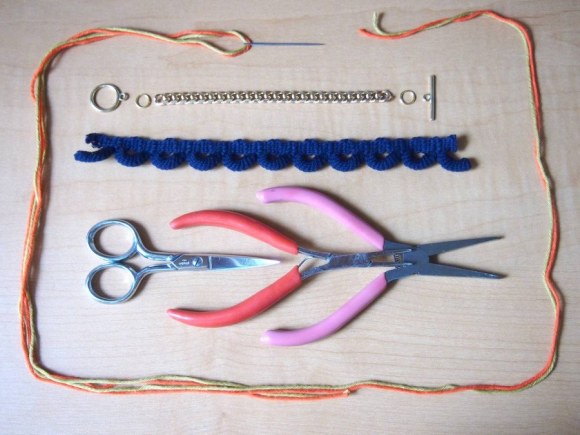 brass curb chain, cut to the length of your wrist
trim (there are so many great ones on etsy- this is close to the one i used, but fringes, or pom poms would be cute too)
1 toggle clasp
2 jump rings, big enough to fit the chain and a toggle ring
tapestry needle make certain that the needle will fit in the chain links with ease when it's threaded with yarn
2 colors cotton tapestry thread or embroidery floss
scissors and 2 pairs of pliers
first step is finishing the trim neatly on both ends:
this particular trim unravels, so it was necessary to enclose the edge. the trim was folded back and wrapped completely with the thread. cut off all the excess trim from the wrapping.
cut the trim to the length of the chain (i cut mine a bit short- next time i'll add one more loop). fold the edge towards the back and wrap as before. trim off any excess.
to help keep the chain and trim centered, some quick tack stitches helped to hold them in place.
begin to stitch the chain to the trim by bringing the thread through the back side of the wrapping and the chain link. bring the thread through the front side of the trim, and then up through the the next link. repeat stitches, keeping them even and trying not to twist the threads.
when reaching the other end, bring the thread down through the wrapping. trim the excess away. cut the tack stitches off.
with both pliers, twist open the jump rings and add the toggles to the chain.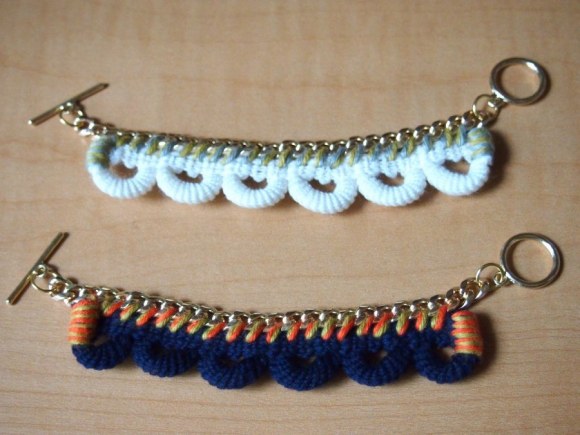 blog comments powered by

Disqus