valentine carmelitas!
February 14 2012, 1:07 pm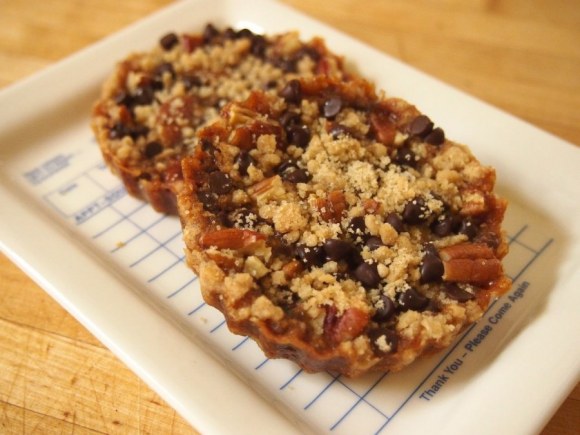 sweet sweet carmelita. how much do i love thee?
with all of my heart! i buy a carmelita from wholefoods almost every time i go, and then we eat a single bite of it for 4 days to savor the gooey deliciousness. i was excited when one of my favorite baking blogs, the brown eyed baker, posted a recipe for them that didn't use corn syrup. i tweaked it ever so slightly by using some caramel that i had from the franklin fountain (aka. liquid gold), and rearranging the order of the toppings. because these are for a very special valentine, i gussied them up by using a silicone tart pan (similar to this one
), and a 7"x9" pan. the whole thing can be put in a 13"x9" pan, and will be equally delicious.
ingredients:
2 cups flour
1 teaspoon baking soda
1/4 teaspoon salt
1 cup of softened butter
1 1/2 cups of brown sugar
2 cups quick cooking oats
1 cup of caramel sauce, warm enough to pour
1 cup of chocolate chips
1 cup of chopped pecans
cookie crust:
preheat oven to 350 and butter a 13"x9" pan.
whisk together flour, baking soda, and salt.
cream butter and brown sugar with an electric mixer until fluffy. with the speed on low, add the flour mixture until incorporated.
add the oats and mix to combine
put 2/3 of the mixture into the pan and press it into a solid layer. bake for 12-15 minutes
let cool slightly before adding the toppings
toppings:
pour caramel onto cooled cookie crust and spread to the edges.
top with an even coating of left over cookie mixture, chocolate chips and pecans.
put back in the oven for another 15 minutes, until the topping is golden and the caramel is bubbling.
let cool completely before cutting.
makes approximately 24 bars.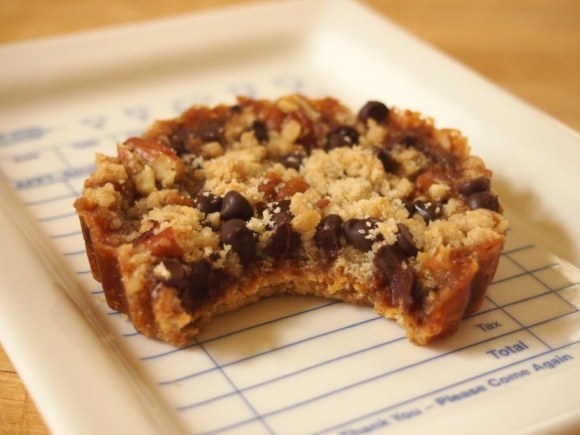 blog comments powered by

Disqus