veggie enchiladas moles
November 1 2012, 8:48 pm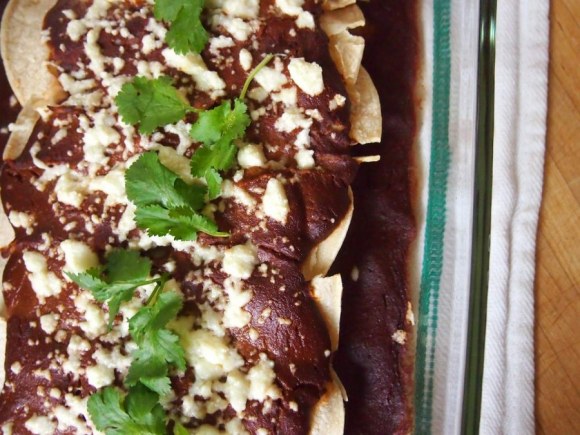 bueno, no es genial.
making mole is a daunting task, but jamie oliver's mole recipe is less scary than the ingredient list looks. in honor of dia de los muertos, i gave it a shot.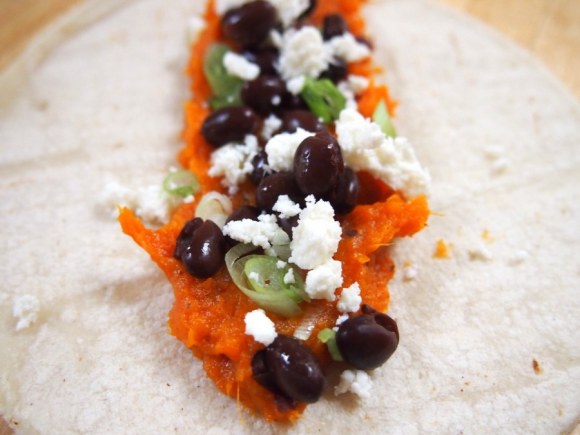 the filling itself took very little prep, and the flavors were phenomenal with the sauce, but... the texture was definitely too uniform. a hefty helping of cheese (way more than what's pictured) kept it from resembling baby food. they could definitely benefit from something crunchier inside. fresh corn? red pepper? i'll be trying both in the next batch (fortunately, we have enough mole for at least one more pan)
veggie enchiladas moles:
for the mole (from jamie's america
):
4or 5 dried chilies, stems and seeds removed
2 onions, coarsely chopped
2 cloves of garlic, sliced
1 teaspoon cumin seeds
1 teaspoon ground cinnamon
2 teaspoons sesame seeds
1 14oz can diced tomatoes
2 teaspoons cocoa powder
4oz dark chocolate, chopped (mexican chocolate is fantastic)
splash of red wine vinegar
preparation:
place chilies in a bowl and cover with 3 1/2 cups boiling water. let soak for 15 minutes. remove the chilies, and reserve the soaking liquid.
put a generous splash of olive oil in a large pre-heated saucepan. add onions, garlic, cumin, cinnamon and drained chilies to the pan. cook on low heat for 15-20 minutes, until everything is soft.
add sesame seeds and tomatoes to the pan. fill up the tomato can halfway with the chili soaking water and add that to the pan too. bring to a boil, then lower heat and simmer for 5 minutes. add the cocoa powder to the pan and season with a good pinch of salt and pepper. continue cooking for another 5 minutes, and add the chocolate chunks. stir until melted. take off the heat, and allow to cool slightly.
transfer the sauce to a blender. with the lid ajar, and a tea towel covering the opening (to prevent explosions), gently blend the sauce to a uniform consistency. add the soak water to thin out the mixture to the desired consistency. it's very flavorful, so don't be afraid of weakening the taste. it helps to be on the runnier side if it's going to be baked- the tortillas should soak up some of the moisture.
taste the sauce to check the seasoning. add some vinegar and blend again.
for the enchiladas:
8 corn tortillas
1lb yams, washed and dried
1/4 teaspoon chili powder
1/2 14oz can of black beans, drained and rinsed
3-4 scallions, white and light green parts, sliced thinly
queso fresco, crumbled to taste (more is better)
few sprigs of cilantro
preparation:
preheat oven to 400 degrees. poke each yam a few times with a fork, and toss them in the oven. put a foil wrapped baking sheet on the rack below the yams, to help if they drip any juices while baking. bake for 45min- 1 hr, until their guts are soft. when they're out of the oven, lower heat to 350 degrees. let yams cool slightly, then skin and lightly mash in a bowl with chili powder and season with salt and pepper.
evenly distribute the yams, beans, and scallions among the tortillas. top the fillings with queso (generously), and roll up each tortilla.
spread an even layer of mole sauce in a 13"x9" pan. add each filled tortilla, seam side down. top the tortillas with sauce, and another (generous) sprinkling of queso. cover the pan with foil and bake for 15 minutes. remove the foil and continue to bake for 5 more minutes. let cool slightly and top with torn cilantro.
makes 8 enchiladas.
blog comments powered by

Disqus