veggie fritatta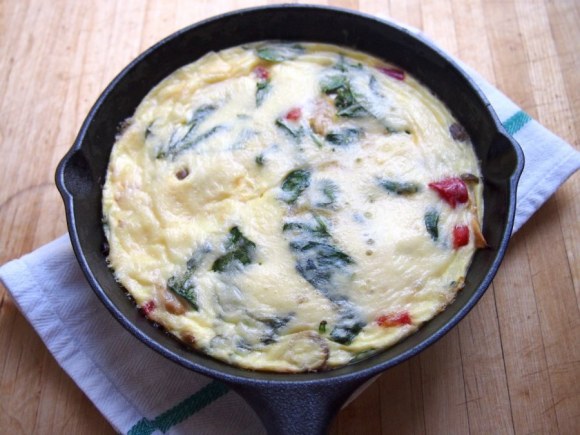 go crazy and have eggs for dinner.
i love eggs- especially when they're filled with delicious veg. and while this fritatta makes a fantastic breakfast, we eat it more often for dinner. it's almost always what i want when i don't have taste for anything. and mosts veggie work well in it. frequently when i've got a fridge full of stuff that's about to turn, i'll throw it into a fritatta. sauté what you've got on hand, cover it with scrambled eggs, and throw it into the oven. it's that easy.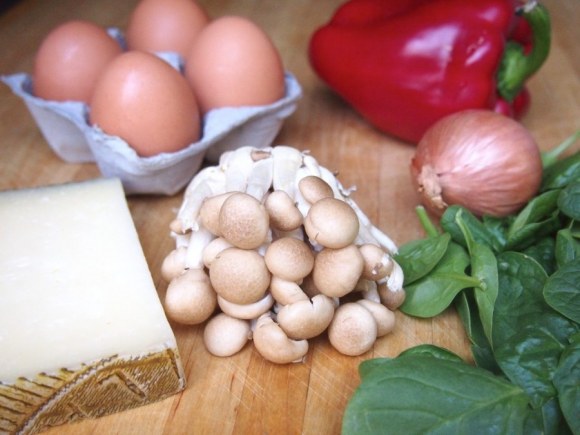 olive oil
salt and pepper
1 small shallot. sliced thinly
1/2 red bell pepper, diced
1 cup mushrooms (i used bunashimeji mushrooms- but any will work)
2 cups baby spinach (approximately- i usually fill up the pan as much as possible)
4 eggs, scrambled with a splash of water, salt and pepper
3/4 cup of grated cheese (or as much as you like- don't let me tell you how cheesy to make your meal), the cheese used in the fritatta pictured is manchego
preparation:
preheat the oven to 350 degrees.
heat a small oven proof skillet over medium. add a splash of olive oil, and the onion. season each veg as you put it in the pan with a tiny bit of salt and pepper (the salt helps the veg cook faster in addition to seasoning it). cook the onion for about a minute, until it's softened. add the bell pepper and cook it for another minute before adding the mushrooms.
when the mushrooms have softened a little (after 2-3 minutes), add the spinach to the pan. after it's wilted a bit, add the scrambled eggs and top with cheese.
move the pan into the oven and cook for 25-30 minutes, until the center is firm when you shake it.
the fritatta will be all puffed up and glorious when it comes out of the oven- but don't get too excited. it will collapse as soon as it's cooled. trust me, it's still delicious, and looks totally presentable.
let it cool in the pan for a few minutes, then shake it out onto a cutting surface. you may need to use a spatula around the edge to make certain it doesn't stick.
cut it into quarters and serve it up.
serves 2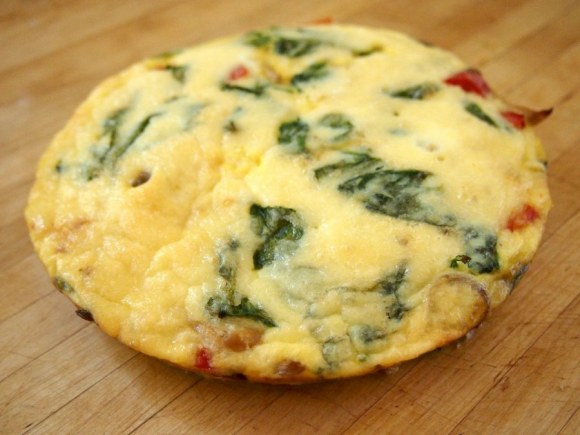 blog comments powered by

Disqus