vintage patterns: overalls
July 12 2013, 11:21 am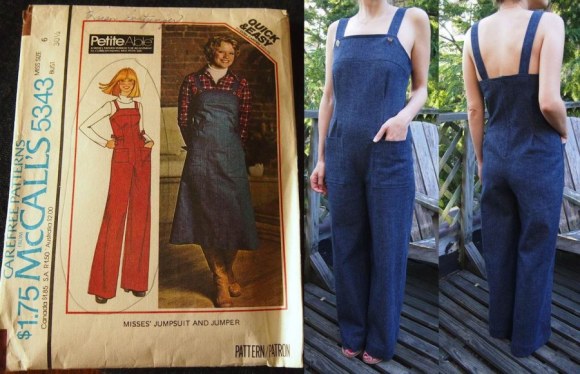 just in time for 90 degree weather.
i've had overalls on the brain for awhile now, and tried a few times to buy a pair that fit. like so many previous purchases, nothing even came close. fortunately, there are plenty of vintage patterns floating around on the internet to make a pair. after narrowing down the search, i ended up with McCall's 5343:
in addition to a dark indigo chambray, they required 2 buttons (yes, they are different sizes) and heavy thread for the buttonholes. now, if you have a machine that buttonholes, there's no need for the thick thread. my machine hasn't buttonholed properly in 10 years, and it's been at least 15 since i've tried to do it by hand.
naturally, i made a mistake right of the bat, in not reinforcing the fabric with fusible backing. even denim needs a backing. add some to the area that will be buttonholed, even if the directions neglect to mention it (thanks a lot McCall's). to measure the length of the hole, lay the buttons down, give them a little mark above and below each one. connect the dots, and machine stitch around each line (about 1/8"). cut the lines open with a scissors or blade.
there was no way to get any decent shots of this stitch technique, and thankfully no need- this diagram helped initially, but the best way to learn is by watching the video posted here.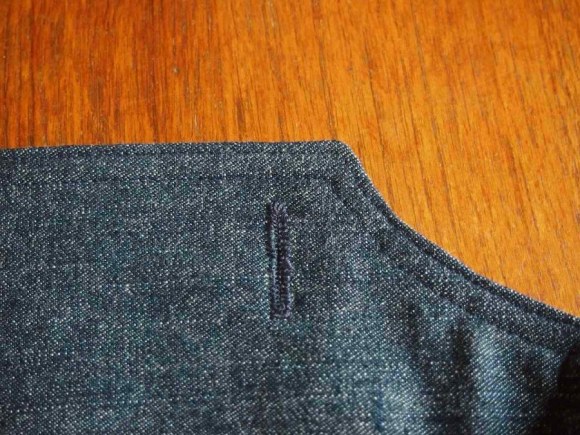 is it perfect? that's laughable. will it do? you bet. this is something that requires serious practice. as for the rest of it, the pattern was pretty clear to follow and not difficult to construct, but when trying it on to determine where to place the buttons, a major flaw became apparent: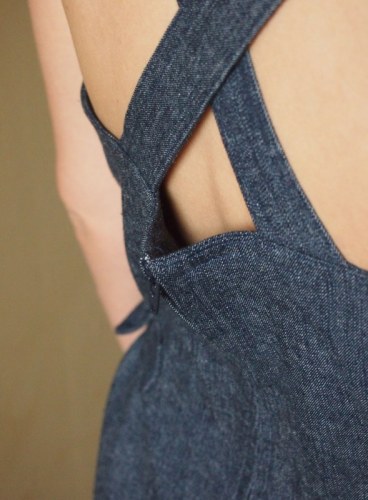 this could be related specifically to my body shape, and not an issue for anyone else. ultimately, it was too big in the bust (story of my life). to avoid having to rip the facing out yourself, sew the straps to the top edge, and before adding the facing, try the sucker on. i had to take in about 1/2" on each side seam and opted to not cross the straps in the back.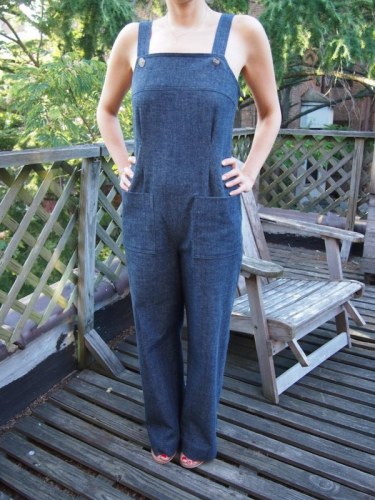 the original pattern has ties that are topstitched to the front and back at the darts, but they were very chunky and hit at a weird part of the waistline (again, that might be just my body shape, and not an issue for others). the darts give the overalls a cute fitted shape, but they also make it look more like a jumpsuit. i might rip them out entirely for a looser fit. that decision will be put on hold until overall weather is upon us again.
blog comments powered by

Disqus