vintage patterns: 70s jersey dress
March 27 2012, 8:28 pm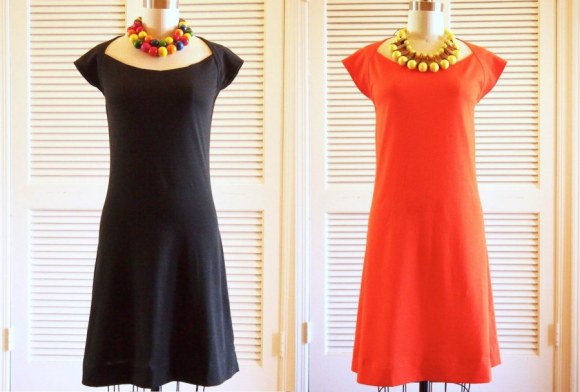 a dress so nice i made it twice.
i've had a quantity of jersey in my possession for some time, under the delusion that all jersey must be serged. the only access i have to a serger is my mom's, so a trip home was a great excuse to purchase some knit patterns and get down to it. after i finished the first one, it became pretty clear that a serger wasn't necessary. the second one was done in no time on a regular crappy sewing machine.
a big concern from the outset was that the pattern called for "moderate knits", which most likely means polyester double knit. i had a thin black silk jersey and a bright coral t-shirt weight jersey. they both worked, although the pattern was too big for me at the neckline.
to help the fit, i added 5/8" to the neckline before cutting it out. it made a big difference.
to finish the seams, the seam allowance was pressed to one side with a double row of top stitch. if you want to get professional, you could go all out and do jean seams. even after sewing each seam 3 times, this was fast to put together. it's only 2 pattern pieces, and very basic instructions. i just bought it last month on etsy, and there were a few in various sizes floating around the internets...
blog comments powered by

Disqus