vintage patterns: groovy a-line dress
March 2 2012, 5:05 pm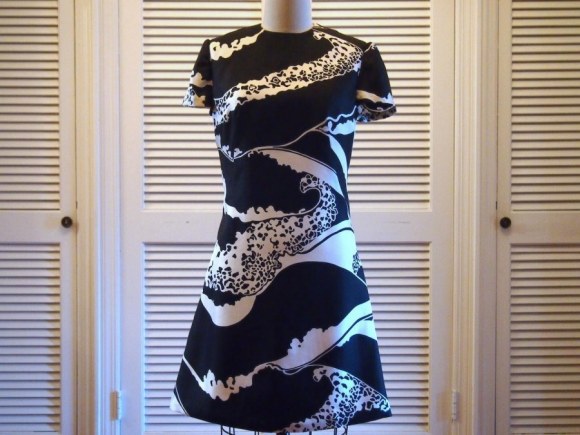 vintage pattern + vintage fabric= rhoda morgenstern
i love vintage patterns. they are a huge contributor to my ebay addiction. this pattern was originally bought for the smock (which turned out real cute), but i also liked the cut of the dress. there were big plans for this dress when it was started 5 years ago. BIG plans. a cast for 15 weeks on my left hand put those plans on hold until the other day. i had sewn the shell, minus the zipper, the lining, and the sleeves.
the fabric also came from ebay- i can't pass up a sweet piece of vintage printed silk. there was just enough for the dress front and back, but not enough for the elaborate sleeves (no big loss), so they became simple caps. i also really dislike using facings- i'd rather line the whole garment if i'm already putting in the effort to make it. for the lining, you simply cut out and sew the same pattern pieces as the shell in another fabric (i used a silk charmeuse). what follows is how i attached the 2 pieces and the sleeves:
neckline:
line up shell and lining so the right sides of the fabrics are together. stitch around the neckline.
clip seam allowance around the curves, and press towards the lining. stitch allowance to the lining, close to the seam.
sleeves:
baste the lining to the shell at the armhole.
insert sleeves into body. press allowance open and then towards the sleeve.
bind allowance around the seam with thin binding strips.
hem sleeves.
invisible zip:
sew invisible zipper to the shell, keeping the lining out of the way. there are a lot of instructional videos on how to insert an invisible zipper. practicing on scrap fabric helps tremendously.
press the lining where the zip will be. leaving plenty of room around the teeth for the zip head to pull smoothly. tack stitch the lining to the zip.
in the end, it was worth the wait! totally rhoda morgenstern. although i love the print, i feel like the silhouette longs for a belt. i may have to turn that piece of ultra suede into something wearable before this dress gets taken out on the town...
blog comments powered by

Disqus