warm kale salad with maitake and pecorino crisps
October 12 2012, 9:22 pm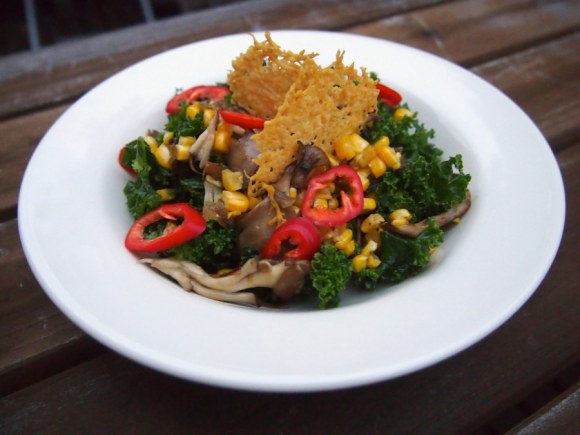 an autumnal salad- not for wimps.
it becomes increasingly difficult to eat salads when the weather gets cool- the instinct is to want something warm and comforting to take the chill off. but when a salad has warm ingredients and requires turning on the oven, you can be fooled into believing that a plate of vegetables is a homey meal.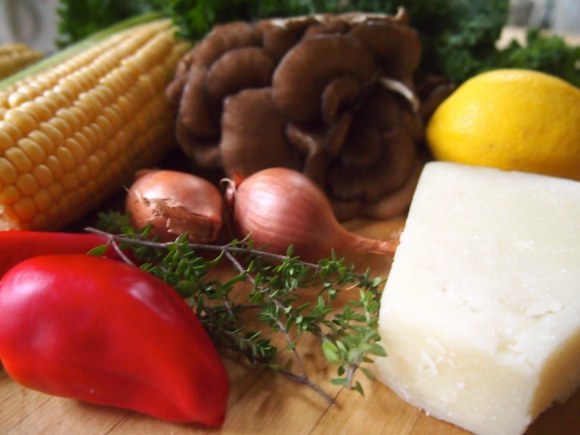 the key to eating raw kale is to remove all stems, tear it into bite sized pieces, and (this is where it gets weird), give it a massage. seriously. massaging a bowl of kale with lemon, olive oil and salt will break down the leaves (almost as if they were cooked), and produce dark green, glossy, slightly wilted leaves. massaged kale holds up well to hot and heavy toppings, without becoming a wimpy soggy mess.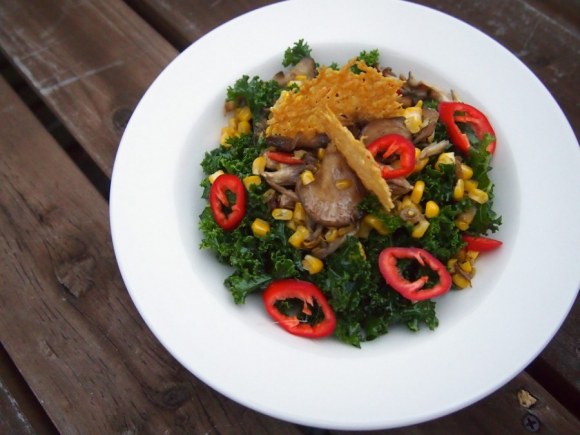 warm kale salad with maitake and pecorino crisps
1 cup grated pecorino romano cheese
5-6 leaves of curly kale, stems removed, torn into bit size pieces
1/2 lemon, juiced, + a few more squeezes
few Tablespoons extra virgin olive oil
salt and pepper
2 small shallots, thinly sliced
1 large maitake mushroom (about 3.5oz), broken into smaller stems
few sprigs of thyme, leaves removed from the stems
1 ear of sweet corn, shucked kernels removed from the cob
1 mild chile pepper (or sweet red bell pepper), thinly sliced
preparation:
preheat the oven to 400 degrees. place 1 1/2 Tablespoons of cheese in a mound on a parchment lined baking sheet. flatten out the mound slightly. repeat with the rest of the cheese, spacing the mounds about 2" apart. place in the oven for 5-7 minutes, until the crisps have turned golden brown. keep an eye on them so they don't burn. using a spatula, remove the crisps to a wire rack to cool completely.
put the kale in a large bowl along with the lemon juice, olive oil, salt and pepper. massage the leaves for a few minutes until they turn dark green and wilt a bit. taste a leaf and adjust the lemon/ olive oil ratio and seasoning.
heat a small pan over medium heat. add a splash of olive oil and the shallots with a pinch of salt. cook for a few minutes until they begin to turn translucent, then add the mushrooms and thyme. cook until the shrooms are golden brown, 5-7 minutes. add the corn kernels and a Tablespoon or two of water. season with salt and pepper, and cook until the water has mostly evaporated, creating a bit of sauce in the pan. add a tiny splash of oil, a small squeeze of lemon (and if you're feeling like some extra deliciousness, a little butter is super).
divide the kale among 4 bowls, and top with the mushroom, corn mixture. garnish with the sliced pepper and stab the middle of each salad with 2 cheese crisps.
serves 4
blog comments powered by

Disqus