white clam sauce with broccoli
April 6 2014, 6:52 pm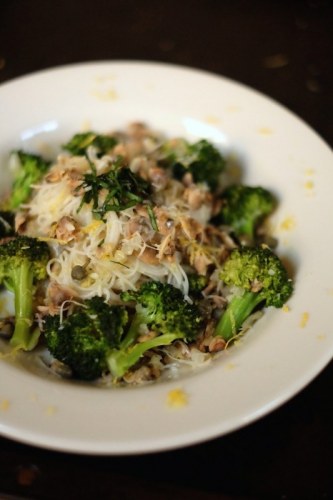 white clam sauce. it's delicious, it's super easy, and it's very customizable. the basic recipe is nothing more than olive oil, garlic, and clams with their juice heated in a pan and tossed with pasta. but that's just the beginning. half of the fun of white clam sauce is making it your own. i like to include shallots, capers, lemon, and basil. and why not throw in some broccoli while we're at it? you can never get too much green on a plate.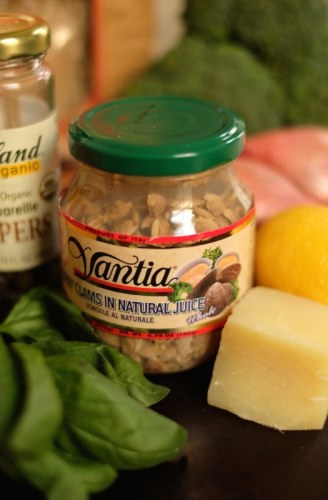 the standard pasta of choice with clam sauce is linguine, but again, this is an opportunity to be yourself. broad noodle rice pasta isn't really my jam, so i've gone rogue with this one and used brown rice maifun noodles. they're similar to an angel hair pasta, and cook up quick- which is great, because the sauce is done in a flash. this is a very achievable weeknight meal.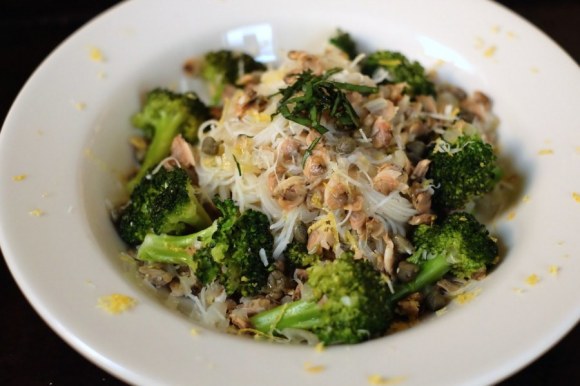 white clam sauce with broccoli:
1/4 cup olive oil
2 shallots, diced finely
2 cloves garlic, minced
9.5oz jar baby clams in natural juices, strained, reserving 1/4cup of the juice
1 small head of broccoli, cut into florets
3 Tablespoons capers
zest of 1 lemon
basil, chopped
parmesan cheese, grated
salt and pepper
1/2 box of pasta (linguine, angel hair, brown rice maifun noodles, whatever floats your boat)
preparation:
bring a large pot of salted water to a boil.
heat a deep skillet over medium, and add the olive oil, shallots, and a pinch of salt. cook the shallots until softened, about two minutes. add the garlic and cook for a few moments, until fragrant. pour in the 1/4cup of reserved clam juice and bring to a boil. add the broccoli and let it steam for just a minute, until it turns bright green. toss in the clams, lemon zest, capers, and season with salt and pepper. cook until the clams are warmed through and the broccoli is tender.
cook the pasta according to the box directions, then add to the sauce and toss to coat. top with basil, parmesan cheese, and any extra zest.
serves 2
blog comments powered by

Disqus