coconut lentil soup
November 5 2012, 7:00 pm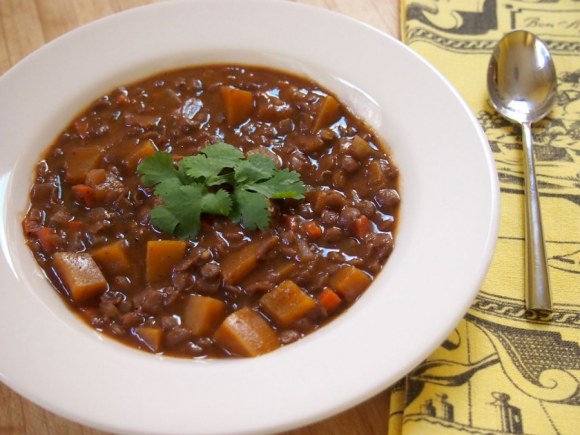 The weather has dropped, the time has changed, and the coats have come out. Soup season! This one uses some interesting ingredients; sprouted lentils, winter squash, garam masala, and coconut milk. The sprouted lentils are great for soup (they cut the cooking time in half) and any winter squash works well (hubbard, butternut, acorn). But the real magic of this soup is in the garam masala (left over from some favorite cookies) and the coconut milk. Combined with the lentils and squash, they make a comforting pot that gets better with age.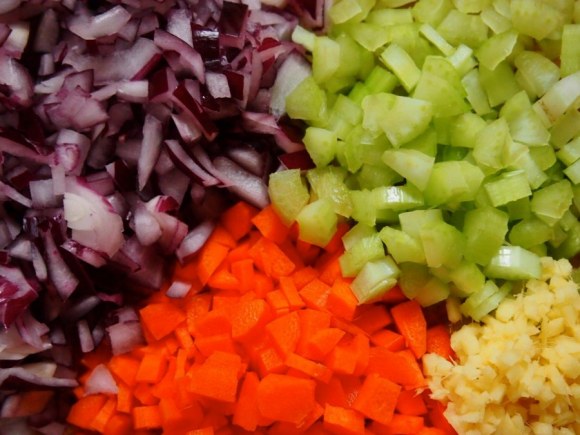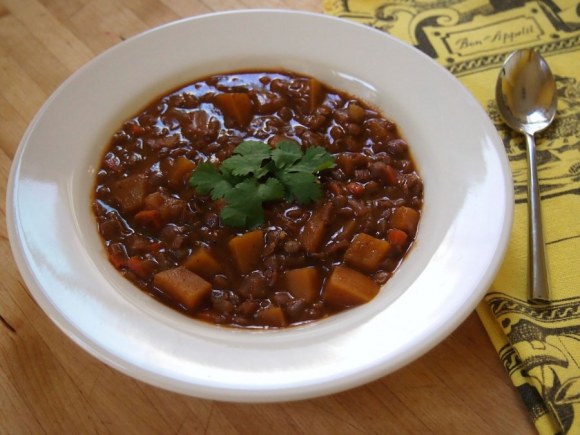 Coconut Lentil Soup:
1 small red onion, peeled and finely chopped
1 carrot, peeled and finely chopped
1 stalk celery, finely chopped
1" knob of ginger, peeled and minced
1 garlic clove
salt and pepper
3 cups winter squash, peeled, deseeded, and cubed
4 cups veg broth
2 cups water
7 Tablespoons tomato paste
2 Tablespoons garam masala
1 cup sprouted lentils
1 14oz coconut milk
cilantro, torn, to taste
Preparation:
Heat a large soup pot or dutch oven over medium. Add a generous swig of olive oil, the onion, carrot, celery, ginger, and garlic. Season the veg with salt and pepper, and cook until softened about 5 to 7 minutes. Add the squash and vegetable broth to the pot.
Whisk the water and the tomato paste together until well combined. Add to the pot along with the garam masala and bring to a boil. Add lentils and boil for 5 minutes. Reduce heat and simmer for 40 minutes. Stir in the coconut milk and garnish with cilantro.
Makes approx 6 (main course) servings
blog comments powered by

Disqus