Tulum, Mexico
February 18 2013, 4:10 pm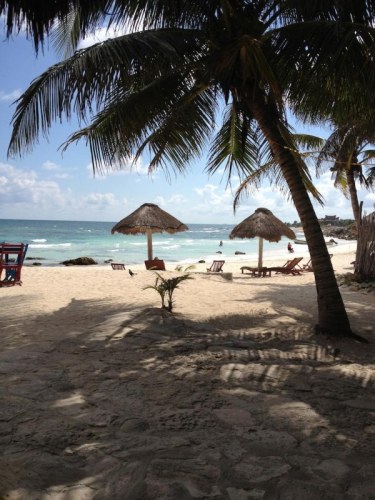 not enough exclamatory words in my vocabulary to convey the magic of tulum mexico.
this is a recap of where we stayed, where we beached, and where we ate (most importantly). throughout the week, i'll do some posts of what we did there when we weren't soaking up sun, sand, and tasty waves.
the bungalow:
we stayed at zamas in a top floor ocean view bungalow. it wasn't directly on the beach, but on the jungle side of the street (a whopping 30feet from the beach). it was really cute, with amazing cross breezes, and equally amazing views.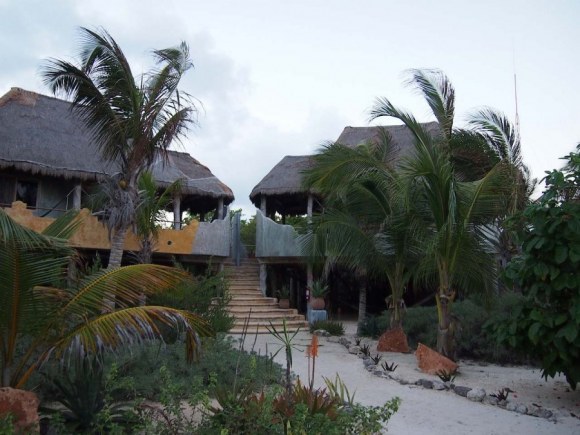 the whole place is run on solar power, which wasn't a problem because everyday was beautifully sunny. didn't need to turn a fan on once while we were there either. it was perfectly comfortable the whole time. there was one stormy night, but we had no evidence of it inside thanks to this killer thatched roof.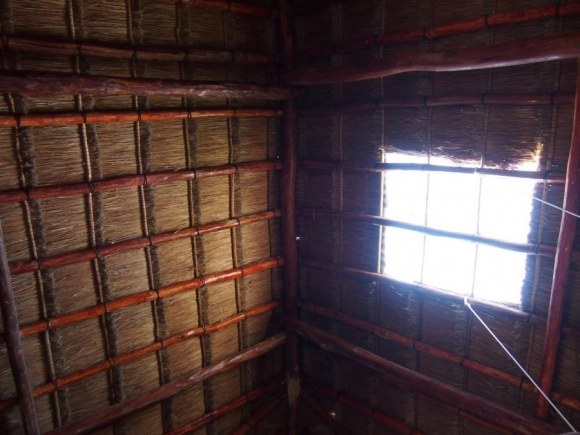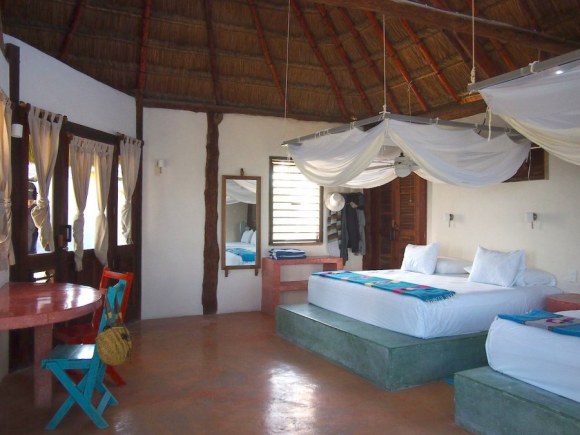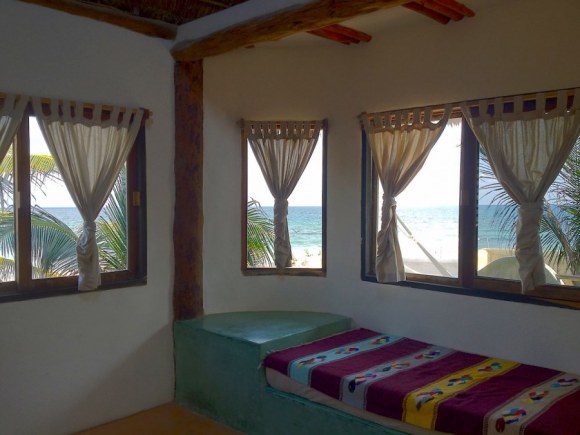 my only gripe (and it's minor) was the water pressure. no toilet paper can be flushed, either- it gets thrown out, but honestly, it wasn't a problem. they clean the place thoroughly every day. nice to have clean water for toothbrushing and drinking, too.
really can't beat this view from the porch, and there are hammocks and chairs and benches all over to hang out on.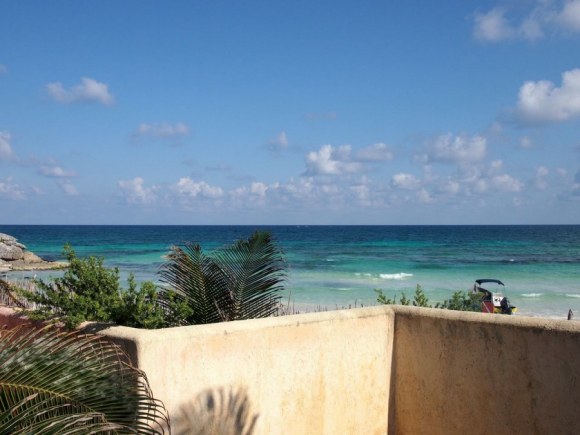 they also have smaller huts right on the beach. they're very close to the restaurant, which has live music about every other night (but only until 10- and it's pretty good!). it's a cute place all around, and nowhere near as snotty as a lot of the fancier hotels. everyone was super nice and really laid back.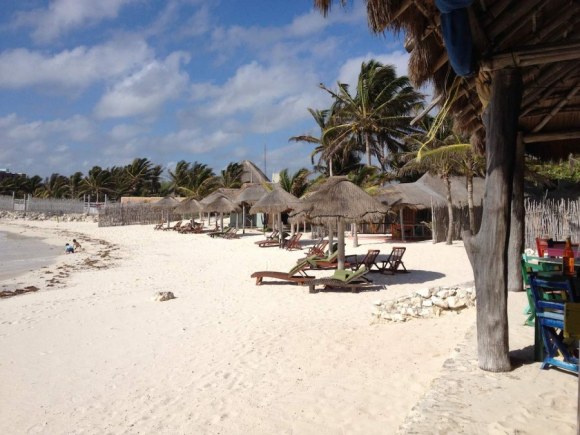 the beach:
zamas has a small strip of beach that's swimmable- it's a little rocky on one side, but perfectly acceptable for all your beaching needs.
when you're ready to have your mind blown, head south along the road (there's only one small road, and bike rentals are everywhere) to las ranitas. you don't have to go that far, many of the hotels have beach access from the road, but some of them reserve the chairs and palapas for guests only. we walked to the beach through dos ceibas next door, but it was a little crowded, so we plunked down infront of las ranitas and had the whole place to ourselves: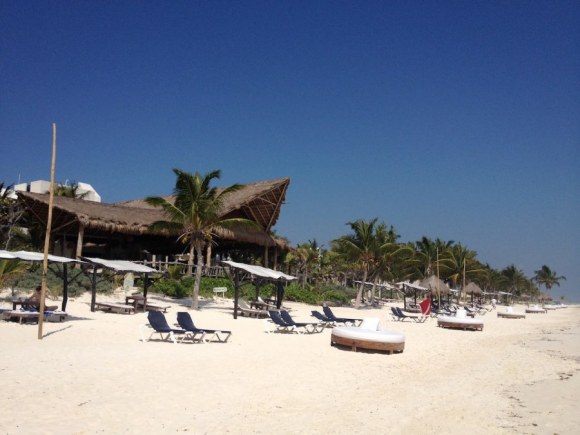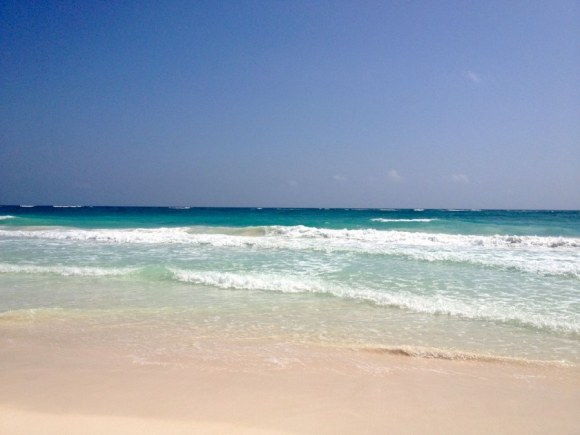 stellar. that big structure is their restaurant, which has a small, but super tasty lunch
menu and an awesome waiter that dances and sings while preparing your guacamole table side.
speaking of food...
the food:
OHMYLORDTHEFOOD. don't miss out on the sampler platter from mateo's grill: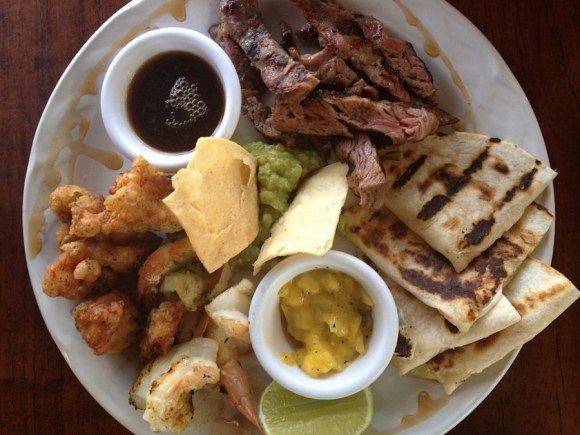 breakfast was included in our rate (we booked through jetsetter.com), so we didn't stray from que fresco. why would you, when the juice looks like this?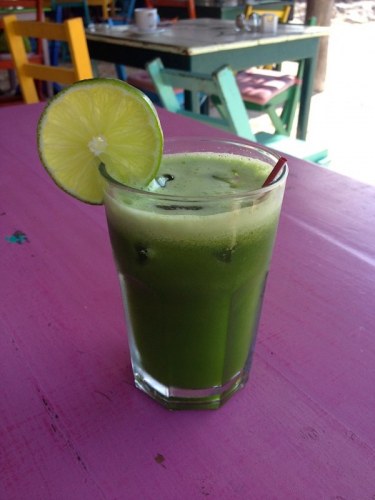 they have good tacos for lunch too, and when you get up early to watch the sunrise, all the table and chairs look like this: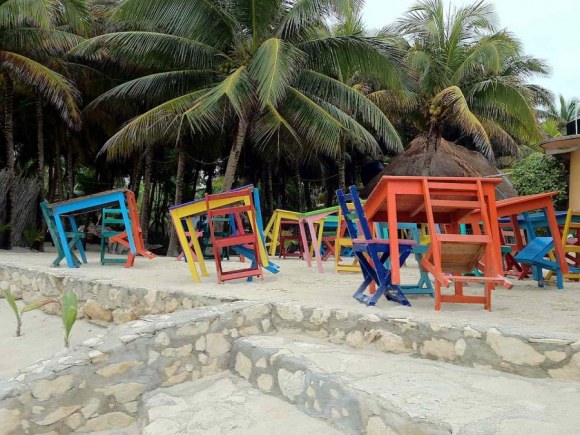 we had great vegan at restaurare, which was prepared by candlelight because the power was out: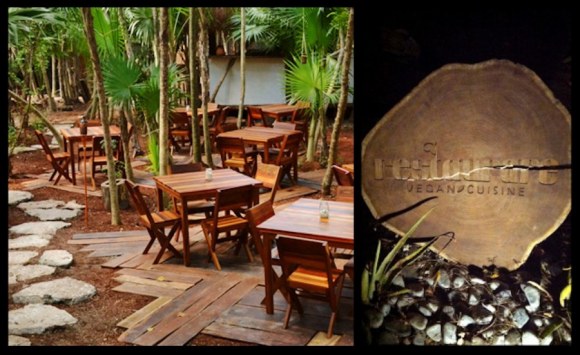 and great thai at mezzanine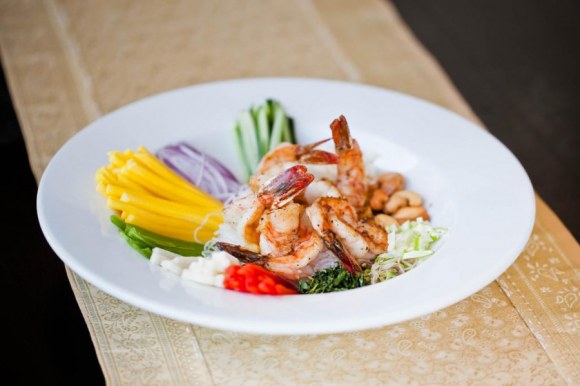 and great italian at posada margherita: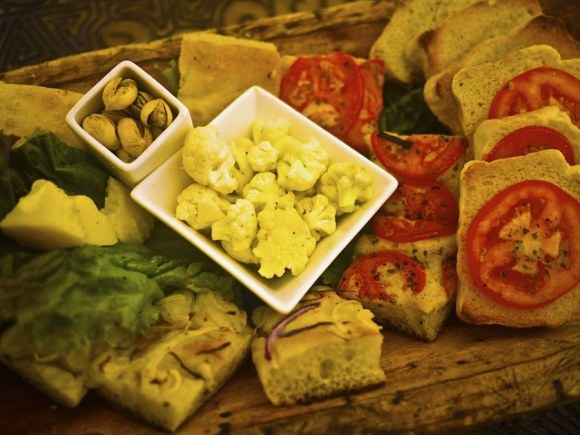 and great spicy chocolate gelato at panna e cioccolato: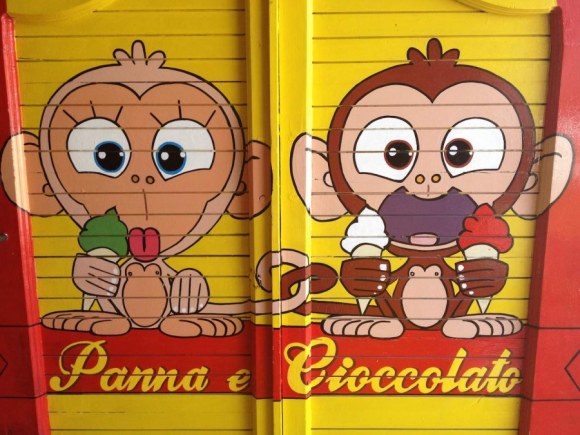 but really and truly, if you can only eat one meal in tulum, it has to be at hartwood
flawless. a meal to end all meals. amazing cocktails, red snapper dip with flat bread, a glorious steak, beautiful grilled octopus, and horchata cake. tears. real tears while eating. i could cry right now thinking about it.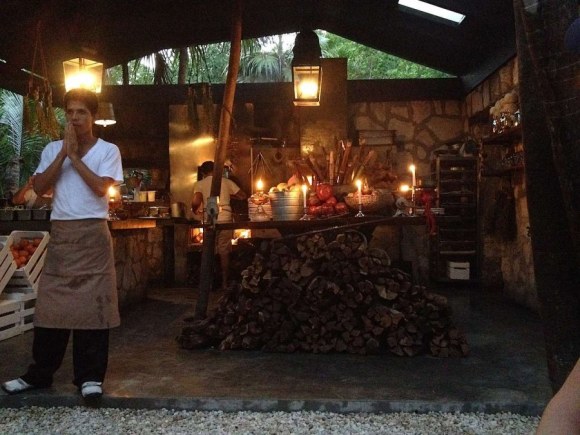 it was too dark to take photos of the food and do it justice, but thankfully there are plenty of amazing shots over at the selby- don't miss the recipes at the bottom (the habenero grapefruit margarita is amazing)! there are more fantastic photos and recipes in this bon appetit write up too!
i've recapped all this stuff on a google map to make it easy to remember- you can also see a few sneak previews of what's coming up later this week (hint: swimming in caves).

View TULUM MEXICO in a larger map
blog comments powered by

Disqus