field trip: whitney museum (for yayoi!)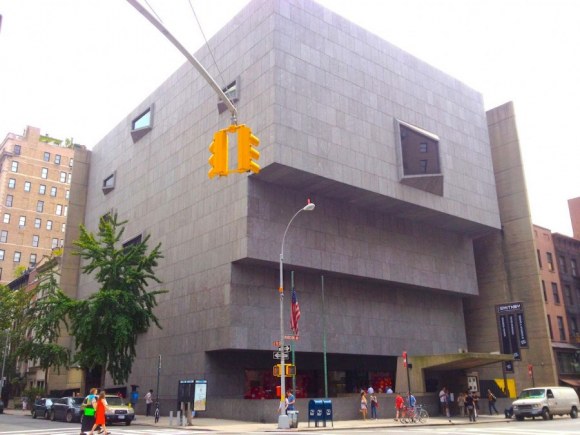 so, before digging into the real meat of this post, i have to mention that on our way to the whitney, something amazing happened. we walked past my dad's old office at the lever house on Park and 53rd and they have done some radical redecorating in the courtyard:
one of my favorite staples of new york city street life- the inflatable scab rat- has been immortalized- to scale, in bronze! as we walked up to it in disbelief, a kid was repeatedly bouncing a basketball off his giant belly. just having a great game of catch with the scab rat.
sorry for the tangent. where was i? oh yes, that's right. the whitney. why were we there? for a retrospective of yayoi kusama! as predicted, the moment this exhibit came to new york i needed to be all up in it. we started as early as possible by having brunch at the cafe an hour before the museum opened.
good food consumed beneath giant inflatables- i loved every second of it. of course photography is prohibited in the museum (boo!hiss!)- and they are so serious about it. i saw someone get yelled at for looking out a window too close. i took notes while looking at the exhibit with hopes that i could find her older work online, but there was only 1 of her pieces from 1987: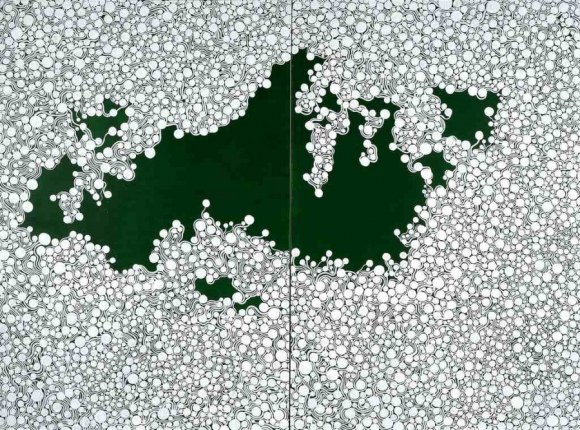 looking at all her dots and infinity net paintings up close is mind blowing. it's easy to get obsessed by her obsession.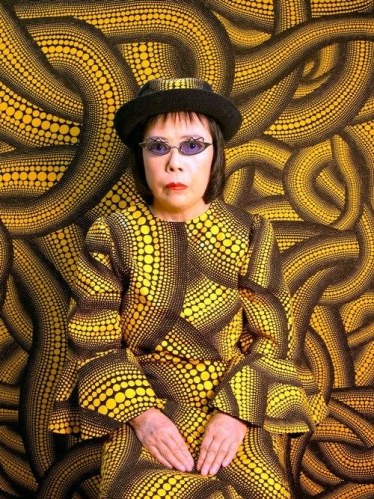 and i was super into her newest work too. it's very different than where she's been, but still as engaging. i was getting a strong pee-wee's playhouse/gary panter vibe from it (one of my earliest inspirations/obsessions), with a smattering of cosmic peter max.
i'd be remiss if i didn't mention my 2 big gripes with this show:
where was the obliteration room?!?! what, no stickers?!?!
where were all her installations? there was plenty of room- to get into the only infinity room on display, there was a waiting room of blank walls and benches. no dots. no inflatables. just blank walls.
the infinity room itself was some serious magic though- "fireflies on the water" was the highlight of the show (for me). it's the size of a closet, and only 1 person goes in at a time for a minute. i'm still disoriented from it.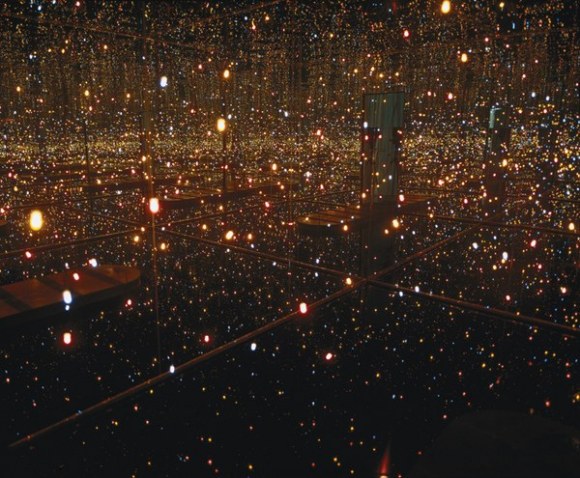 if you don't want to pay the admission to see the exhibit (it's worth it), or you don't want to wait 2 hours to get into the infinity room (so worth it), then get yourself down to the donut plant at the chelsea hotel. the bathroom will give you a taste of what can be done with mirrors. get your creme brulee donut to go, and eat it in the cab on your way to the whitney.
blog comments powered by

Disqus