mice: needle case and pincushion continued
January 4 2012, 9:00 am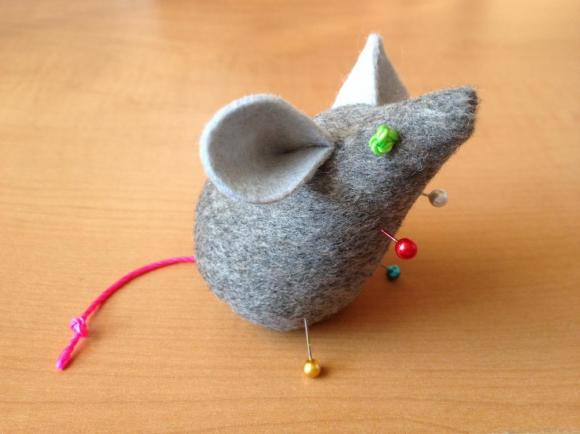 he stands! one day, you make a craft. then before you know it, he's sprouted legs and moved on.
mouse pincushion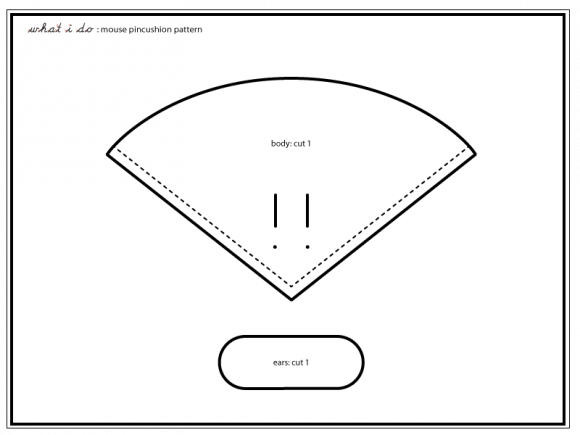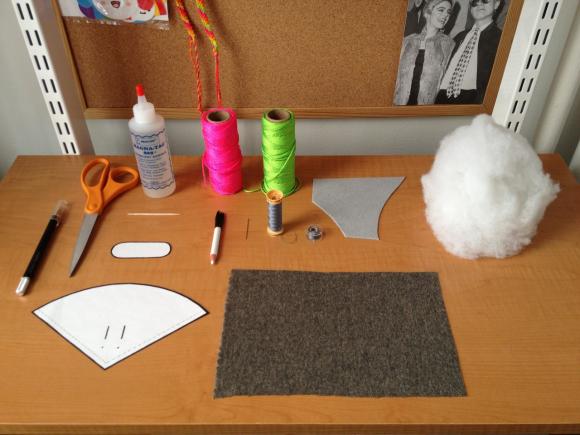 materials:
thinner weight boiled wool: the fabric needs to be lighter weight than felt, so it can gather properly. it's important the the fabric won't fray when cut.
cotton batting
embroidery floss/ cord/ thread
scissors/ exacto blade/ needles
pencils/tailor's chalk
with a sharp pin, poke the markings for the eyes and ear slits. trace pattern onto body fabric, marking eyes and ears.
create eyes using the same technique as above. tie tails into a knot on the back side, and add a drop of glue to secure. tie a knot on either end of tail and glue. place body on cutting surface and cut slits with exacto blade.
fold fabric in half so that the side seams are matching, and the eyes are on the inside. 1/4" from the edge, sew a running stitch up the body and back down to secure. reinforce the nose with a few extra stitches and tie off thread. cut the tip of the nose to the stitch line. this will decrease bulkiness when you turn it right side out. gently press open the seam, being careful not to crease the sides of the body.
turn body right side out. using a chopstick, force the tip of the nose out as much as possible. trace pattern for the ears on felt, and cut out. fold the ears in half lengthwise, and insert into the slits.
stuff him! start with a little bit, and force it into the nose with a chopstick. add more than you think is necessary- he should be as full as possible. sew the knot at his tail to the interior seam allowance.
starting at the tail, make small gathering stitches around the opening, 1/4" from the edge. when all the way around, pull the string tight to gather the fabric. stitch around the opening again, this time closer to the edge, while pulling the thread tight. pass needle through the tail, and tie off, making sure that the back is as drawn as possible.
put the finished pincushion and needle case next to each other and make kissing sounds. they're so cute, it's hard to poke them with sharp objects, but don't feel bad- they love it!
blog comments powered by

Disqus