pumpkin oatmeal cookies with chocolate chips and candied ginger
December 7 2012, 9:54 pm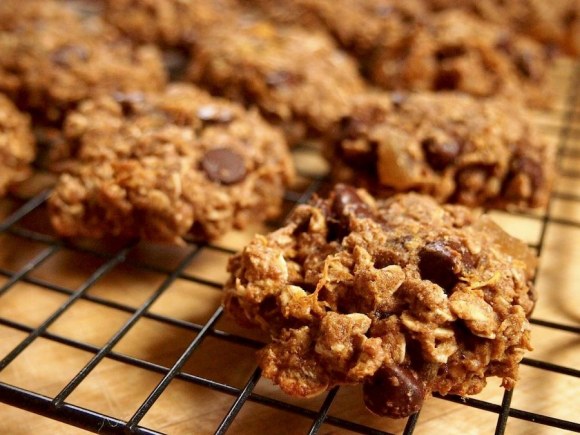 fit for a hobbit.
these cookies are dense and earthy and homey. slightly spicy and super chocolatey. with very few bad things in them, they're perfect for second breakfast or elevenses. left over roasted pumpkin from the pumpkin cannoli froze well, and all i had to do was defrost it and mash it up with a mortar and pestle.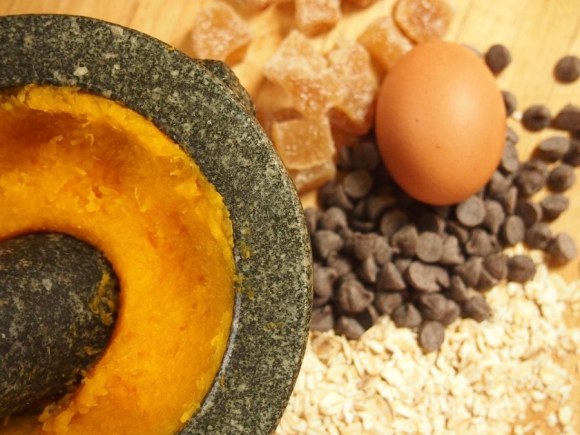 canned pumpkin works too. the original recipe did not use any oil, but the batter wouldn't come together without a tiny bit. even with the oil, the cookies don't spread much.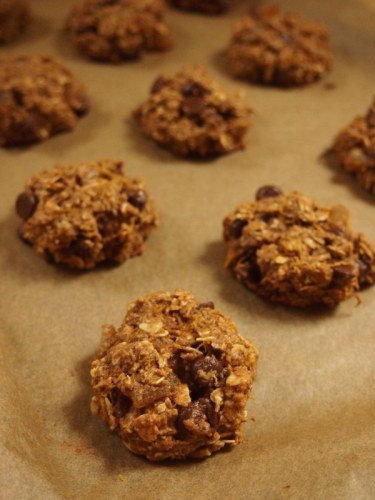 they're very filling, so i suggest keeping the size small. hobbit sized, if you will.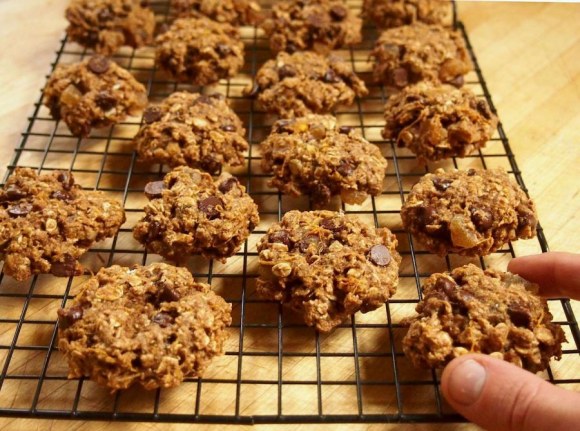 pumpkin oatmeal cookies with chocolate chips and candied ginger
1/2 cup pumpkin puree
1 egg
1 teaspoon vanilla extract
2 Tablespoons canola oil
3/4 cup flour (whole wheat or all purpose)
1 1/2 cups old fashioned rolled oats
1/4 cup sugar
1/4 cup packed brown sugar
1/2 teaspoon baking soda
1/4 teaspoon baking powder
1 1/2 teaspoons ground cinnamon
1/4 teaspoon ground cloves
1/4 teaspoon ground nutmeg (or 15 scratches fresh nutmeg)
1/4 teaspoon of salt
1/2 cup chocolate chips
1/2 cup chopped candied ginger
preparation:
preheat the oven to 350 degrees. line a baking sheet with parchment paper.
combine the pumpkin, egg, vanilla, and oil in a small bowl. mix well.
in a larger bowl, dump all the rest of the ingredients and stir until well combined. fold the wet ingredients into the dry, and mix them together with as few strokes as possible. try not to over mix.
drop batter by the spoonful onto the baking sheet. slightly flatten. bake for 12-14 minutes and let cool for a few minutes on the sheet. transfer to a wire rack to cool completely.
makes about 20 2" cookies
blog comments powered by

Disqus