quick pickle cucumber salad with grilled salmon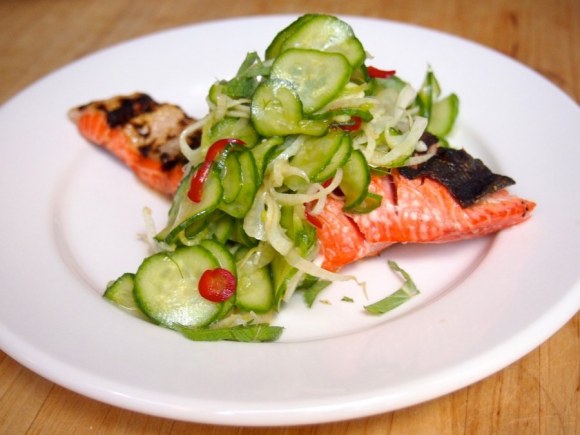 tangy, sweet, cool and charred. did i mention fast?
cucumber salad always reminds me of summer. my gramma served it at dinner every night (between the corn and mashed potatoes). hers was a quick pickle of cucumber, white vinegar and sugar, but i've adjusted mine ever so slightly to include fennel and chilies. i'm obsessed with the white honey we received at the cottage in topanga, but agave nectar works well too.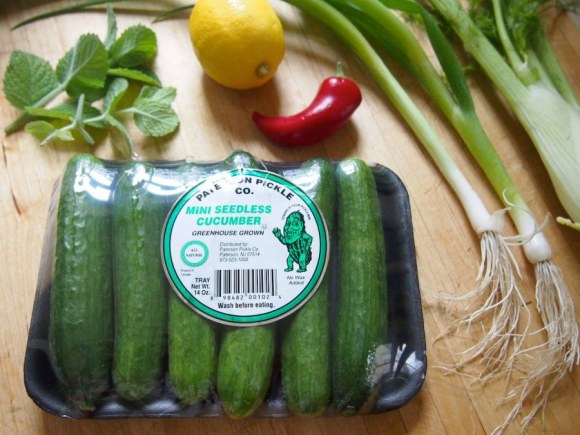 a handheld mandoline slicer
made assembling the veg dead simple. continually taste the dressing and adjust the sweet/sourness to suit your mood- gram liked hers very sweet, but i prefer a bit more tart. same goes with the chili- use as much or as little as you like.
i'd love to say that we own a grill, but our landlord has a strict policy. it's murder in the summer when every back yard is lit up and the smell is thick in the air. a grill pan is our savior, and while it's not the same, it's better than nothing. the trick is to heat it up screaming hot- i put it on the flame before prepping the salad, and by the time i get to the salmon it's ready.
cucumber salad:
1/3 cup apple cider vinegar
2 Tablespoons extra virgin olive oil
2 Tablespoons honey (or agave)
1/2 lemon, juiced
salt and pepper
4 mini seedless cucumbers, thinly sliced
1 small fennel bulb, thinly sliced
2 scallions, white and light green parts only, thinly sliced
1 small chili, deseeded and thinly sliced- to taste
1 spring fresh mint, chopped
preparation:
whisk the vinegar, oil, honey, lemon, salt and pepper in a medium bowl. add the cucumber, fennel, scallions, and chili.
let marinate while you prepare the salmon.
grilled salmon:
1/2lb salmon fillet (ask for it cut from the middle, so you don't end up with the thin tail part)
squeeze of lemon juice
salt and pepper
drizzle of canola oil
preparation:
heat up the grill pan over high heat until very hot.
feel the fillet for any thin bones. it's easiest to remove these with a pliers. when they're all out, pat the fish dry with paper towels. rub down both sides with lemon, oil, salt and pepper. keep the oil to a minimum, so it won't smoke up the kitchen.
add the fish to the grill pan, skin side down and let sit undisturbed. the thickness of your fish will determine how long to cook it. ours was about 1 1/4" thick, and it took 6 minutes on the skin side, then flipped and another 3 minutes on the flesh side. it was not too rare in the middle, but still had all it's juices.
remove the fish from the pan, and place skin side up on a cutting surface (this helps to keep the skin crispy). let cool for a minute, then cut in half with a sharp knife. top with the cucumber salad and a sprinkle mint.
serves 2
blog comments powered by

Disqus