shrimp noodle salad
July 17 2013, 10:47 pm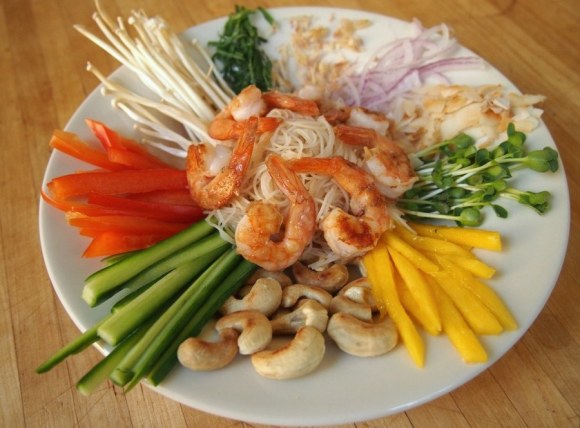 a plate full of rainbow.
this salad is inspired by the insanely delicious thai queen's shrimp salad at mezzanine in tulum, mexico. it's very clean with lots of fresh veggies and fruit, and filling without being a gut buster. great beach food.
there's very little "cooking" involved- the brown rice noodles only take a couple minutes to boil, and the shrimp only take about 5 minutes, which means it's perfect to make when the weather is too hot to turn on the oven for a meal. like most asian dishes, it takes quiet a few ingredients to create the complex taste sensations.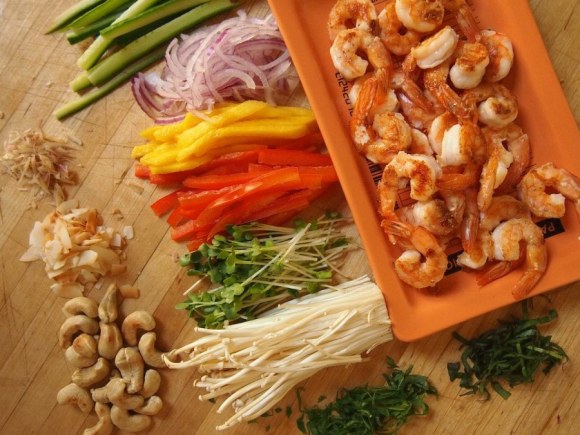 in this case, it is definitely worth it. i don't even think this version has as many ingredients as the original, but it doesn't matter- this type of salad really lends itself to freestyling. use what you like, the important thing is to pick a variety of colors and textures.
feel free to prepare the shrimp however you like, the original had them grilled. we sauteed them in coconut oil. even purchased cooked shrimp would work in there, if you want to save yourself the trouble. it's all good.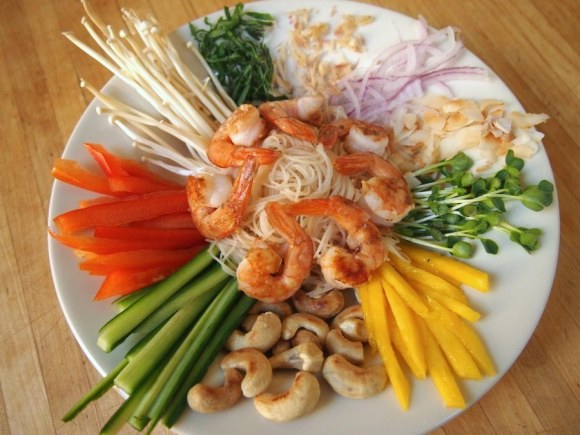 shrimp noodle salad:
dressing:
2 Tablespoons coconut oil (as a liquid)
juice of 2 limes
1/2 chili, finely chopped (to taste)
1 large garlic clove, finely chopped
2 teaspoons freshly grated ginger
1 1/2 Tablespoons fish sauce
3 teaspoons honey
salad:
1/2 box brown rice noodles, cooked according to package directions and rinsed with cold water
1 cup cashews, toasted
1 cup large coconut flakes, toasted
1/2 lemongrass stalk, finely sliced (hairy stuff removed)
1 cucumber, deseeded and julienned in thin strips
1/2 red onion, finely sliced
1 mango, skinned, pitted, and julienned
1 red pepper, stemmed, deseeded, and julienned
handful of sprouts or pea shoots
bunch of enoki mushrooms, trimmed
combo of herbs, such as cilantro, basil, mint, shiso
20 large, or 28 medium shrimp, cooked
preparation:
start the veg prep by cutting the onion first, as thinly as possible. place the slices in a bowl and cover with water. let them soak while preparing the rest of the veg. this will help remove any sharp overpowering flavor. rinse and dry them before plating the salad.
whisk all the dressing ingredients together until well combined. taste it. it should have a sharp, slightly spicy, tangy flair. add a splash more lime juice or fish sauce to make it super punchy. pour half of the dressing into the cooked noodles, tossing to coat every strand.
arrange the veg around the perimeter of the plate. try to evenly distribute the colors. with tongs, add a mound of noodles to the center of each plate. top with shrimps.
serve with the remainder of the dressing on the side.
makes 4 salads.
blog comments powered by

Disqus