shroom shortbread cookies
December 11 2012, 5:30 pm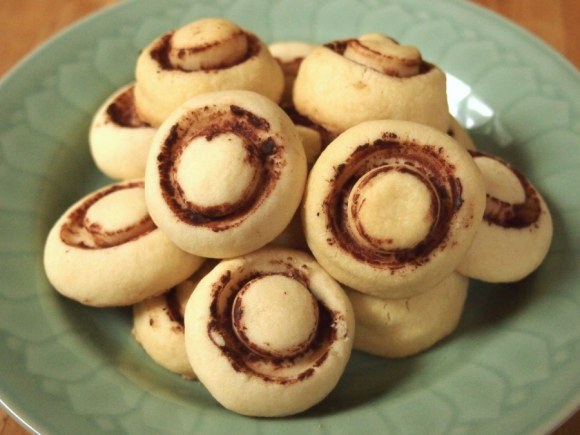 a little fungi for dessert.
oh how i'd like to take credit for these cookies. they're just plain adorable. and here i thought the cutest cookies ever made were speculaas gnomes. wrong. the internet is always proving me wrong. it didn't take more than a few moments to realize that sweet as the punch had me beat for cutest cookie 2012. these mushroom shortbread cookies are super easy AND magical to make.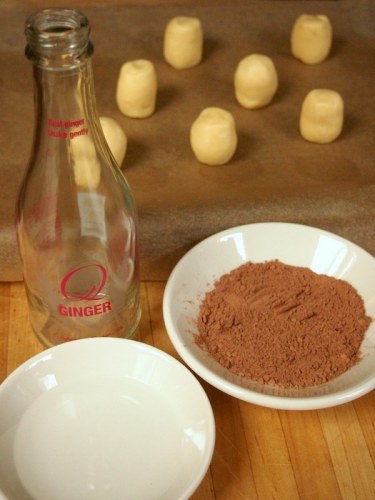 this is when things get wild. to turn a cookie into a mushroom, you will need a clean glass bottle, a small bowl of water and a small bowl of cocoa powder. dip the bottle into the water, then into the cocoa, and then stamp the dough ball. caps and stems. that easy.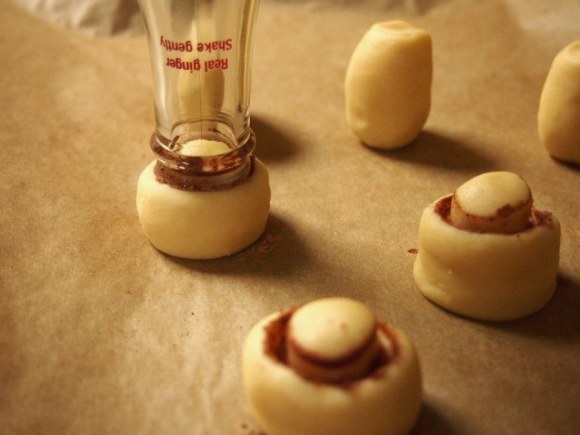 the first round, i rolled my cookies into balls before stamping them. they were a bit flat when baked, so i chilled the dough momentarily, and then rolled them into more of a football shape before stamping.
definitely got a longer stem, and a larger cap, but i wouldn't say they look more realistic. either way, chilling the dough before rolling them helps when they get stamped.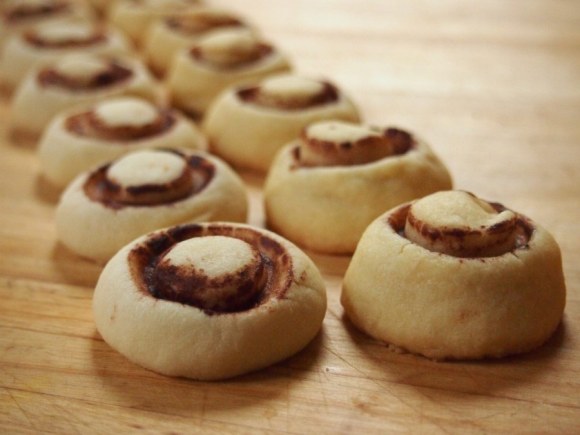 these are a for real christmas cookie, buttery and delicious. the original recipe is fantastic (and simple), but i added a splash of almond extract, and they turned out crazy tasty.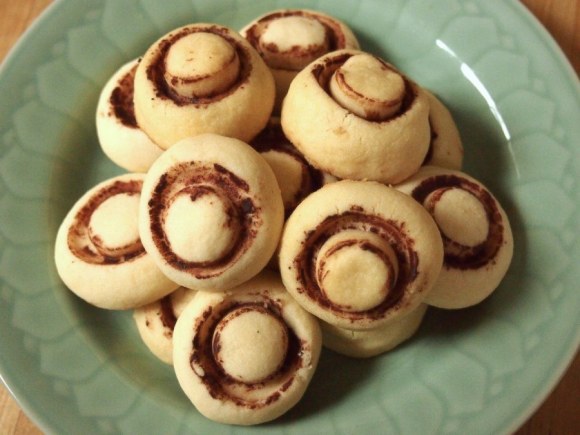 shroom shortbread cookies:
adapted from sweet as the punch
1 1/2 cups all purpose flour
1/2 cup cornstarch
1/2 cup powdered sugar
1/8 teaspoon salt
1 cup (2 sticks) unsalted butter, softened
1/2 teaspoon vanilla extract
1/2 teaspoon almond extract
cocoa powder for dipping
preparation:
preheat oven to 350 degrees
sift together the flour, cornstarch, sugar, and salt. in the bowl of a stand mixer (or with a handle mixer), mix the butter and extracts. add the dry ingredients and mix until a thick, light dough is formed. it should be easy to handle. turn it out onto a bit of plastic wrap, and put it in the fridge to chill for 1/2hr.
line baking sheet with parchment and set up the water and cocoa powder in their own little bowls. roll out the dough into balls just over 1" in diameter. place them on the sheet about 1" apart.
dip the bottle top into the water bowl. let any excess water drip off of it. put it in the cocoa powder bowl to get a nice coating. press it straight into a ball of dough (not too deep- i lost a stem that way). pull it back out and wipe off the bottle top. continue to dip and stamp all the cookies.
bake for 8-10 minutes, until just barely tanned on the bottom. let cool on the sheet for a few minutes, then transfer to a wire rack and cool for 30minutes.
makes about 4 dozen cookies
blog comments powered by

Disqus