spinach salad with blueberries, pistachios, and queso blanco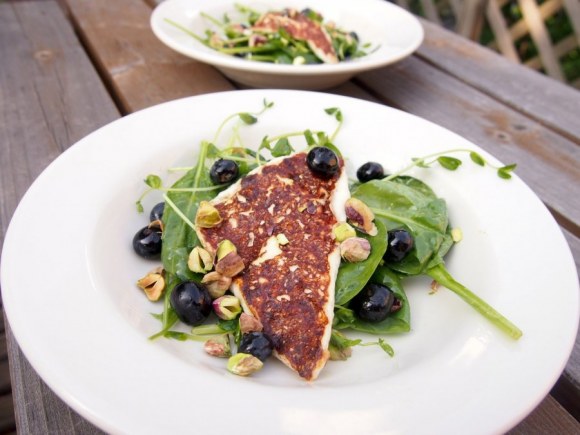 a few interesting ingredients make an extraordinary salad.
it's hot as you-know-where in new york today. and i'm still reeling from a day of drinking, drag, bowling, and pizza, so i couldn't handle much in the way of cooking. thankfully, this salad requires virtually no brain function whatsoever. it tastes very grown up (despite having fried cheese in it), and looks really fancy. fresh figs are my favorite fruit to use, but i couldn't find any, so blueberries were the backup. no complaints though- they were crazy tasty.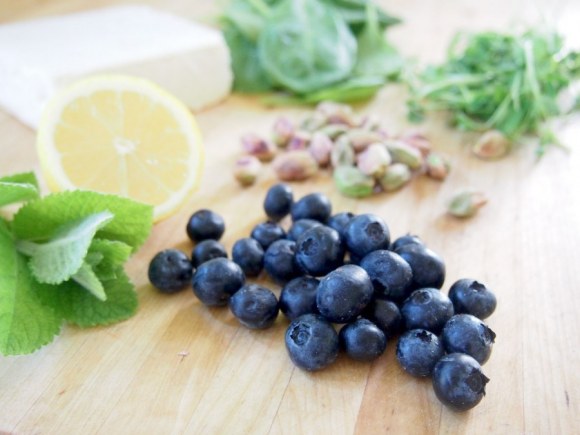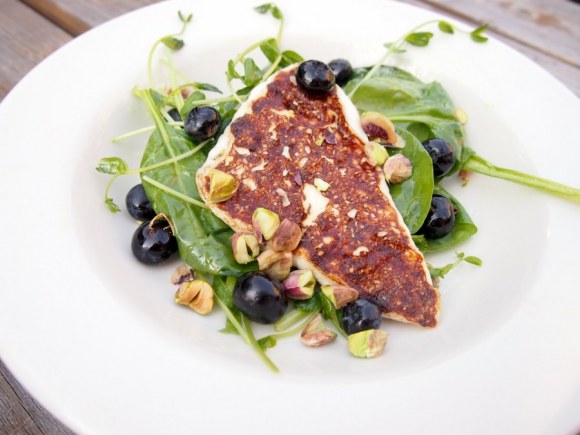 spinach salad with blueberries, pistachios, and queso blanco
1/4 thick slice of queso blanco (or haloumi), cut in half diagonally
juice of 1/2 lemon
olive oil
salt and pepper
small spring of mint, chopped
handful of baby spinach leaves, washed and dried
handful of pea shoots
handful of blueberries, washed and dried
handful of pistachios, chopped coarsely
preparation:
heat a small non-stick pan on medium. pat dry the cheese with paper towels to remove any excess moisture. when the pan is hot, add the cheese (no need for any oil) and let fry for a few minutes. when it gets golden, carefully flip it with a spatula and continue to cook on the other side for a few minutes. let it cool in the pan.
squeeze the lemon into a mixing bowl and add twice as much olive oil. season with salt and pepper, then whisk together well. add the mint, spinach leaves, and pea shoots, tossing to get evenly coated with the dressing.
divide the dressed leaves and shoots between 2 plates. top with a slice of cheese, blueberries, and pistachios.
serves 2
blog comments powered by

Disqus