tiny easter pies
April 6 2012, 4:55 pm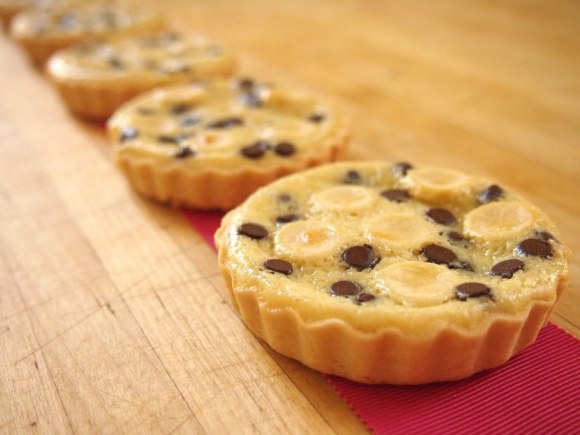 a sort of cannoli, custard, italian cheesecake.
easter pie has been around as long as i can remember easter. my mom makes it every year, and i try not to eat half of it myself. hers is a traditional pie with a lattice top that looks really fancy pants. i don't need to feed 20 people for easter, so i made a miniature version using a silicone tartlet pan
. the crust is more like a sweet cookie, than a typical pastry. my grandma's recipe called for orange zest, but i like lemon- either will work. a lattice top is a bit too much for such tiny tarts, but i had some extra crust left over, so i impulsively threw on a few dots.
crust:
1 1/2 cups all purpose flour
1 1/4 teaspoons baking powder
1/2 teaspoon salt
3 Tablespoons butter, softened
1/4 cup sugar
1 egg
1 teaspoon vanilla extract
1 Tablespoon lemon zest
1 egg white, mixed with a fork
filling:
2/3 cup ricotta cheese
1/4 cup sugar
1 egg
1/2 teaspoon vanilla
scratch of fresh nutmeg
1/4 cup mini chocolate chips
pinch of flour
preparation:
preheat oven to 350 degrees.
combine flour, baking powder, and salt in a bowl. whisk to combine.
beat butter, sugar and egg with a hand mixer until fluffy. add vanilla and zest.
add dry ingredients to the butter mixture, and combine.
roll out dough with a rolling pin, as thin as you can get it. cut circles slightly larger than the size of the tarts. fit the dough into the tart pan, pressing gently into the corners. paint each tart shell with egg white.
combine ricotta, sugar, egg, vanilla, and nutmeg in a bowl. mix well.
add filling to the tart shells. mix chocolate chips with flour, to get them coated. sprinkle chocolate chips over filling.
optional: cut out dots from left over crust with cannoli forms. scatter on the surface of each tart and brush with egg white.
bake for 25 minutes. let cool in tart pan before removing them.
makes 12 3" tarts
*if you're in the mood to make a whole pie, just triple the filling recipe.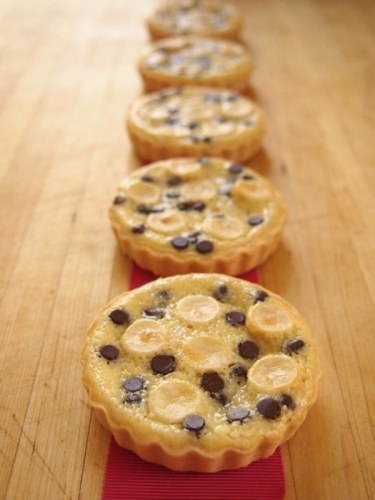 blog comments powered by

Disqus