Winter Coat: Preliminaries
November 25 2014, 12:29 pm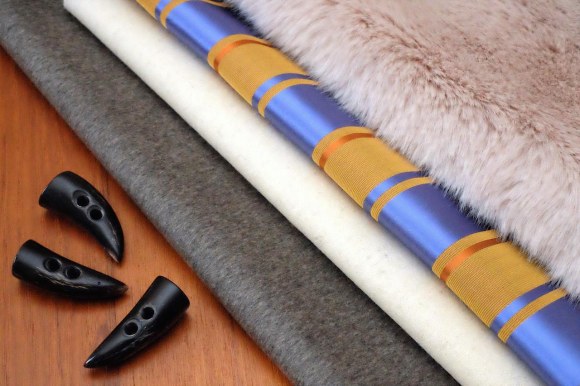 The Look:
Mid-thigh. Drop shoulder. Bell-shaped/Loose fitting. Minimal. Large lapel. Hooded.
The Materials: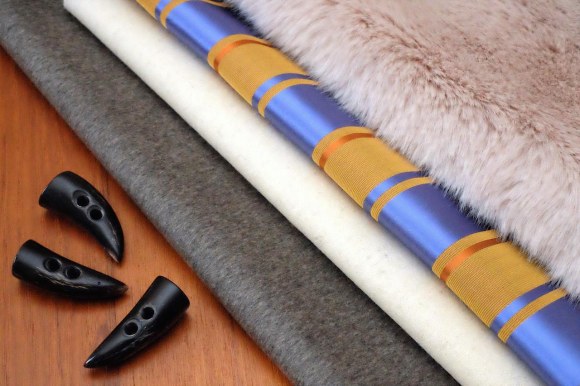 Three Toggles (Not real horn)
Brushed Wool Felt
Silk Stripe Lining (Originally developed as Necktie Fabric, seen previously in the DAM quilt)
Faux Fur Wrap (fromm Zara Fa'13)
The exterior wool fabric is medium thick with quite a bit of drape. It has a nap, which means it feels smooth running your hand in one direction, and rough in the other. To give the coat more structure and warmth, all the exterior pieces were backed with a Wool Interlining. The striped silk lining is heavier in weight than a typical Bemberg Rayon, providing an additional layer of warmth and shape. Wether or not the Faux Fur makes it to the final piece is still undecided. It's big and conspicuous, but also super warm. Very Zhivago.
The Pattern:
Simplicity 8150 from 1977. It is a "blanket" coat construction, and was used mainly for the hood pattern. The body and sleeves were draped on a dress form, and pinned to a muslin of the hood. the drape of the sleeve looked something like this: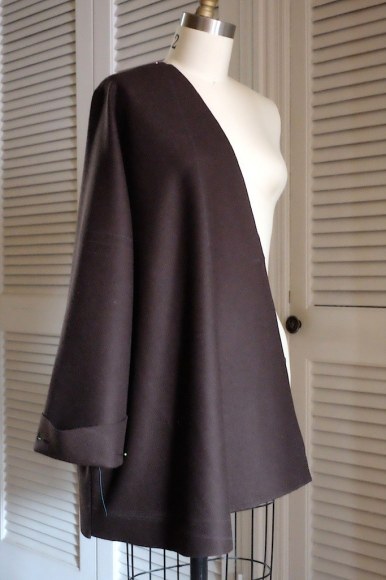 The actual drape was done with an arm attached to the dress form, but it broke before I could get a photo. The fabric looks slightly less fluid and cape-y with the arm on. Also to note, is that this dress form has an ample bosom, which is not an issue in reality.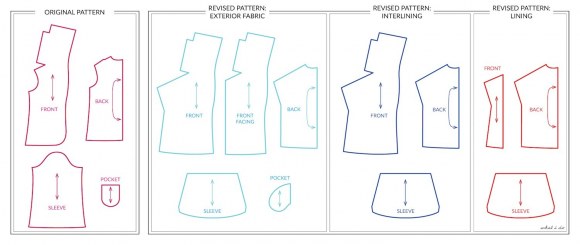 The original pattern is single layered, semi-fitted, with a set-in sleeve, patch pocket, and belted closure. The revised pattern has three layers: the exterior, the interlining, and the lining. The silhouette is fuller, and slightly flared, with a dropped shoulder, side pockets, and toggle closures. Next up, exterior construction.
blog comments powered by

Disqus