wrap skirt success
April 13 2012, 8:00 pm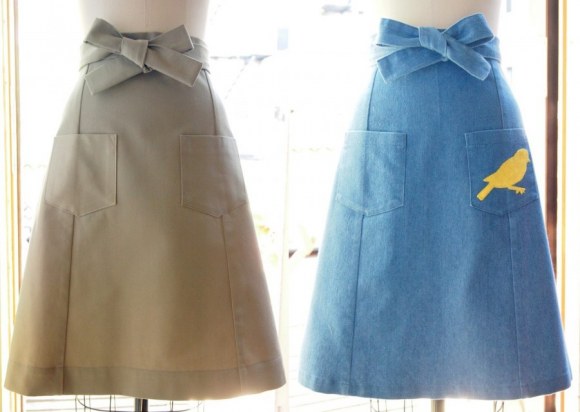 it worked!
in the last exciting installment, i made a pattern from an existing vintage skirt and pondered the ethics of copying. well, i'm officially over it, because i love the new one and plan to wear it all summer long.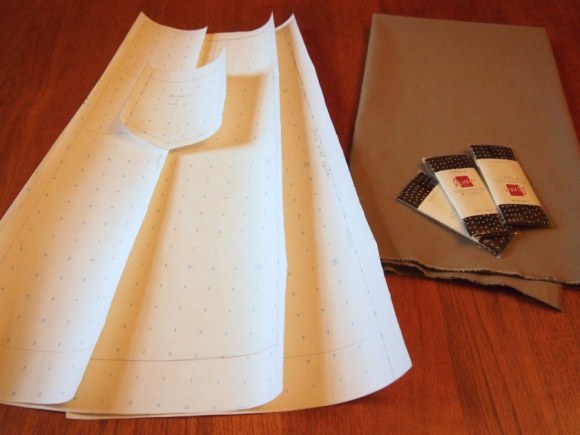 i purchased some organic cotton twill from mood which was heavy enough that it didin't need to be lined. to finish the raw seams, i bound them in the cutest japanese dot binding from purl.
sew darts and press towards front. sew side seams and press open, then towards back. (my front panel pattern was a bit too long, so i trimmed it to match the sides, and updated my pattern piece)
bind seam allowances, side edges, and bottom.
press hems on back panels and along bottom edge. at the corner where the side edge and bottom meet, fold the hem up in the wrong direction and pin.
stitch a seam along the fold line of the side edge. trim corner and hem seam allowance.
turn right side out and press. repeat on the other side. topstitch side hem 7/8" from fold and bottom edge hem 1 7/8" from fold.
hem top edge of pocket. press in sides and bottom.
line up pockets with marks and topstitch to body.
cut 2 strips of 4"wide fabric.
pin short edges of strips together, and sew a 1/2" seam centered on fold line.
press open.
line up seam on waistband with right back seam on body (on the right side when worn). on the waistband, mark the location of the back panel's edge. repeat on the other side.
fold the waistband along the length, right sides together. sew the end and the tail of the waistband on both sides, stopping where the back panel's edges are marked.
trim the corners and press the seams open.
pin waistband, between the markings to the front side of the body. keep the other edge of the waistband clear while stitching the seam. press the seam allowance open, then towards the waistband.
clip the seam allowance around opening in the waistband. press the interior edge of the waistband towards the wrong side. turn the waistband and tails right side out, and press.
either topstitch the waistband, or tack the interior waistband by hand. reinforce the area around the opening, to prevent ripping when the tail is pulled through.
yep. pretty sure i'm gonna need this in navy too. and maybe red. or olive. i foresee a sequel in the future.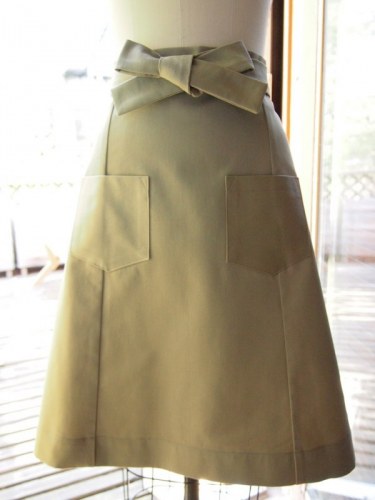 blog comments powered by

Disqus