salad of roasted carnival squash, pears and red onion
November 13 2012, 10:06 pm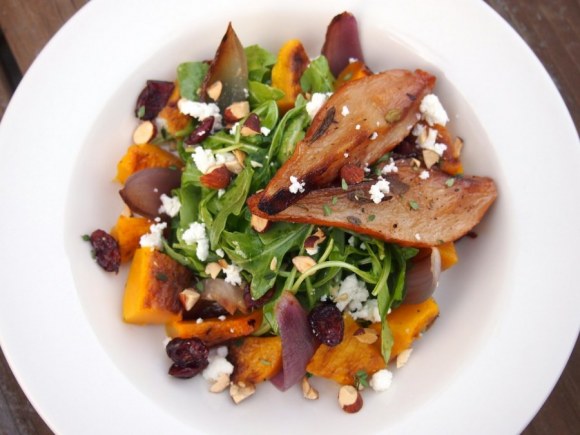 with cranberries, toasted nuts, queso fresco, and honey mustard vinaigrette.
once you've put forth the minimal effort to roast some squash, there are a ton if things you can do with it. this salad is right up at the top of the list. it's tough to want a salad when it's cold outside, but (much like the maitake salad) when it has warm autumnal ingredients, it's deceptively comforting.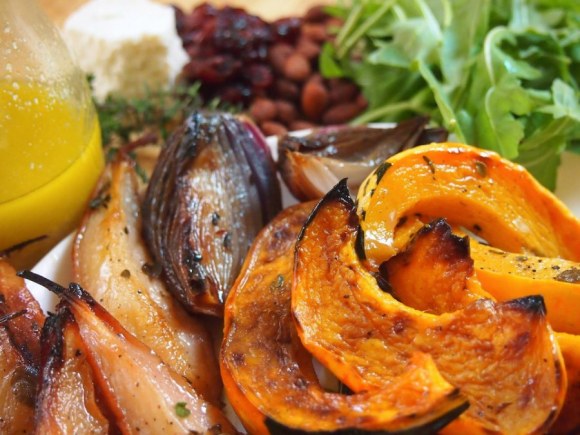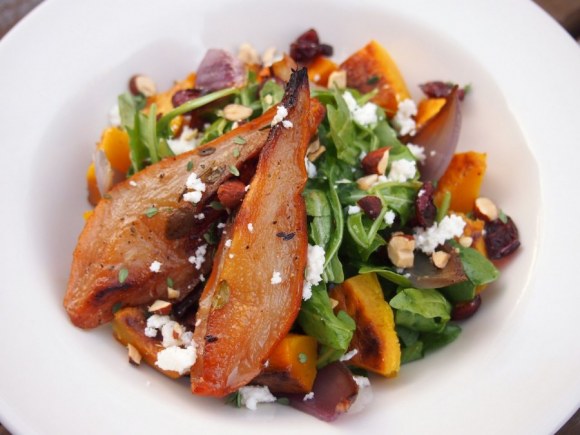 salad of roasted carnival squash, pears and red onion
5 cloves roasted garlic
1 Tablespoon whole grain mustard
1 teaspoon honey
juice of 1 lemon
salt, pepper
olive oil
5 cups arugula salad
1/2 cup toasted almonds, hazelnuts, or pecans, coarsely chopped (just heat up some raw nuts in a dry pan until browned)
1/2 cup dried cranberries (lightly sweetened with fruit juice is super)
few sprigs of fresh thyme
preparation:
dressing: mash up the garlic, mustard and honey in a large bowl with a fork until it's a smooth paste. add lemon juice, salt and pepper, and combine thoroughly with a whisk. continue to whisk and drizzle in the olive oil. add about twice as much olive oil as garlic/mustard paste. taste the dressing and add more oil if it's too tangy, or more lemon juice if it's not tangy enough.
pour some of the dressing over the arugula and toss to coat. don't overdue it though, soggy leaves are the worst.
to prepare the veg, skin and dice the squash into large chunks. separate the onion layers and slice the larger pieces in half lengthwise.
divide the arugula among 4 plates. add the roasted veg, cranberries, nuts and cheese. garnish with pears and fresh thyme tips.
makes 4 serving
blog comments powered by

Disqus