Sparkly Spacers
November 20 2012, 11:00 pm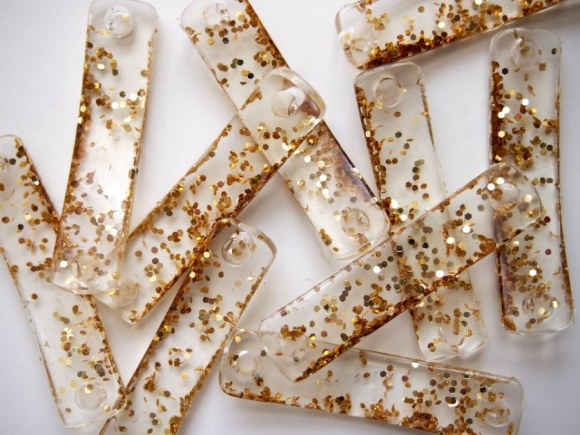 A request came in for a double strand necklace with "more glitter/shiny". Well, I love making dreams come true and getting out of my comfort zone, so this is a challenge I look forward to. A good place to start would be practicing some glitter resin spacers. It didn't go as smoothly as hoped:
Trial 1: Micro Beads
Martha Stewart micro beads (previously used in this resin bangle)
Mistake 1: Added them to the resin filled plastic baggie before filling the mold.
Beads clumped up in the baggie and then once in the mold, sunk to the bottom.
Extra resin and beads were pushed into the cavities with a toothpick (cleaned up pretty good too)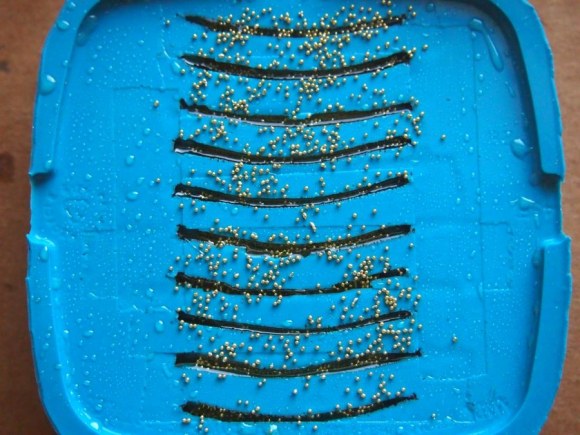 An additional sprinkling of beads was needed when it became obvious that the rest had sunk. the hope was that these would float in the resin, because at that point it had begun to set.
Trial 1: Results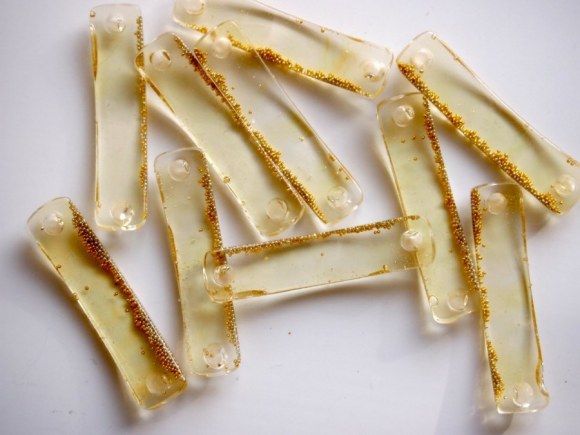 No luck. They all sunk to the bottom. On top of that, the color from the beads seeped into the resin making them a light yellow/champagne color. Damn.
Trial 2: Cheap Craft Glitter
Instead of the usual Resin Ice, this time I used Lima Resin. Also on hand was the mixing cup and stick, the mold, a plastic baggie,scissors and a toothpick.
After mixing the resin (1oz was enough to fill the mold), add it to the baggie and twist it up into a corner like a pastry bag.
Clip the tiniest corner of the baggie and fill the mold cavities about 1/2 way. Add a dusting of glitter to the mold, and push it into the cavities with the toothpick.
Add more resin to the molds, going almost to the top.
Add another dusting of glitter, pushing it into the cavities. In the end, I also poured out a pile of glitter and picked it up with a resin coated toothpick to add it to the surface of the cavities.
Trial 2: Results
Oh yeah! Disco resin has arrived. The first batch of glitter (poured in after filling the molds halfway), sunk to the bottom. But the other 2 rounds floated nicely. They look like 12:02 on new year's day, or a surprise party suspended in time. These spacers have their fancy pants on.
blog comments powered by

Disqus