strawberry rhubarb ice cream
May 24 2012, 11:22 pm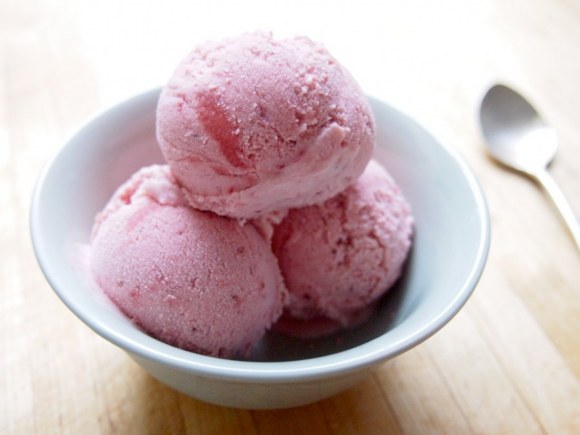 the perfect kick off to summer.
strawberry rhubarb ice cream is a great way to start the summer season. the eggless ice cream base is very simple to prepare. you don't need to make the rhubarb strawberry compote, but since i had it on hand, that's what went in. the recipe calls for frozen strawberries, but they were out at my grocery store. i opted for fresh, and can honestly say that frozen is the way to go. one of the mysteries of the universe.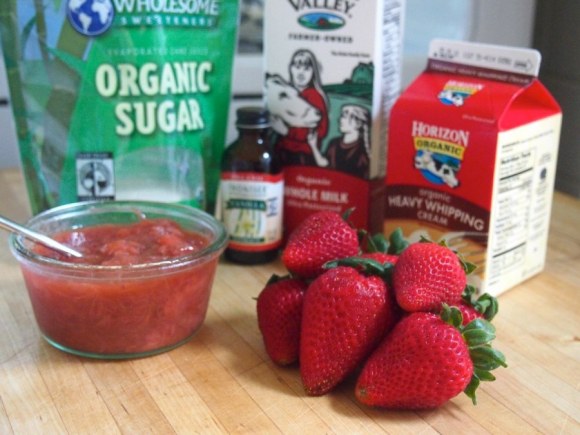 strawberry rhubarb ice cream:
3 cups trimmed rhubarb,washed and chopped into 1" pieces
3/4 cup sugar
3 Tablespoons filtered water
1 cup heavy cream
1 cup whole milk
1/3 cup sugar
10oz bag frozen strawberries, mostly thawed
1 Tablespoon vanilla extract
preparation:
combine rhubarb, sugar and water in a saucepan over medium heat. give it a quick stir, then bring to a boil. lower the heat to med/low and stir until sugar is dissolved, the rhubarb is soft, and the liquid thickens, about 15 minutes. let the mixture cool, then transfer to a bowl and refrigerate until well chilled.

scald cream and milk in a saucepan over medium heat. when the mixture is up to temperature, small bubbles will form around the edge, and steam will rise noticeably from the surface (do not let this come to a boil). stir it often so a skin doesn't form on top. remove from heat and add sugar, mixing until it is completely dissolved. let cool.

put strawberries and extract in a blender. add cooled cream mixture and blend until well combined. transfer to a bowl, and chill at least 4 hours, or overnight.

just prior to churning, give the strawberry/ cream mixture a good stir, and add the rhubarb. mix until well combined. Put all ingredients in the bowl of your ice cream maker, and churn according to manufacturer's instructions.
makes 1 quart of delicious ice cream
blog comments powered by

Disqus