disco double strand deux
December 17 2012, 11:00 pm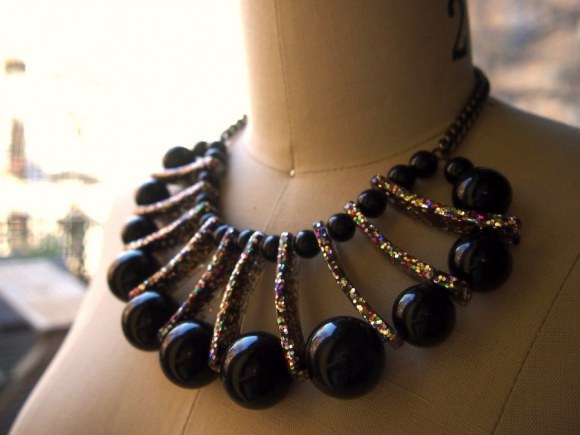 this stuff got sweeter and funkier.
it wasn't easy to wait for the last round of sparkly spacers to finish curing- i wanted my own version of the disco double strand. but with a smidge more subtlety. just a smidge. the multi color sparkle spacers are much darker than the the gold ones, so instead of gold chain, this one has gunmetal.
aside from that, it's the exact same material list as before. the construction is virtually identical, but with the tiniest revision. see if you can pick out the difference in the photos below:
don't cheat and read this first.
on the gold one, the top row of beads had 1 small bead before the spacers started, and the bottom row had 2 small beads and 1 medium bead. on the multi one, the top row has 2 small beads before the spacers start, and 1 small and 1 medium bead on the bottom row.
it's subtle, but it changes the end shapes of the bib. this is a totally sweet piece (sorry sissy, yours was just a proto). it's just so chock full of glittery glamour: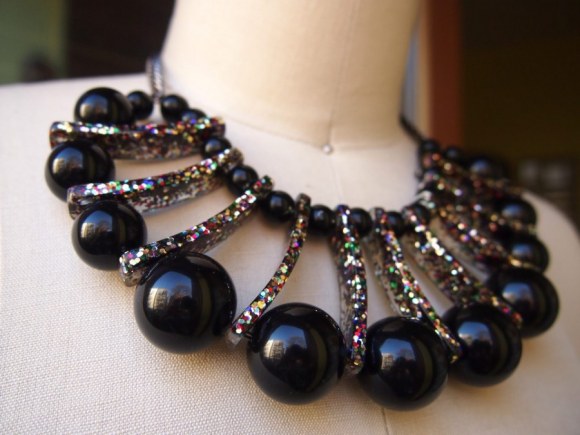 blog comments powered by

Disqus